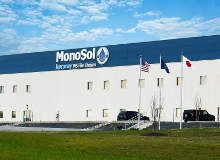 US-based water-soluble polymer films manufacturer MonoSol and a wholly owned subsidiary of Kuraray Group, commenced operations of its new state-of-the-art, high-tech production plant in April 2016.
The new facility is MonoSol's third production facility in Indiana and located at its DuneLand site in Portage. The other two production facilities are situated in LaPorte and Portage.
Developed with a $95m investment, the new facility produces water-soluble films and unit-dose packaging for application in multiple industries.
"The new facility produces water-soluble films and unit-dose packaging for application in multiple industries."
Initiated in 2014, the expansion increases the company's manufacturing capacity by 15%, and meets the increasing demand for water-soluble films in developed and emerging countries.
Once fully operational, the new production facility will employ at least 150 people for line operations, plant maintenance, and electrical and mechanical operations.
Location of the new films production facility
The city of Portage, Indiana, was chosen for the production facility after examining a number of European and North America locations such as Michigan, Ohio, and Wisconsin.
Portage was finally selected due to the availability of skilful workforce, MonoSol's relationship with local service providers, and the support from Indiana and the City of Portage authorities.
Construction details of MonoSol's production facility
MonoSol's water-soluble films production facility was planned for construction in three phases. The first phase, which has commenced operations, included the installation of one manufacturing line for the production of water-soluble films and other packaging materials.
A second production line will be added by 2017, while the plant will operate at its full capacity by 2020.
The existing production line features latest and innovative technology to produce next-generation, high-quality, water-soluble films.
The plant will produce MonoSol's film-based products marketed under brand names, including MonoDose, Vivos, AquaFilm, BadgeMaster, Dissolvo Sack, and MonoFilm.
MonoSol also plans to conduct youth training programmes in Portage schools to find quality employees for its plant.
Contractors involved
The Ross Group, a commercial construction firm based in Portage, Indiana, was the general contractor for the project.
Marketing commentary on MonoSol
MonoSol is the water-soluble film division of Kuraray, a Japanese manufacturer of speciality chemicals and functional materials. In 2012, Kuraray acquired a 100% stake in MonoSol to expand its vinyl acetate chemical chains business, which is one of its core business segments.
MonoSol manufactures polyvinyl alcohol (poval) films for industrial applications, including packaging films for unit-dose detergent products and agrochemicals, dyes and mold-release films for synthetic marble.
By acquiring MonoSol, Kuraray expanded its array of poval films to a wider range of industrial applications.
MonoSol also plans to venture into new sectors such as personal care, food ingredients, water treatment, and oil and gas in future.