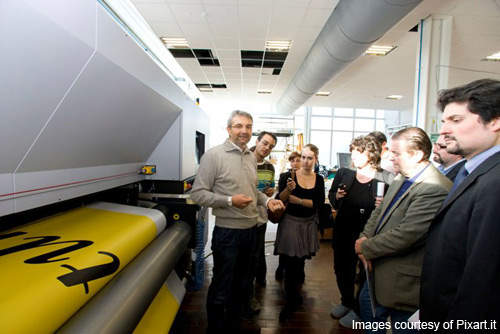 Matteo Rigamonti demonstrating the new Rho 320 R printer.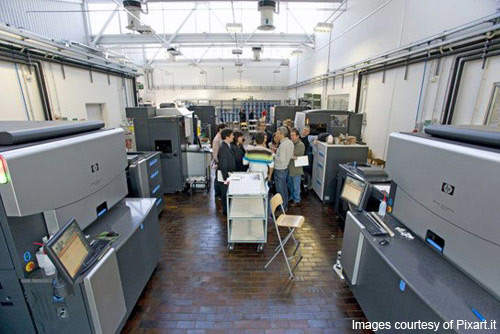 HP Indigo 7000's installed at the Marghera facility.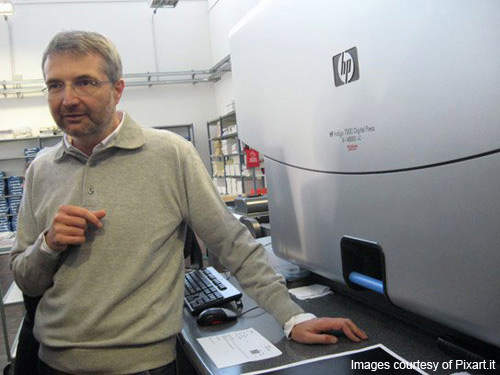 The new packaging print area has been set up to handle large volume orders from an increasing customer base across Europe.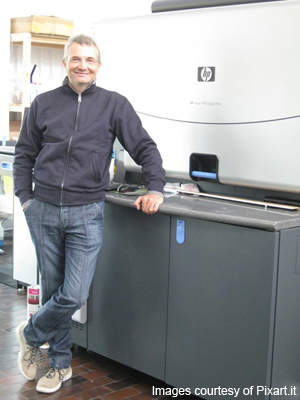 Pixart.it has invested in state-of-the-art equipment.
Pixart.it is a digital printer and finisher of packaging. The company was founded by Matteo Rigamonti in Marghera, Italy, in 1994. Pixart.it began by supplying small and large format printing jobs, as well as packaging materials. In 2002 the company began to sell printing services online allowing customers to produce their own estimate and place orders.
Pixart has expanded exponentially since its inception and boasts a facility with state-of-the-art digital printing equipment. Turnover in 2008 approached €28m, an 85% increase on 2007. The company uses Fedrigoni paper and cardboard products (Century and Splendor gel paper) and X-Rite chromatic calibration for colour management of graphics.
Facility expansion
In September 2009 Pixart launched a production division to support its packaging services at the Marghera facility.
"In 2008 approached €28m, an 85% increase on 2007."
The production area is dedicated to printing on rigid materials, using the latest Durst proprietary flatbed printing systems, which work in-line with eight Zünd cutters / plotters.
The production area was set up following the installation of a RHO 700 Pack System which was combined with an RHO 800 System installed in 2008. These systems print on large-format rigid substrates of up to 2.5m and are able to accommodate the majority of packaging print requirements.
The system is also coupled with a feeder/stacker to allow an automatic continuous workflow during long print runs. The printing and cutting systems, and the storage of incoming and outgoing materials, require a lot of floor and storage space. Other equipment installed in 2009 include an Océ Arizona 350 XT system, for high-quality flatbed printing of boxes exceeding 45 × 64cm in size, and a Rabollini die cutter with high punching platen speed. The packaging operation is also supported by six HP Indigo 7000 printers (to print boxes 32 to 45cm in size) as well as Roland plotters and a Pteratto Metro 78 fold-and-glue system.
HP Indigo systems
The fifth and sixth Indigo printers from HP were installed in June 2009 and the first four Indigo 7000s were installed in October 2008. Each HP Indigo 7000 can print 800,000 A4 colour pages a month, giving Pixart the potential to print more than 12 million colour pages per month using a two-shift operation.
Pixart CEO Matteo Rigamonti said: "The HP Indigo 7000 Digital Press can print 120 A4 colour pages per minute, which raises the 'crossover point'. This means that printing digital is cost-effective for more jobs, while cost per page is reduced … The higher crossover makes it possible to attract more jobs that would have previously been printed conventionally, while the higher speeds mean that we can run more jobs on each shift."
Future plans
Packaging Gateway asked Matteo Rigamonti if pixart has any plans for future equipment investments. "The market is very inconsistent at the moment and hard to predict in terms of sales trends and areas for development. However, having said that, we are currently looking at future investments in the flatbed area as this has shown strong growth over this year and we have been very impressed with the quality of our current range of Durst and Océ machines. We have just installed a second Durst Rho320r for flexible media printing and we think this should take us through to the end of the year in terms of managing capacity and demand in this division."