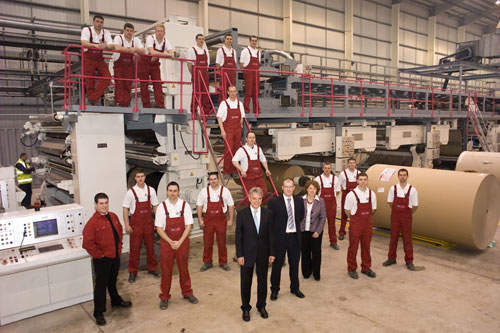 Progroup CEO Jürgen Heindl pictured with Prowell's UK employees.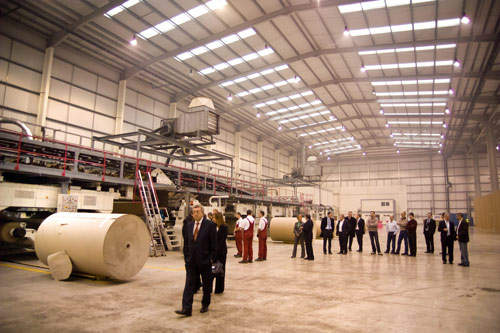 Guests of Prowell viewing the facility's production hall.
In January 2009 Prowel, a subsidiary of corrugated board manufacturer Progroup, unveiled its new production facility in Ellesmere Port, near Liverpool, England. The plant will produce 85,000t of corrugated board annually.
Prowell acquired the 210,000ft2 space in October 2008 on a 15-year lease. The facility has warehouse and office space on the ground and first floor.
Equipment installed
The plant is equipped with a 2.5m-wide corrugator that operates at a maximum speed of 350m/minute.
The corrugator consists of two module facers, a double facer and an automatic stacker equipped with a side chamber. The double facer also consists of a slitter scorer.
The corrugator will manufacture single and double-wall corrugated board of the grades E, B, C, EB and BC. The equipment enables the facility to have the right production mix and also ensures that the company is able to meet the demands of its customers.
Technology
"Prowell acquired the 210,000ft2 space in October 2008 on a 15-year lease."
The plant will be linked to Prowell's seven other sheet plants to ensure accurate process reliability. All the sheet plants are connected via a central Computer Integrated Manufacturing (CIM) system. The CIM system ensures that all relevant data is handled and operated in a highly efficient way.
The CIM system is connected to the company's internet market place, which provides 24-hour order services and transparency of data.
Location
Ellesmere Port was chosen by Prowell as it offered the best infrastructure and proximity to port facilities and motorway links. The port is situated near the M56 and the M53. The A41 also passes through the port.
Support came from local authorities in Cheshire and Ellesmere Port and the Northwest Development Agency (NWDA).
The town council, with assistance from the European Regional Development Fund and government funding from the NWDA, has been developing the region since 2005 to attract developers and encourage companies to set up their business units.
Market growth
The packaging industry in the UK and Europe has been driven by an increase in the manufacture of consumer goods, giving rise to the need for packaging. Although the prices of corrugated board have not increased, many companies have been expanding corrugated board production capacity.