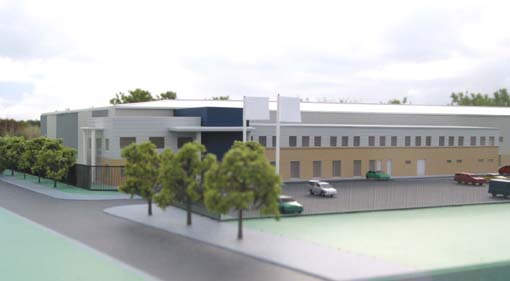 Remploy's new facility in St Helens, Merseyside, UK, carries out contract packaging of household and personal care products.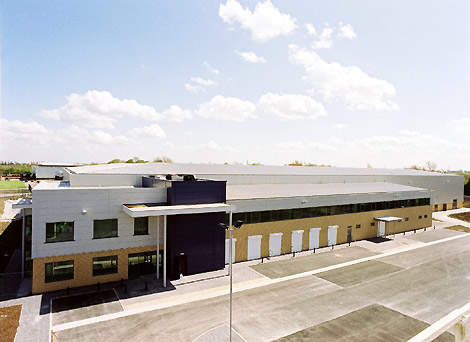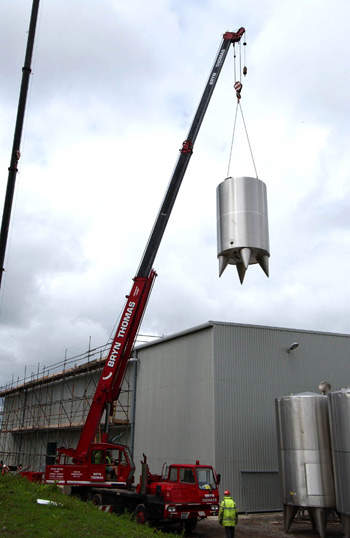 The new plant will create 150 new jobs and also consolidate the staff and operations from three other Remploy locations at Radcliffe, Woolwich and Aintree.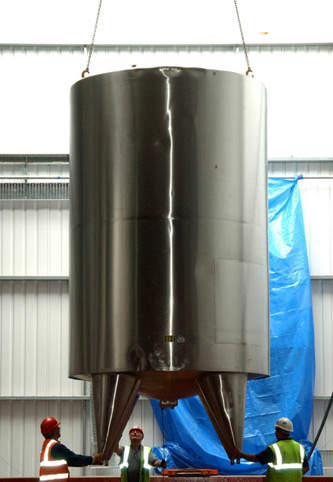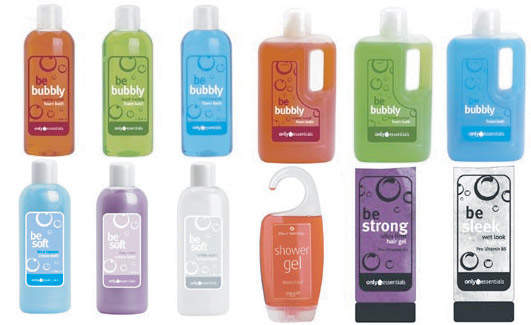 The reinstallation included eight stainless steel storage tanks weighing 6t each that had to be lowered in through the roof.
Remploy, the well known UK contract packaging company, completed construction of a new packaging facility in St Helens, Merseyside, UK, in September 2004 (the construction was started in early 2003). The company carries out contract packaging of household products, e.g. washing-up liquid, personal care products (shampoo, deodorant, bubble bath), and a variety of products such as perfume and nail varnish remover.
The new plant created 150 new jobs and also consolidated the staff and operations from three other Remploy locations at Radcliffe, Woolwich and Aintree. The company is part of the Remploy Group, the largest single employer of disabled people in the country.
The 10,000m² facility cost £10.5 million to construct and offered four new filling lines to potential customers. There is also a hot wax rotary filling line (the first of its kind in the UK), an enzymatic line for packaging liquid washing detergents and fabric conditioners, an alcohol-based filling line to package flammable products and a tube filling line for filling toothpaste, hand cream, hair gel, shampoo and shower gel.The facility was able to package 13.6 million 500ml bottles of washing up liquid per year.
The facilities were designed and constructed to pharmaceutical standard and were fully compliant with ISO 9002 and ISO 14000 quality standards. The plant, which was able to triple Remploy's volume of business, also housed state-of-the-art research and development, quality control / assurance (for incoming materials and outgoing products), analytical and microbiological laboratories.
CONTRACTORS AND CONSTRUCTION
The facility was constructed by Williams, Tarr and Company Ltd, who acted as general contractor for the buildings and road infrastructure. The main contractor for the design and fit out of the internal utility services, electrical services, HVAC and pipe-work was Prime Engineering Services.
Prime Engineering Services were also responsible for transferring production line equipment from the other three Remploy locations, refurbishing it and installing it in the new location. The reinstallation also included eight stainless steel storage tanks weighing 6t each that had to be lowered in through the roof (using a telescopic crane) before completion (the tanks can store up to 200t of liquid products). The four new production lines were also supplied and installed by Prime Engineering Services.
Subcontractors to the project included: Nova Weigh, who supplied and installed the load cells and weighing equipment; Ekato, who supplied the new agitators and mixing panels; Endress and Hauser, who supplied the facility control equipment; Boiler Tech, who supplied all of the facilities boiler equipment; Precision Pneumatics, who supplied the Atlas Copco air compressors; and Aegis, who supplied and installed the demineralisation plant to purify water for use in facility compounding and cleaning.
FILLING AND PACKAGING LINES
The new production facility houses over 30 production lines for various products that effectively doubled Remploy's production capacity.
The hot wax line was a specialist facility with a new rotary filling capability, which allows a faster filling process and should allow double the previous production output compared to the normal in-line process. This type of filling line is popular in Europe but this was the first in a UK facility. The line was due to be used mainly for hair preparations in a wax format, hot fill products and lip balms.
The alcohol and flammables filling area is a state-of-the-art filling area that has been built to the latest EU regulations. The company was able to manufacture and package flammable liquids such as nail polish remover, deodorants, alcohol based hand-washes and also perfumes.
The enzymatic production line was one of the busiest in the entire facility (expected to bottle 15 million bottles of detergent per year). The line was primarily used in the process of packaging liquid fabric conditioners and laundry detergents for major clients such as Procter and Gamble, Lever Faberge and PZ Cussons. The new filling line provides more flexibility to fill different packaging sizes, ranging from 500ml to 10 litres.
The filling and capping area was encapsulated, which improved the enzyme extraction process. The tube filling line was a new line for the facility that the company installed due to client demand for this type of specialist packaging. It created a new flexibility in Remploy's repertoire and was primarily be used for hand cream, hair gel, shampoo and shower gel products. The tube filling line enabled the company to provide clients with a wide range of filling and packaging options for their new product lines.
The company also installed new mixing and compounding facilities that could handle quantities from 5t to 30t of material in one production run.
The new analytical and QA/QC laboratories were to assure consistency between product batches in different runs.
PERSONAL CARE PRODUCTS
Remploy also packaged its own range of personal care products such as shampoo, shower gel, body washes, moisturiser and bubble bath. This was branded as the 'Only' range (Kids, Natural, Me, Essentials), which was successfully marketed through discount stores across the UK.
They also contract packaged a whole range of premier brands such as Comfort, Persil, Limelight, Carex, Imperial Leather and Stergene – and these are part of Remploy's supply chain management programme for mature brands (Remploy contract managed the entire production and supply and demand logistics for certain well-known products). Remploy has also received the Procter and Gamble Pinnacle award for quality, during their long association with P&G.
The new facility worked under a new ethos of interchangeable packaging lines, rather than dedicated product lines. This enabled the company to operate 24hr a day, seven days a week. This development significantly increased flexibility, fast turnaround, and the ability to cater for large and small projects.
PROBLEMS FOR REMPLOY
In mid-November 2007, Remploy, which is government owned, announced the closure of 28 facilities countrywide. St Helens is one of the facilities earmarked for closure. The GMB Union has indicated that Remploy is very top heavy with far too much management and that with cost cutting and a new business plan all 83 of the factories might stay open. GMB also put forward proposals for the St Helens facility for it and one other site in Merseyside to remain open (which still has state-of-the-art equipment).
Despite these positive moves towards the end of November 2007 Peter Hain ,the Work and Pensions Secretary, announced to the House of Commons that 28 Remploy sites would close. This means 17 sites closing altogether, including St Helens. The remaining 11 would merge with other Remploy factories.
Paul Kenny the General Secretary of the GMB Union has suggested getting rid of 120 senior managers and reducing the number of head offices from three to just one as a way to save £20 million a year. Mr Kenny has also commented: 'In over 30 years of dealing with the public and private sector I have never seen such a badly run and mismanaged operation'.
It remains to be seen if any of these sites can be saved for the sake of the disabled workers they serve so well.