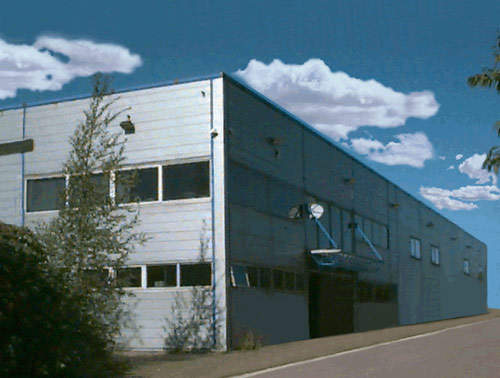 Riverside Plastics' new facility required a new investment of £50,000 (€70,000) in moulding equipment.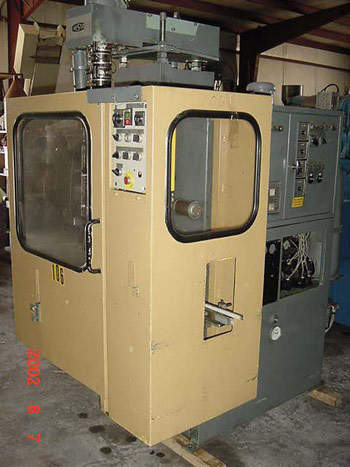 Hesta extrusion blow moulding machine.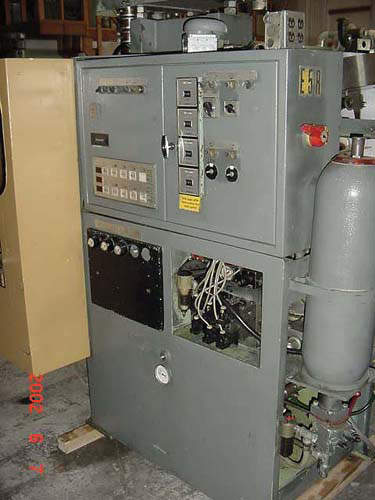 The two new extrusion blow moulding machines (the Hesta HS 451) will handle the production of containers from 5ml to 250ml.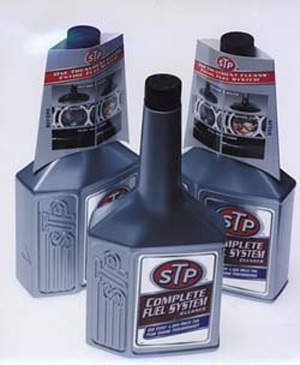 Extrusion-blow-moulded STP Fuel System Treatment bottle to be manufactured by Riverside Plastics.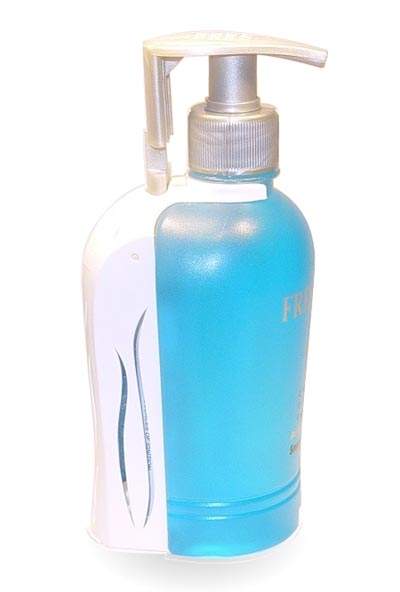 Riverside Plastics made the design for the Freshorize three-in-one bottle.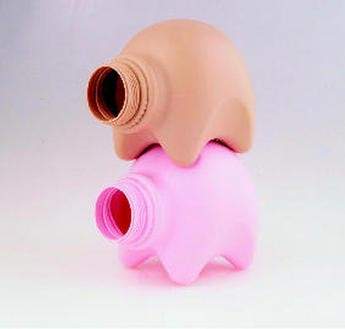 The Pug bottle is stackable and available in many different colours.
Riverside Plastics Limited of Pontypridd, Wales, UK, opened an extrusion blow moulding facility in August 2003. The facility required an investment of £50,000 in moulding equipment. The new production line was accommodated in a new building, which increased the floor space of the whole facility to more than 30,000ft².
Co-extruded bottles for the packaging of toiletries are manufactured in the new Pontypridd facility. In addition, Riverside Plastics manufactures a bottle with a thermoplastic elastomer outer case and a polypropylene (PP) inner lining. This container offers high barrier protection for potentially poisonous or corrosive products such as agrochemicals.
EXTRUSION EQUIPMENT
Riverside Plastics recently installed and commissioned two new extrusion blow moulding machines (the Hesta HS 451) to handle the production of containers from 5ml to 250ml. The company has also modified one of its blow moulding machines with a co-extrusion head and an additional extruder. The first bottle to be manufactured is a combination of high-density polyethylene (HDPE) and an outer layer of Adflex, a thermoplastic elastomer produced by Basell. The co-extruded container makes for a product with a soft feel for high-value toiletries.
The high cost and low stiffness, typical of rubbery materials, means that such resins are almost exclusively used as exterior co-extruded coatings (10% maximum) on a main supporting body, usually in HDPE. For the production of the thin outer 'soft feel' coating, a small extruder is employed. It is positioned on a co-extrusion head specifically designed for such an application. The resin used for the 'soft feel' is a thermoplastic polyolefin resin, which avoids all problems of adhesion with the interior coat of HDPE or PP. Moreover, the resin appears fluid and easy to colour and can be regenerated and used again with other polyolefins.
BOTTLES FOR FRESHORIZE AND STP FUEL SYSTEM TREATMENT
Riverside Plastics has its own in-house design capabilities. One of its latest innovations is a specially designed, frosted-finish PVC bottle used for the three-in-one handwash and air freshener system Freshorize. This bottle consists of a fragranced handwash, an air freshener from an atomiser that is activated when the hand wash is dispensed, and a constant-fragrance gel. The Freshorize innovator Aziz Patel could realise this concept thanks to support from the UK supermarket chain Tesco. Launched in September 2003, Freshorize started its roll-out across the UK retail trade in January 2004.
Riverside Plastics has also been commissioned to produce a new 500ml bottle for Clorox Car Care's flagship STP Fuel System Treatment. The new bottle, to be manufactured on the new production line, is extrusion-blow-moulded in oil-resistant opaque PVC and colour-matched silver to a pre-existing Clorox standard, using colour compound from Manchester-based Doeflex Vitapol. The bottle is designed to sit prominently on the shelf, dominating other products within the brand family.
Another developed concept at the Pontypridd facility is the Pug, a pug-shaped 25cl bottle. It is at the prototype stage, with tooling manufactured and filling line trials undertaken. Believed to be ideal as a brand building tool for suitable products, the Pug bottle is also stackable and can be extrusion-blow-moulded in any polymer. A choice of colours and closures is available. 'Project Pug' is a joint venture between Riverside and Marlborough-based designer Tin Horse.
SCREEN PRINTING DESIGNS AND LOGOS
Riverside has also developed a novel ink of various shades for the purpose of screen printing designs and logos on the 'soft feel' rubberised outer coating of the new containers. The new ink provides superior scuff resistance and wear resistance compared with other printed bottles used for similar purposes. The screen printing is carried out at the Pontypridd facility using custom-designed 'decorating equipment'.
RIVERSIDE PLASTICS
Riverside Plastics was founded in 1991 and produces a range of moulded plastic containers for the cosmetics, toiletries, hair care and automotive industries.