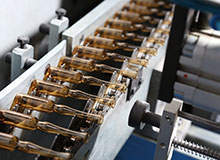 SCHOTT KAISHA opened a new pharmaceutical packaging plant at Jambusar in the Bharuch district of Gujarat, India, in February 2013. The facility produces glass-based parenteral packaging products, such as ampoules, vials and pre-fillable syringes, for the pharmaceutical industry.
SCHOTT KAISHA's Jambusar facility is claimed to be India's first fully automated production facility of its kind. The facility also meets global ISO 15378 standards.
The €20m ($25.8m) pharmaceutical packaging facility is expected to increase SCHOTT KAISHA's production capacity in India by 50%. The new facility is reported to have created 350 jobs.
The company is also planning for an additional investment of $18m to expand the Jambusar facility in near future.
SCHOTT-KAISHA joint venture history
"SCHOTT KAISHA's Jambusar facility is claimed to be India's first fully automated production facility of its kind."
SCHOTT-KAISHA is a 50:50 joint venture partnership between German speciality glass producer SCHOTT and India's Kaisha Manufacturers. The Indo-German joint venture company was formed in 2008 to manufacture glass-made pharmaceutical packaging products for the Indian market.
SCHOTT has been present in India since 1998, when it took over Bharat Glass Tubes, which had a pharmaceutical tubing facility at Jambusar in Gujarat. The same facility was expanded and the production technology modernised under SCHOTT's ownership. The facility started producing high-quality SCHOTT FIOLAX® tubing in 2006.
Kaisha Manufacturers has been operational since 1991 with a production facility in Daman. Kaisha was procuring pharmaceutical glass tubing from SCHOTT to convert them into primary packaging products for pharmaceutical use.
SCHOTT wanted to seize business opportunities in India's growing pharmaceutical packaging market with the market knowhow of Kaisha. Kaisha joined with SCHOTT to benefit from the technological expertise of the latter.
Indian pharmaceutical packaging plant details
The Jambusar packaging plant is built across an area of 20 acres with provision for future expansion.
The first module installed at the facility consists of 20 production lines for ampoules and 16 lines for vials. The production lines are fully automated with the use of high-tech feeding robots for tube loading and inbuilt camera systems for carrying out quality inspection. The facility has capacity to produce two million ampoules a day.
New production modules are also planned at the facility depending on the demand in future.
The pharmaceutical packaging plant is located near SCHOTT-owned glass tubing production facility for convenient supply of SCHOTT FIOLAX glass tubes that constitute the base materials for the packaging facility.
Products and brands of the SCHOTT KAISHA JV
SCHOTT KAISHA produces ampoules, tubular vials, syringes, pen injector, auto injector catridges and dental cartridges.
"The Indo-German joint venture company was formed in 2008 to manufacture glass-made pharmaceutical packaging products."
The types of ampoules produced by SCHOTT KAISHA include one-point cut, ceramic printed, flat based and constricted neck (FBCN), flame cut and closed ampoules, as well as ampoules with colour break band and identification bands. The sizes of the ampoules range from 1ml to 25ml.
The tubular vials produced by SCHOTT KAISHA range from 1ml to 140ml sizes for liquid filling. The types of vials vary with different closure systems such as crimp neck, screw neck or snap cap, as well as with different blowback systems, including normal, American Blowback or European Blowback vials. The company also produces SCHOTT Type I plus® coated vials for sensitive drugs and SCHOTT TopLyo™ vials for Freeze-Dried Drugs packaging.
SCHOTT KAISHA produces both pre-fillable syringes and non-sterile bulk syringes between the ranges of 0.5ml to 5.0ml. The syringes are produced with different customisable specifications.
SCHOTT KAISHA's prefillable syringes are offered in sterile tub packs and are marketed under the brand name of Safepac™. The company also offers SCHOTT TopPac® brand cyclic olefin copolymer (COC) prefillable syringes.
Marketing commentary for the Jambusar-based packaging facility
SCHOTT KAISHA's production capacity has increased by 50% with the opening of Jambusar Pharmaceutical Packaging facility. The company is now in a position to produce around two billion of ampoules and vials per year, together with its Daman packaging facility.
The products of the facility are targeted for Indian pharmaceutical packaging market that has grown in double digits during recent years.
Schott Kaisha's turnover has witnessed an average annual growth rate of 25% since 2008. The company is also exploring to improve its export potential in future.
The new facility has also put SCHOTT in a strategic position in the Asian pharmaceutical packaging market. The company formed a joint venture with Xinkang in 2012 to strengthen its position in the Chinese pharmaceutical packaging market.
The German pharmaceutical glass company SCHOTT has 800 production lines in 14 countries with an annual production capacity of nine billion syringes, vials, ampoules and cartridges. The company, with its annual sales volume reaching €3bn ($4bn) mark, is on an investment spree to increase its global footprint.