The new facility covers an area of 30,000m2. Image courtesy of Schumacher Packaging.
Construction of the corrugated cardboard packaging plant began in April 2013. Image courtesy of Schumacher Packaging.
The Greven plant officially started operations in June 2014. Image courtesy of Schumacher Packaging.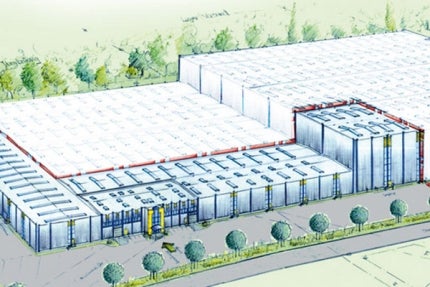 Schumacher Packaging, a corrugated and solid cardboard packaging specialist in Europe, constructed a new corrugated cardboard packaging plant, which is the 12th packaging plant for the co-operative. The plant is located at FMO AirportPark in Greven, Germany.
---
Related content
---
Owens-Illinois (O-I) opened a new glass recycling plant in the state of Oregon, US, in a joint-venture with Californian company eCullet in December 2013.
---
Involving a €45m ($61m) investment, construction of the facility started in April 2013 and official operations began in June 2014. The plant is built to manufacture and supply corrugated board packaging boxes to north-west Germany, the Ruhr region, Scandinavia and the Benelux region.
The Greven plant created 100 jobs initially and currently employs more than 500 people. The cooperative received the North Rhine-Westphalia (NRW) Invest Award 2013 for the plant from the NRW state authorities in July 2013.
Corrugated cardboard are manufactured from renewable natural resources, after recycling the used corrugated cardboard boxes or paper. The corrugated cardboard packaging is more resilient, sustainable and can easily disposable, providing an environmentally friendly input to the region.
Schumacher Packaging initiated a €30m expansion at the Greven plant to double the capacity of processing and warehousing units. The expansion will add 80 more jobs when complete by mid-2017.
Corrugated cardboard plant details
The facility is located near to Münster Osnabrück International Airport and the A1 motorway, which provide ideal connectivity for the plant. The plant has a built-up area of 30,000m².
The Greven project included construction of a corrugated board plant (corrugator) and installation of four processing machines and advanced finishing machines for packaging such as six-colour flexo-printing machines.
Most of the equipment installed at the plant was supplied by Switzerland-based Bobst Group. A new heating system supplied by GRW Anlagenbau was also installed. The heating system features a 700kW gas blower and a 140kW or 220kW combined heat and power (CHP) system. It also provides space for radiators and radiant panels, as well as a warehouse facility.
The modern corrugator, supplied by BHS, is equipped with two one-sided machines that enable it to produce single or double-fluted corrugated board.
A multi-colour inliner from Bobst is also installed at the plant for further processing. The inliner is capable of processing sheets up to 2.8m-wide. It is accompanied by a two-colour inliner, which can process 2.4m-wide sheets.
A six colour flexo-printing machine and two flat-bed stamping machines from Bobst, and two folding/gluing machines are also installed at the plant. The Greven site also features a high-bay warehouse with a capacity of 15,000 euro-pallets, which stores the finished packages under ideal temperatures and humidity conditions.
Schumacher Packaging also plans to expand the plant in the future to create up to 100,000m² of factory space. The expansion phase is expected to see an additional €100m ($138m) investment.
Greven plant processing method
"Schumacher Packaging also plans to expand the plant in the future. The expansion phase is expected to see an additional investment of €100m ($138m)."
Schumacher Packaging implements its modern and advanced modular KLT system method for small load carriers. The system follows the reverse order of stacking, which involves placing the large units on small units resulting in increased flexibility and easy handling.
The KLT system includes standardised corrugated cardboard trays in three different sizes; a small tray of 500kg, a medium tray of 550kg, and a large tray of 620kg. The trays are stacked, mixed and locked together by implementing multi-wall construction techniques, minimising the chances of stack collision and offers accurate resistance.
Marketing commentary on Schumacher Packaging
Schumacher Packaging was founded by Kurt H. Schumacher in 1970 and operates plants at Bielefeld, Forchheim, Hauenstein, Black Mountain and Sun Mountain in Germany, and three other plants at Bydgoszcz, Grudziadz and Wroclaw in Poland.
The company employs approximately 2,600 people and produces packaging products for a variety of markets, including transportation, machines, folding cartons, trays, gifts and offset printing.