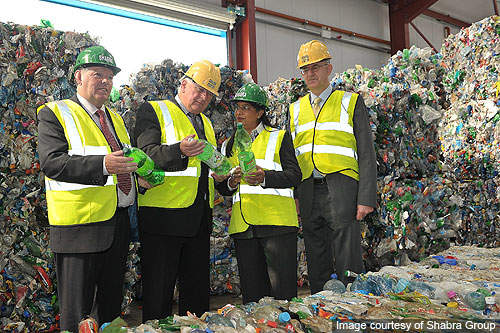 Baled plastic bottles in the new bottle sorting plant.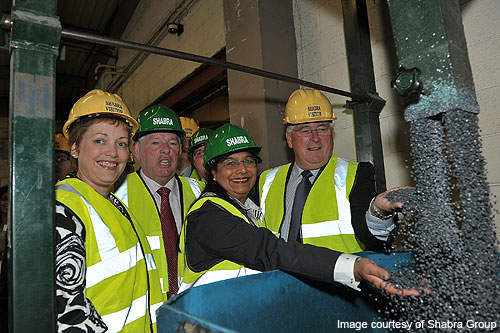 Execution team with visitors inside in the new facility.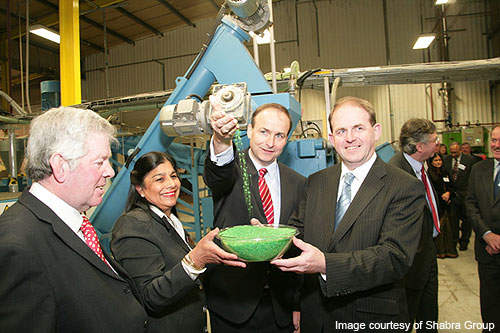 Coloured pellets manufactured at the facility.
The Shabra Plastic Bottle Sorting Plant is an extension of the Shabra Plastic Recycling Unit located in Castleblaney, in Co Monaghan city, Ireland.
The one-of-its-kind facility in the country sorts over 40,000t of mixed post-consumer bottles a year. The estimated cost of the plant, which was opened in September 2010, is €3.5m.  It has been partly funded by Enterprise Ireland Growth Fund.
The project has created 35 jobs that will be filled over three-four years.
The Shabra Recycling Unit manufactures recycled polythene bags, black sacks, refuse sacks and bespoke bags. It sells its products to wholesale, commercial and industrial users across sectors such as food, manufacturing, transport and also to government departments. It also manufactures customised black and coloured plastic bags, paper bags and prints.
The plant is involved in recycling, sorting, baling, cleaning and palletisation of plastic waste. As of 2009, it recycled 10,000t of plastic waste. It sells all the recycled plastic bottles to a company in Kells that manufactures fleece jackets and carpets. It also exports about 55% of its total produce to Europe and the Far East.
Shabra Plastic is owned by Shabra Group which is the only integrated plastic processing, recycling, manufacturing and supply company in Ireland.
"The Shabra Recycling Unit manufactures recycled polythene bags."
Shabra project
The new bottle sorting plant segregates mixed plastic waste into individual material types such as PET, HDPE, PVC and LDPE in a single cycle.
This technology has been partly innovated by the R&D team of Shabra Group.
Post-consumer recyclable low density polyethylene (LDPE) is used to make recycled pellets which are used as raw material to manufacture plastic bags, sacks and shrink wrap.
The other post consumer high density polyethylene (HDPE) and polyethylene terephthalate (PET) are sorted by type and colour by a mechanised as well as manual process.
The plastic is then downsized, baled, shredded, washed and dried to make flakes which are exported.
Process
The post-consumed plastic is collected from various sources such as city councils, households, commercial outlets and blue chip companies.
"This technology has been partly innovated by the R&D team at Shabra Group."
The material is checked to see if it is clean, dry and free from contamination. It is inspected twice, at collection points and at the plant. It is then sorted by colour and type into individual material.
Plastics are mostly varied and not always compatible with each other.
A fully mechanised process is used to ensure that only compatible polymer is combined.
The recyclate is used in the manufacture of rPET deli containers, carpets, fleeces, pipes, drums and sheets.
Plastic recycling in Ireland
Plastic waste has rapidly increased in Ireland from 170,000t in 1998 to over 250,000t in 2008. At the same time, plastics recovery has also increased from 8,000t in 1998 to 56,000t in 2004 and to more than 80,000t in 2008.
Plastic recycling has a more viable future in Ireland because of the small scale and low operational cost, and the high value of the recyclate. The state owned Repak has been educating households on plastic recycling and driving the plastic collection programme in Ireland.