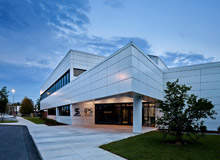 US-based packaging products and services provider Sonoco announced the opening of its state-of-the-art innovative packaging solutions (iPS) research and development studio at its headquarters in Hartsville, South Carolina, in January 2016.
The company started transforming its existing two-storey packaging development centre into the iPS studio in mid-2014.
Constructed with a $12m investment, the studio reflects Sonoco's business philosophy to create innovative packaging solutions for its customers. It enables collaboration of consumer and market insights to invent new packaging solutions.
The studio features a variety of spaces with multiple environments and latest technology for consumer and market research. Sonoco is also adding the latest package design and prototyping capabilities to the studio with a $1m investment. The pilot plant equipment will allow for the development of new consumer packaging products.
Sonoco's iPS studio features
The iPS studio features a consumer interaction space that enables live, direct observation of consumers interacting with products and packaging in a variety of environments.
It houses collaborative spaces where experts use latest technologies to devise packaging concepts. It also features innovative technology for the development of structural design and commercially-viable manufacturing options.
Also featured are state-of-the-art 3D printing facility, a pilot plant to test manufacturing performance, and rapid prototyping labs to develop engineered prototype packages that can be tested in iPS real-world spaces.
Facilities at iPS research and development studio
Designed by Whitney Architects, based in Illinois, the research and development studio features various facilities, including focus group facilities and simulation areas to enable better understanding of how newly designed packaging performs in the real world.
Focus group facilities allow trained facilitators to watch consumer interaction with packaging concepts. They draw insights out of their observation of real people, using and discussing about the packaging approach. The insights are critical to determine the right packaging solution for the products.
The studio also features different simulation rooms that enable testing of diverse portfolio of products and packaging in varying environments. The simulating environments include a bathroom for health and beauty products, a kitchen for food and beverage, living room for food, beverage and pets, and a retail store to cover all markets.
With the help of these areas, the facilitators will observe how a newly designed packaging performs in areas such as visual appeal, storage, functionality and convenience. It will also let them know how packaging promotes a product and brand.
Innovation process at iPS studio
Sonoco offers a 360° customised solution to its customers with its i6 innovative process approach. The process involves six steps, which include ideation, invention, integration, interaction and iteration, and will enable the company to connect insights to opportunities and to take a unique packaging approach to solve the customer's challenges.
"Constructed with a $12m investment, the studio reflects Sonoco's business philosophy to create innovative packaging solutions for its customers."
During the ideation phase, the company will gather different people from varying backgrounds and expertise to imagine differentiated products and processes. The next step involves invention, where ideas are turned into reality. Integration connects the idea, reality and commercialisation.
Interaction is when the facilitators try to understand the product's impact on the market in retail environment, especially how the design impacts the customer choices.
Iteration represents the final step of the process and involves continuous product improvement intended to drive the next evolution.
Marketing commentary on Sonoco
Established in 1899, Sonoco is a global provider of a wide portfolio of consumer packaging products, industrial products, protective packaging, and displays and packaging supply chain services. Some of the product categories include rigid paper and closures, flexible and plastics, retail displays, tubes and cores, reels and spools and uncoated recycled paperboard.
With a sales turnover of approximately $5bn a year, the company employs 20,800 people working in more than 330 operations in 34 countries.