Diagram of the Spumador aseptic filling line.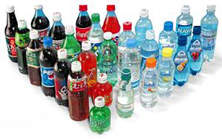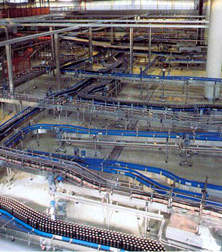 A selection of the bottles produced showing different shapes and sizes.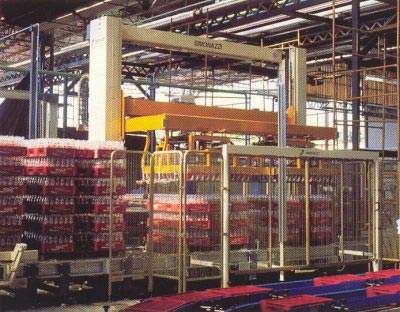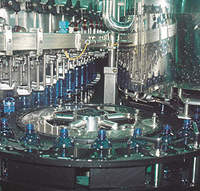 Air conveyors on the line moving filled PET bottles to the shrink wrapping process.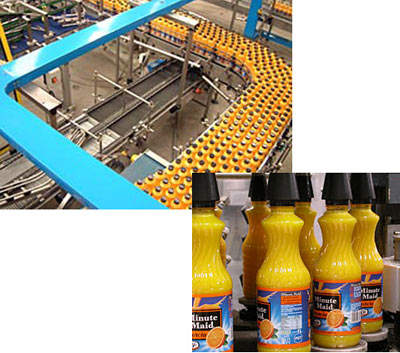 The Italian company Spumador, which bottles soft drinks, fruit juices, mineral water, tea-based drinks and dairy products, has increased the bottling capacity at its Sant'Andrea Bagni facility in the Parma region of Italy. The company invested €20m in the installation of a new state-of-the-art aseptic bottling line.
The new line, which is configured for aseptic use, handles fruit juices, tea drinks and milk drinks. The project to install the new system was divided into two phases. The first phase was based on a linear filler with an output of 6,000 bottles per hour (bph) for 1.5 litre bottles, which was installed in late 2003. The second phase, begun in early 2004, involves the installation of a Simonazzi Aseptica R rotary filler to increase the production capacity to 24,000bph for 1.5 litre bottles. In 2008 the company installed its fifth aseptic filling line.
The system is designed for the bottling of complex products such as fruit juices containing a significant proportion of fruit pulp.
Main supplier
The contract to supply the new bottling line was awarded to SIG Simonazzi, an Italian company that forged a solid relationship with Spumador in 1999 when they supplied the previous aseptic bottling line at the plant. The old bottling line operates at 13,000bph and is still in excellent condition. However, a newer line was required to increase bottling output and to take advantage of new technology in handling complex products
The system is designed for the bottling of complex products such as fruit juices containing a significant proportion of fruit pulp or drinks with a sensitive pH (in the acidic range up to 7) into PET bottles. The company bottles not only drinks under its own brand names such as S. Francesco, S. Andrea, S. Antonio and Spumador, but also beverages for many large supermarket chains such as Lidl, Carrefour, Conad, Bennet and Standa, and major companies such as Coca-Cola and Carlsberg.
Equipment
The containers for the system are made of PET and have either 38mm plastic screw top closures or 38mm flat and sports cap closures. The system can handle a range of bottle sizes, including 1.5 litre, 1 litre, 75cl, 50cl, 33cl and 20cl. The bottles are shrink-wrapped in plastic only, prior to palletising and storage before distribution. The new system had a flexibility that Spumador requires to expand its customer base.
The new system started with concentrated product storage units, product preparation and sterilisation. These units were supplied by another SIG subsidiary, SIG Manzini. The BLOMAX 16 Series III blow moulder equipped with compressor, cooling tower and refrigeration unit produced the bottles for the filling line. SIG Corpoplast supplied the machinery. The Simonazzi Aseptica L-DSP aseptic filling line with dry sterilisation capability, which also has the ability to seal with aluminium seals, fills the bottles before they are capped using a PK 6T capper level control.
Other parts of the integrated system include a Mojonnier Starblend electronic mix processor, the Alfa Rollquattro F25 18 T labelling machine, a sleever, a shrinkwrapper, a Simonazzi Kombi 1P 2I palletiser, aseptic air conveyors and conveyors for filled bottles and packs.
The new line uses Sensofill FMa filler which allows product and format changeovers to be performed without losing sterility.
New line
In September 2008 Spumador announced its investment into a new Sidel aseptic filler, its fifth aseptic line, which was chosen to increase flexibility at the Sant'Andrea Bagni plant so that it could handle more products in a wider variety of formats. Tullio Tiozzo, Director of operations at Spumador commented: "We anticipated that we would need a facility able to handle a large number of products. So this new line was designed to achieve extreme flexibility and speed in format changeovers while maintaining all the high quality standards that are fundamental to aseptic lines."
The new aseptic line has already been operating at the Sant'Andrea Bagni facility for some months during a trial period producing 24,000 bottles per hour in seven different formats which range in size from 0.1 l up to 2 l. The new line uses the new Sensofill FMa filler, which allows product and format changeovers to be performed without losing sterility and this makes the overall operation much faster. The new Sensofill FMa also reduces losses during product changeovers, and cuts down water and APA (chemical biocide) consumption.
The new line is now being used for the filling of still and neutral pH beverages in PET bottles and these include sports drinks, iced teas, dairy or soy based drinks, 100% pure juices, fruit juice-based beverages with pulp, and vitamin enriched fruit drinks. The line can produce PET bottles with normal flat cap seals or sports caps and can use multi-layer or single layer PET with barrier coating. The system can also use a variety of different labelling techniques including reel-fed labels, wrap-around labels, transparent or customised heat shrink labels.
Sidel merged with Simonazzi in 2005-2006 to form a new partnership that has developed the new Sensofill FMa technology as a result.