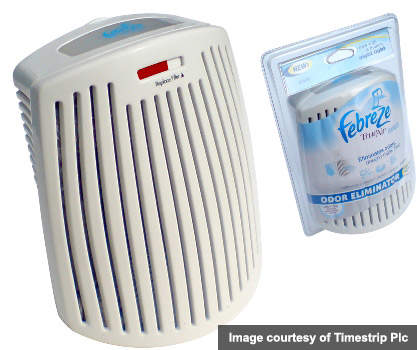 Timestrip is used in Febreze products to notify when a filter needs changing.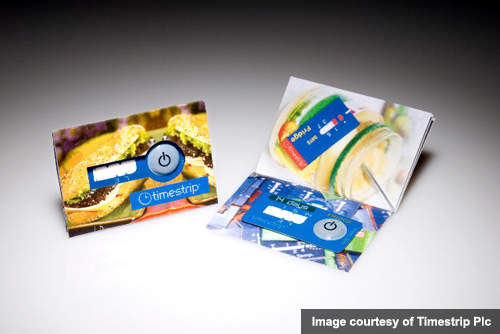 The Timestrip can be used as an integrated label or as an external device.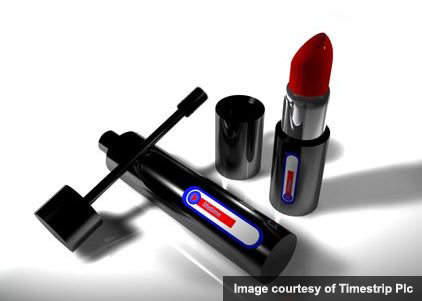 Timestrip can be used for cosmetics following the Period After Opening rules.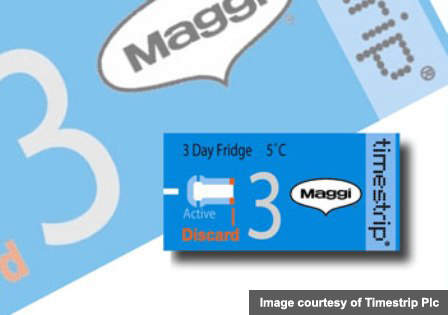 Nestlé use Timestrip on its Maggi sauces range.
To provide consumers with information about the shelf life and condition of a product, Timestrip has developed a disposable smart label that can monitor how long a package has been open or how long it has been in use.
Timestrip labels measure elapsed product-use time from around a few minutes to over a year. The label can function at raised temperatures or in a freezer or fridge. Timestrip labels can also incorporate anti-counterfeit technology.
Timestrip function
The Timestrip uses a porous membrane, through which a coloured food-grade liquid dye diffuses in a repeatable fashion. The chemical changes indicate how much time has elapsed.
The Timestrip is activated by pressing a small button that allows the liquid to make contact with the membrane and begin the diffusion process.
"Timestrips are designed for particular applications and time frames."
The Timestrips are designed for particular applications and time frames, along with a range of temperature operations.
The Timestrip's adhesive tape can be customised for most surfaces and the label can be printed with
customised graphics and instructions. The label can be used externally or fully integrated into the packaging.
The Timestrip technology is useful in many ways in different sectors. In the food retailing industry, for example, Timestrip's smart labels are very useful in acting as an anti-counterfeiting and tamper evident device. It removes confusion over expiry dates and adds brand value to the product. In the food services sector the technology is helpful in HACCP compliance and acts as an easy-to-use guide to food freshness.
In the medical sector, this technology is useful in adhering to the highest infection control protocols and improving patient satisfaction and confidence in services. Timestrip's technology can also be used in pharmaceuticals and cosmetics to ensure that products that are out of date are discarded on time.
Timestrip smart label customers
Timestrip labels can be installed on packaging production lines. Nestle has incorporated Timestrips into the packaging of its Maggi ready-to-use sauces. The label will allow customers to see how long any unused sauce, kept in its packaging under the recommended conditions, has been open.
"Chemical changes indicate how much time has elapsed."
The label may also be used for makeup following the introduction of the Period After Opening rules (PAO) for cosmetics by the European Union.
Mascara, for instance, has a use-by date of only two to three months before the formaldehyde preservative runs out.
Timestrip also has a contract with Hamilton Beach and Proctor Silex, manufacturer of the Febreze range of odour eliminators. The Timestrip reminds users to change the eliminators' activated carbon filter within the recommended four month time frame.
In 2008, Timestrip signed contracts with several new customers. The company signed a $3m contract with Tetra, a subsidiary of United Pet Group, to incorporate the Timestrip labels on Tetra's aquarium filter. The contract also included using Timestrip labels on the replacement filter cartridges sold by the company in North America.
Whirlpool Europe used Timestrip's technology as an alternate indicator in two of its domestic appliance filters. Premier Foods also used Timestrip labels on a temporary basis for its Branston Original pickle brand. Timestrip signed contracts with Plastek and CCL Label to adopt its technology into caps and closures to indicate the expiry date.
iStrip smart labels
Timestrip recently developed a new smart label called iStrip. This label monitors temperature and indicates if a product has been accidentally frozen during cold storage. This type of label is suitable for the protection of vaccine vials and sensitive medicines.
Each vaccine vial can be given an iStrip label, which will change colour irreversibly if freezing occurs (the freezing point is adjustable for different products). The label can be applied on a production line in the same way as a standard label. The technology was adopted by DHL on a trial basis and the company reported positive results from the use of the label.