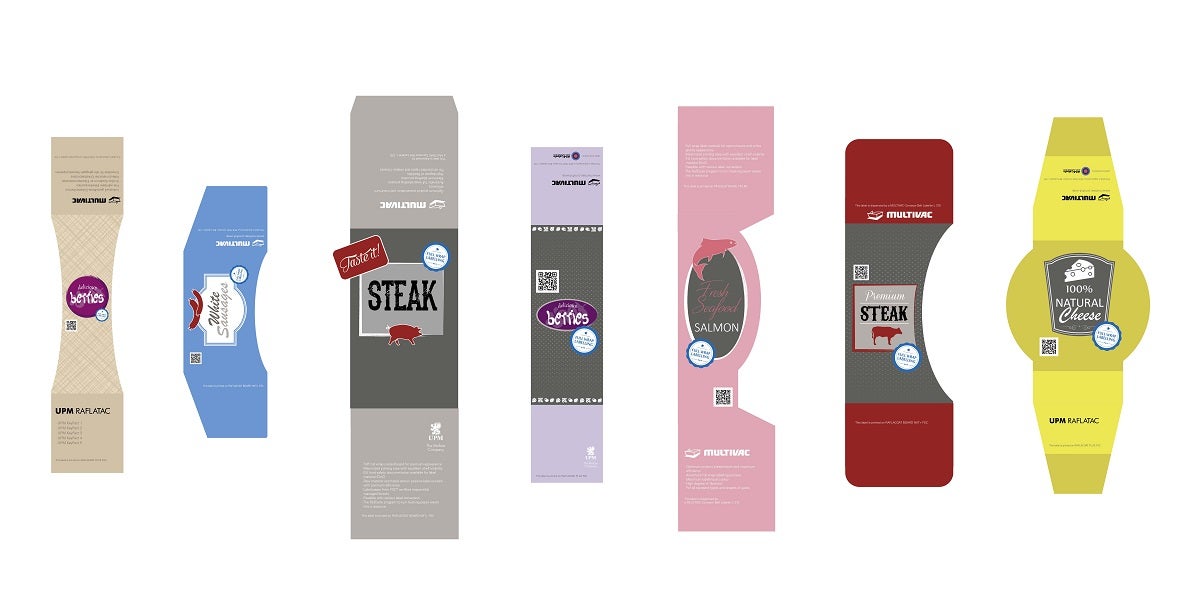 They are not only attractive and pleasant to the touch, but also resource-saving and environmentally friendly: With full wrap labels, consumers can enjoy their favorite brand with innovative benefits. At the same time, their buying decision supports manufacturers and the retail trade in their efforts towards greater sustainability. An ideal solution for full wrap labelling is the L 310 conveyor belt labeller from MULTIVAC. One of its most distinguishing features is its exceptional performance – and especially its high degree of flexibility in terms of products to be packed, label design and pack formats.
Whether for pizzas, baked goods, eggs, fish, fruit or vegetables, MULTIVAC's full wrap labelling is redefining packaging and labelling. The benefits? Automatic labelling and a large surface for information – without compromising a clear view of the product. This type of labelling is also significantly more cost-effective than conventional cardboard sleeves. Even when the most inexpensive material is used, this packaging concept still stands out with its high-quality look and feel, since the print design, shape and material type can be individually adapted to the product and brand. And, last but not least, this solution meets increasing market demands for sustainability.
A typical application of full wrap labels, enclosing all four sides of the pack like a banderole, would be skin packs with varying heights of product protrusion. Since unprinted upper webs are most often used on these packs, the label plays an important role in distinguishing the product. Full wrap labelling is also practical for MAP thermoformed packs or trays in a wide range of shapes. The even surface of these packs offers many opportunities for label placement. And when it comes to hinged blisters or clamshell packs, the label also prevents the pack from springing open inadvertently.
Material-efficient labelling of pizzas, baked goods and eggs
Fresh or frozen pizzas, cakes, tortillas, pitta breads, quiches, tart bases and other flat products are usually packed using pre-printed film plus top and bottom labels or a cardboard sleeve. Such products are generally packed in hinged blisters, thermoformed packs, trays or simply in film. In the case of pizzas, it is also usual to pack them in a box. Egg boxes, which are made from recycled paper fiber-based materials or transparent plastic, also most often have a pre-printed adhesive label on the top of the pack, or a cardboard sleeve.
Full wrap labelling is an innovative alternative. When it comes to point-of-sale appeal and the usable surface for promotional information, this relatively unconventional concept of C or D labelling outperforms top and bottom labelling by far – while being considerably more sustainable. "Using a full wrap label instead of a standard-size pizza box saves over 65 g of pack weight. If a full wrap label is used instead of a cardboard sleeve, the weight of the banderole can even be halved. In the case of cartons, even greater material savings are possible," explains Michael Reffke, Product Manager at MULTIVAC Marking & Inspection.
Depending on the label material used, material savings of up to 70 percent can be achieved for cookies, muffins, doughnuts, cakes and tarts, which are mostly packed in transparent hinged trays and then enclosed in a cardboard sleeve. By using C or D labelling, it is possible to securely close the hinged tray on one or both sides. This solution also means less weight throughout the entire logistics chain, as well as a contribution to an enhanced CO₂ balance," adds Michael Reffke.
Cost-effectiveness and sustainability are not mutually exclusive
It isn't only material savings that are under scrutiny in future-proof and state-of-the art packaging solutions. The cost-effectiveness of the packaging process itself is also relevant, especially in times of rising raw material prices and current discussions regarding urgently required agriculture reform. It all comes down to sensible consumption, affordable food prices and the acceptance of higher prices for high-quality products.
Although cardboard sleeves, which wrap around skin packs, MAP trays and even aluminum or tin trays for fish and seafood, meet current requirements in terms of recyclability, they are generally more expensive and less efficient. This is because, as with baked goods, the cardboard sleeves are generally applied manually. If this process can be automated at all, it is only possible to achieve relatively low cycle rates in the packaging process due to the intermittent nature of the sleeving operation. Complex folding cartons are also most often closed manually, and these frequently need an additional label.
With its flexible L 310 full wrap conveyor belt labeller, MULTIVAC has developed a groundbreaking solution. It stands out not only with its high level of automation, but also with its capability to apply labels with maximum precision. This robust, low-maintenance model enables the automatic C and D labelling of packs at speeds of up to 150 per minute. If required, further label dispensers can be integrated, so that additional information labels as well as the full wrap label can be applied onto the pack. The L 310 can be integrated seamlessly into both new or existing filling or packaging lines, or it can be used as a stand-alone solution with manual product infeed.
Automated labelling for greater efficiency and cost-effectiveness
Thanks to its nodular design, this model, which can take label backing strip widths up to 500 mm, is equipped with patented servo-driven press-on brushes for full wrap labelling. In addition to being able to apply a simple top label, the L 310 can apply a label in a C shape over three sides of the pack, or in a D shape over all four sides. It is even possible to overlap the label on the bottom side of the pack. Both C labelling and D labelling offer the benefit of the pack being sealed closed at the same time. Depending on requirements, additional functions such as perforations as an opening aid, viewing windows, adhesive-free zones or printing on the back of the label can be integrated into full wrap labels as well.
There is also a wide range of suitable thermal transfer and thermal inkjet printers available from MULTIVAC for the inline printing of variable data. The L 310 can even be equipped with a zero-downtime function for even more efficiency and process reliability, or with integrated label/print monitoring at even the highest throughput. Labeller controls can be integrated into the packaging machine's control system. The label dispenser is adjusted in height very ergonomically from the front of the machine.
Thanks to the automated labelling process, producers and packers benefit from a high level of precision, process reliability, and above all, outstanding throughput.
Close to endless possibilities in terms of design and material
When it comes to label design and the range of materials that can be run, there are virtually no limitations with the L 310. Since the labels are stabilized by a backing material, it is possible to consider virtually all label shapes and designs, unlike linerless labels, which can only be produced in a right-angled format. Labels with curves or cut-outs are possible, which means they can be matched to the shape of the specific product or pack – to convey a high-quality image. If a typical paper feel is integrated into the label design, the impression of high quality can be increased even further.
The standard range of backing materials, which MULTIVAC has specified in conjunction with UPM Raflatac for producing full wrap labels, includes both paper and film materials in various grades. Equally diverse is the spectrum of suitable label and adhesive materials from MULTIVAC: In addition to PP and PET labels, this includes labels made from renewable materials, as well as paper labels with a detachable adhesive (whereby the consumer removes the label), or with a washable adhesive (for separation in the recycling process). Material thicknesses from 80 g/m² up to 170 g/m² can be run without problems, so that each product can be presented attractively in line with its quality image.
"By matching the label material to the packaging material, we can ensure that the various package parts can be separated to meet recycling requirements. Detachable or washable adhesives also facilitate the separation of individual packaging components, which can then simply be directed to the relevant recycling stream," says Michael Reffke. "This is a key aspect – and not only with regard to legal requirements," adds the MULTIVAC labelling expert. Today's consumers are increasingly concerned about recyclable, sustainable packaging concepts, especially in cases when natural products or high-quality food are involved.
An all-new dimension of added value
Full wrap labelling from MULTIVAC is also a proven high-quality labelling alternative with added value for packaging concepts that are plastic-free. In the case of fruit and vegetables for example, single-origin recyclable packs made of paperboard or cardboard are now gradually replacing typical plastic trays, which usually feature an additional pillow pack, or are wrapped in stretch film or netting. "This trend will continue in the future and will include further product groups," predicts Michael Reffke.
With full wrap labels, these packs too can be securely closed and branded in a very sustainable way. They not only ensure an attractive presentation at the point of sale – they also enjoy a high level of acceptance among consumers, many of whom are now rejecting plastic packs in favor of natural or more environmentally friendly packaging. Even when the lowest-cost material is used, this packaging concept still stands out with its high-quality look and feel, since the print design, shape and type of material can be individually adapted to the product and brand.
Producers and packers also benefit from quick batch and label changes, and this really pays off where there is a large variety of products. All setting parameters for the labeller and the print layout for the integrated printer are stored in the specific recipe, and these can be called up automatically when a batch is changed. If an optional splice table is used, experienced operators can perform a label roll change in less than a minute.
The MULTIVAC specialists provide customers with comprehensive information and advice on all aspects of full wrap labelling. As Michael Reffke confirms, "Only when labellers and materials are perfectly tuned to a customer's specific requirements and product, can the huge potential of this labelling solution be harnessed."