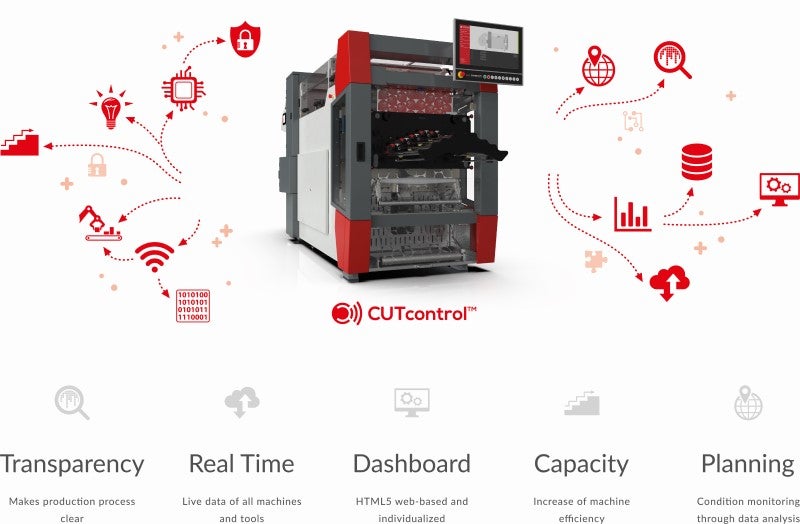 Berhalter uses automated technologies to provide state-of-the-art digitised die-cutting solutions for the packaging industry. The Internet of things (IoT) plays an increasingly important role in innovation for several sectors, including food and packaging, where digital transformation is at the forefront of progress.
Berhalter is one of the top companies using this digital revolution to change how data is transformed into information, which can then be used to increase efficiency in the packaging industry.
Benefits of digitalisation in the packaging industry
A lack of efficiency in die-cutting processes can cause increased labour costs and reduced profits. Inadequate handling of materials and arrangement of die-cutting cavities further increase costs as well as waste.
Industrial internet of things (IIoT) technologies translate data into information, using data analysis to provide transparency for increased production performance.
Berhalter managing director Dalibor Schuman says: "Digitalisation redefines collaboration. When linked intelligently, data provides meaningful condition and performance information."
The level of digitalisation that Berhalter provides supports the whole die-cutting procedure by offering insight into the appropriate data so that services, maintenance, and production can be properly managed, monitored and scheduled. This allows customers to save time and costs while optimising operations.
Berhalter's CUTcontrol service platform is an innovative IIoT system that offers customers smart integration, clear die-cutting machine performance indicators and economic benefits.
Enhanced performance with CUTcontrol
Data transparency for production processes, machines and tools allows defects to be detected at an early stage, supporting predictive and preventive maintenance. With maintenance factored into production planning, jobs can be better scheduled, long machine downtimes can be avoided, and machine efficiency can be increased.
Berhalter's CUTcontrol is a digital platform that effectively monitors the performance and productivity of die-cutting machines. It provides clients in the packaging industry with key data connected to productivity, jobs and maintenance.
The data collected by CUTcontrol is stored on an easy-to-view dashboard. With a comfortable, web-based interface and responsive design, operation of the system is easy on smartphones, tablets, desktop computers and notebooks, providing customers with live data anytime, anywhere.
As Berhalter is customer and product-focused, its IIoT solution is customisable, while maintaining optimal production and upholding the necessary requirements for different kinds of packaging and products.
Schuman adds: "CUTcontrol … is characterised by smart integration and a clear focus on die-cutting machines and their key performance indicators (KPI)."
Embodying the power of digitalisation, the IIoT CUTcontrol technology effectively connects to Berhalter's die-cutting machines and tools to enhance production.
Innovative IoT tools for the packaging industry
With a series of intelligent innovations, Berhalter provides automation to help customers enhance efficiency and cut costs. When combined with CUTcontrol, Berhalter's digital IIoT technologies offer efficiency and timely data management.
With a performance of 500 strokes per minute, for example, Berhalter's Swiss Die-Cutter B6 is designed to meet a variety of requirements, including die-cutting packaging lids, paper labels and in-mould labelling (IML) labels.
The fully automatic, print-mark-controlled REELsplicer is a tool designed to eliminate machine downtime during reel changes. Berhalter says that the tool: "allows more time for additional quality controls".
WEBslitter is another Berhalter tool aimed at reducing downtime. Automatically activated by non-die-cut materials in punching tools, it cuts the materials into narrow strips that can be easily processed by a die-cutting waste extraction system.
For printed image quality checks, the compact PRINTinspect system and surface and hole detection WEBinspect system use intelligent and high-resolution cameras that guarantee a 100% printed image inspection. Schuman adds: "The simple and intuitive operation also enables short set-up times and quick job changes for both PRINTinspect and WEBinspect."
Customisable solutions for sustainable operations
Adopting environmentally friendly solutions is a present concern for companies in all industries. Berhalter customises die-cutting systems to meet all packaging requirements and make the most of each product's necessary packaging materials. Our die-cutting tools also provide the option for material-saving adjustments, offering further opportunities to reduce waste while maintaining high-quality performance.
With easy-to-use automated IIoT tools that provide increased performance, efficiency and sustainability, Berhalter is providing future technology for packaging companies today.