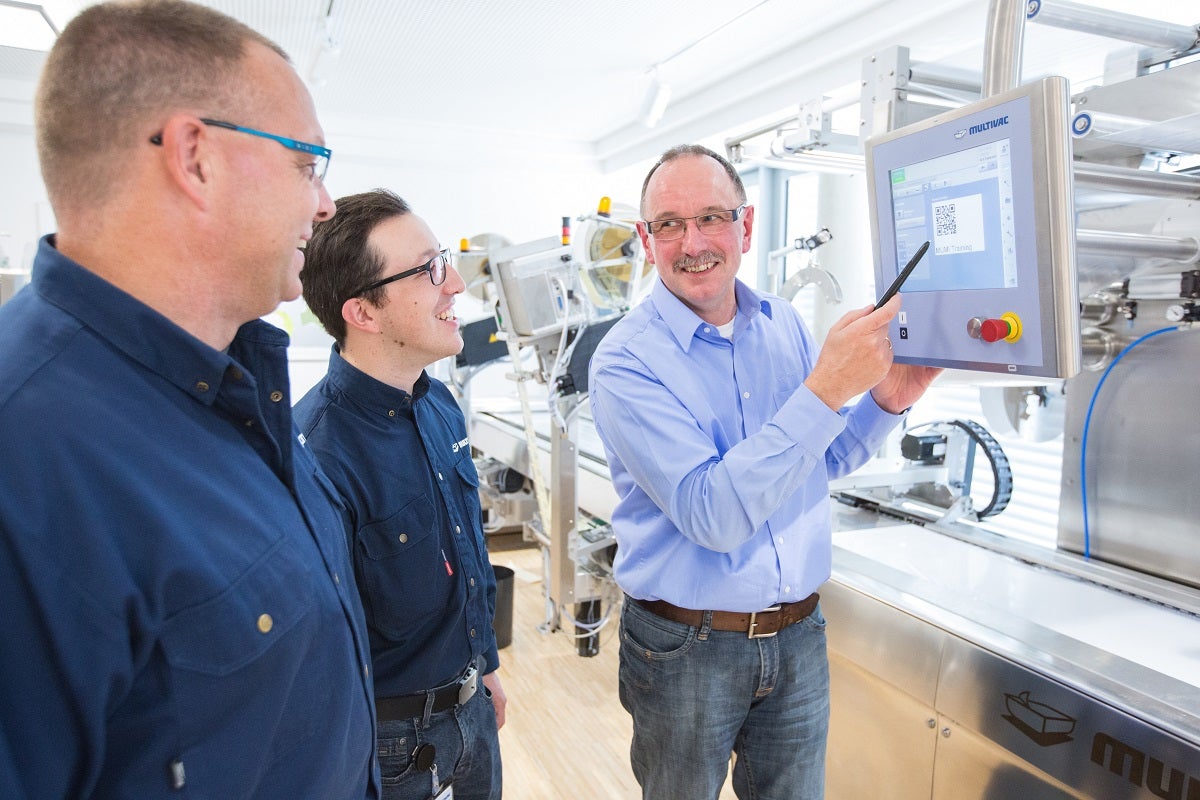 Bernd Wenderoth, Senior Director Customer Service at MULTIVAC Marking & Inspection, explains the demands companies are now placing on labelling and inspection, and how MULTIVAC supports these companies in achieving their objectives in a targeted and sustainable way.
Mr. Wenderoth, MULTIVAC Marking & Inspection is a supplier of integrated solutions, and it accompanies its customers from the very first machine concept until it is put into service, and then right through to the end of its service life. Which products are included in your current product range?
We are one of the world's leading manufacturers of integrated labelling and marking technology, e.g. labellers and direct web printers. We also offer a wide range of inspection systems – extending from automatic metal and foreign object detection to check weighing, and all the way through up to visual inspection for product, label and print monitoring.
Can you describe your most important services and activities?
As an experienced solution provider with exceptional expertise in all sectors and applications, our focus is always on our customers' specific requirements. The objective of our Customer Service department is to offer support for the entire range of our equipment, both before and after it is put into service, so that the customer can benefit fully from this support. Initially, this begins with ensuring that the system is ideally configured for the specific task at hand. This is done, for instance, through product tests, feasibility studies, printing tests and sample label production. We also make sure that the customer is never alone when it comes to future needs. For example, in the area of visual inspection, there is always a need for operator training on new products, as well as the associated creation of new recipes for saving the parameters. And, last but not least, we also offer spare parts, consumable materials, rapid repair and exchange services, as well as comprehensive training courses. This ensures that our customers enjoy the maximum efficiency and availability our machines can deliver.
What do product tests and sample productions by MULTIVAC Marking & Inspection involve in concrete terms? Which benefits do customers gain?
With our product tests, we offer our customers the opportunity to try out our solutions in conjunction with their own specific products and packs. Our customers generally provide their own packs, samples and products for these tests. For example, when performing our product tests, we determine the detection probability of particular foreign objects with the customer's samples, or we undertake printing tests on a specific packaging film. Our customers then have a practical and concrete validation of the performance of our MULTIVAC equipment, tested on their own product. This provides reassurance, both for our customers and for us. And it also means that we can respond to new customer requirements at an early stage.
In the case of sample production with full wrap labels, which are applied like a banderole over all four sides of the pack, the customer can experience early on the impact of this type of labelling on their product. It also allows a test to be carried out in advance, as to how the pack, labelling system and label material perform together.
We customize the scope and details of the particular product test and sample production. We then discuss the requirements with the customer, make the necessary preparations and generate the test reports.
Every recipe on a machine requires individual adjustments and configuration settings. Do you support your customers here as well? And if so, how and when?
As a matter of principle, we always support our customers in creating recipes and configuring settings. This begins when the machine is put into service, at which point the machine is set up with its recipes and configurations.
But, of course, we also provide support after the machine has been put into service, for example with recipe creation on our printing and inspection systems as a special support service.
In this case, the recipe can be created in a variety of ways. Ideally the customer scans in the pack himself and sends the data to us either digitally or remotely. The recipe is created or adapted by MULTIVAC in full compliance with the customer's requirements. We then make it available to the customer again remotely. This remote processing offers the clear benefit that we can respond and deliver support rapidly and flexibly – irrespective of location.
Do you also offer training courses on specific machines? How do you ensure, that the user can work at your machines easily and without problems?
We have a comprehensive range of training courses which can be customized to the specific knowledge and requirements of the participants. Our training can take place face-to-face – either in our own training facilities or on site at the customer site – or remotely. It doesn't matter which of our products it involves – all our training courses are proven and available face-to-face or remotely. In a next step, we are planning to expand our range of training courses through a variety of e-Learning formats.
Our experienced trainers impart extensive knowledge ranging from basic principles through to operating sequences, all the way through to structured troubleshooting. This enables our customers to harness the full potential of their labelling, marking or inspection solution.
Your solutions are generally integrated into a line. How do you support your customers locally? Through MULTIVAC Service or your own technicians/service staff?
MULTIVAC has built up a comprehensive service network that can respond very quickly. More than 1,000 service technicians operate in 165 countries, looking after our customers' interests. This also applies to the equipment manufactured by MULTIVAC Marking & Inspection. The technicians at the subsidiaries receive regular training, so that they can look after our labelling, marking and inspection solutions professionally on site. If additional support is necessary, our International Service Team provides assistance with its in-depth expertise – either remotely or on site as required.
Which digital services are included in your range of products?
Remote assistance and predictive maintenance are digital services which MULTIVAC has offered for several years, and our customers have been showing increased interest in these options in recent times.
MULTIVAC also offers its customers a whole range of so-called Smart Services, and we are expanding these continuously for even more machines and equipment. The services generally offer functions that create added value for our customers by analyzing machine data.
The Smart Production Dashboard, for example, visualizes the key performance indicators in the packaging process, highlighting weak points or optimization potential throughout the entire line. The MULTIVAC Pack Pilot, on the other hand, makes it easier for operators to create new configurations on the packaging machine, even without in-depth expert knowledge. Customers with frequently changing products or packs on one line greatly benefit from this added value.
The new cloud-based central tool for our customers relating to all after-sales services is the myMultivac customer portal. Here, our customers can manage their machine details, inquire about MULTIVAC Smart Services, make service requests, or order spare parts and consumable materials directly and quickly.
To what do you attach great importance across your range of services? What is really important in your view? What do customers appreciate about MULTIVAC Marking & Inspection?
Our claim has always been that our services are readily accessible worldwide, and that we can support our customers rapidly and reliably. Our highly trained service technicians and support staff in the subsidiaries, who make a vital contribution to looking after our customers and providing them with advice, represent a central building block of this claim. Our customers appreciate the qualifications and expertise of our staff from the very first inquiry all the way through to the end of the unit's service life. We are always at our customers' side with our range of services to provide support – whenever and wherever it is needed.