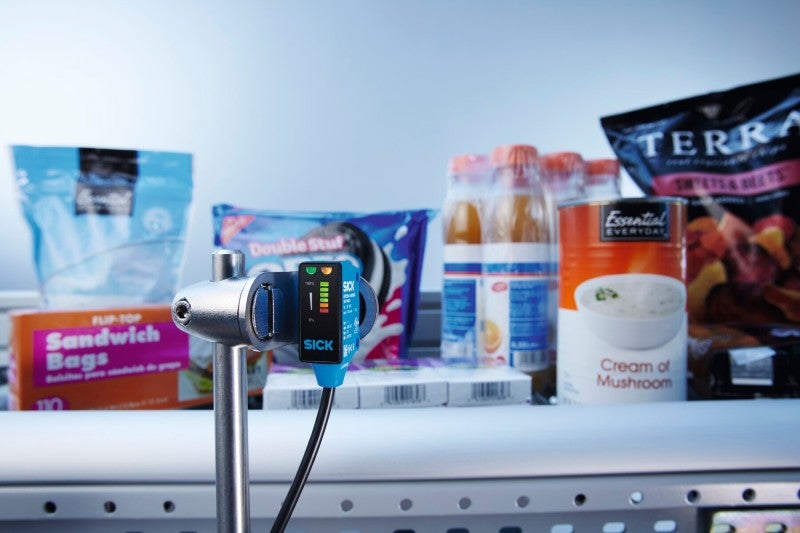 Sensors play a key role in packaging operations, whether it's for safety, product inspection, detection, trademark protection or documentability. One leading company with a wide and constantly developing range of smart sensor solutions is SICK.
Packaging-gateway.com spoke to Gina Mitchell, marketing manager at SICK, to find out more about the company's offerings.
How would you explain SICK to someone new?
SICK is a provider of world-leading sensor technologies to factory, logistics and process automation customers by delivering value in the form of products, systems and services.
The thousands of different SICK sensors have been developed through our customer-centric approach by constantly improving and extending their capabilities to provide customers with the best solution possible.
We work on creating benefit for them with 'Sensor Intelligence' based on a broad spectrum of sensor technologies. We are so fascinated by the possibilities that sensors can open up for our customers and we have been focusing on them for the past 70 years.
Focusing on the packaging industry now, what are some of the tasks and challenges that your sensors are tailored towards solving?
SICK looks at the packaging industry from the customer's perspective and recognises three key sections of a packaging line, in the form of primary packaging, secondary packaging and end of line packaging.
In each section of a packaging plant, we look deeper into the customer needs for solutions to solve the challenges of:
Flexible production where a single line needs to be reconfigured for multiple products and reduction of unproductive 'down time' is critical.
Tracking & traceability to ensure the integrity of each batch of a product can be tracked end-to-end from the producer to the consumer. This can also be applied for tracking of expensive assets as they move through the supply chain.
Quality control that ensures the consistency of size, shape, print and colour of packaging.
Safety that is critical for employees and producers to provide a safe workplace.
In varying degrees, each of these challenges exist in each of the sections through a packaging plant and it's with SICK products, systems and services that we are able to meet the requirements of the packaging industry.
Can you explain the value that SICK sensors can add to packaging operations?
We see that our customers benefit from being 'future ready', which is driving the demands for greater connectivity and real time transparency into their production lines that can be achieved with programmable devices for tailor-made application solutions.
For example, a customer can easily develop a configuration themselves using our 'AppSpace', and give their existing SICK sensor a completely new application and provide immediate performance monitoring via the SICK Cloud.
This allows complete transparency to live sensor data, configurations, performance dashboards and the potential for remote services to monitor predictive maintenance, resulting in reduced down time, increased productivity and greater piece of mind.
How can SICK's sensor solutions help the packaging industry keep moving forward?
An example of how SICK sensor solutions continue to develop to keep the packaging industry moving forward is represented by the development of robotics across many packaging product plants.
Changing market conditions, such as increasing variant diversity, more frequent product changeovers and quantity fluctuations, are challenging the status quo of robotic plants. That is why we aimed to enable flexible production processes in collaboration with major robot manufacturers.
"Our customers have Industry 4.0-enabled production facilities that are both modular and networked to meet the ever-changing demands of the market."
How did we solve this problem? We developed a concept built around our flexible Ranger 3D high-speed vision camera, which can be remotely configured to allow for the detection of a variety of different objects. This has resulted in the flexibility to rapidly change over production processes, products and deliver significant efficiency gains.
It is made possible by implementing interconnected sensing to the production and control processes. It must be possible to adjust manufacturing systems to the individual customer requirements or to meet specific market demands, whereby intelligent sensors control themselves.
With complete integration into the control level, particular attention is placed on the decentralisation of certain automation functions into the sensors, both to ease the burden on the control and increase machine productivity.
Would you like to share any exciting innovations SICK has made in the past few years and the potential these have for the industry?
The PBS plus is an electronic pressure switch, pressure transmitter and display in one and is available with up to two switching outputs, analogue output and IO-Link. It is set using three large pushbuttons and the display, or via IO-Link. The housing can be twisted in two places and the display and the electrical connection can be optimally aligned in any mounting situation. With measuring ranges of 0.4bar to 1,000bar (gauge pressure), the PBS plus can be used in many different applications. It also has absolute pressure and vacuum measuring ranges. The PBS plus is highly resistant to corrosion due to the fully welded stainless-steel membrane. Process data is transmitted to the control via IO-Link as measured values in bar. The diagnostic options make it possible for temperature values to be read out in °C and minimum and maximum values for temperature and pressure to be monitored.
The deTec4 Core safety light curtain protects the film area on an overwrapping machine while the machine is running. The reliable sensor takes up little installation space and does not have any blind zones. The integrated orientation display positions the sender and receiver quickly and reliably. When used in combination with the Flexi Soft safety controller, SICK here offers a complete machine safety solution.
Label Checker is a multifunctional and easy-to-set compact quality control system designed for various label inspections, with primary focus on optical character recognition. The system can perform multiple inspections simultaneously. Thanks to the advanced tools, it is not limited to reading and verifying printed texts, barcodes and 2D codes, but it also checks the correct label position, presence of pictograms, and print quality. Moreover, Label Checker offers image filters and other features such as overlapping characters segmentation and image calibration that ensure reliable operation, even in challenging Machine Vision applications.
Finally, what, to you, makes your company special?
SICK is focused on providing sensor solutions for the packaging industry that enable the concepts of Industry 4.0 to be implemented 'now'.
The outcome is our customers have Industry 4.0-enabled production facilities that are both modular and networked to meet the ever-changing demands of the market with levels of production line transparency and efficiencies never achieved before.
We develop and test new concepts every day and invest 12% of our turnover in research and development. SICK is constantly expanding its portfolio of products, systems and services in order to be a future-proof partner for you.