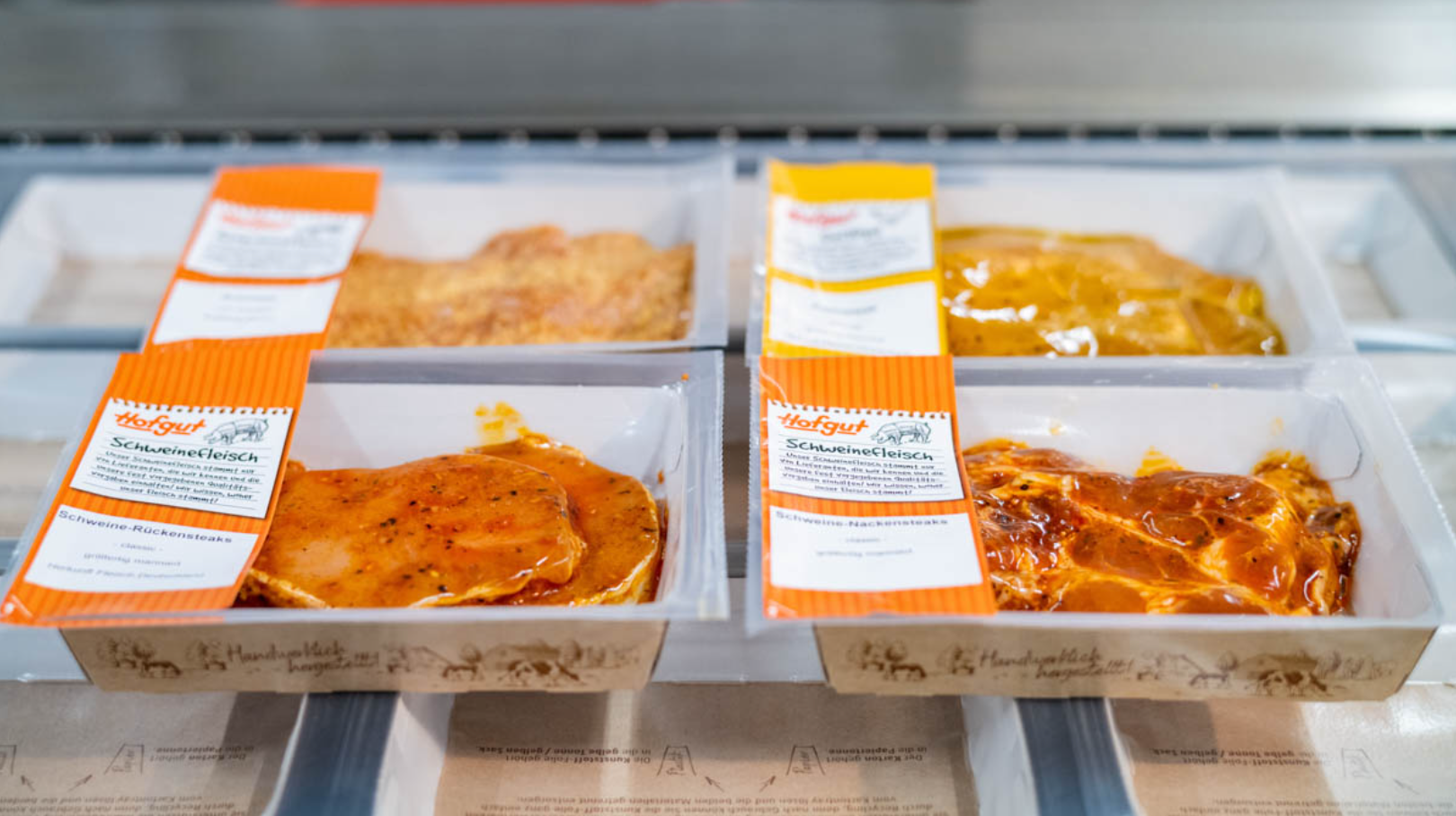 A northern German manufacturer of tasty meat and sausage products has relied on GEA packaging machines for many years. Starting in early summer 2020, the company has been using GEA FoodTray – a combination of cardboard tray and plastic film – for safely packaging marinated meat. Both cardboard tray and plastic film are automatically handled and produced on the GEA PowerPak PLUS thermoformer and can easily be separated after use for disposal. It's a packaging solution that improves sustainability.
Dirk Stemke, production manager at FZ Neumuenster GmbH & Co KG, makes his company's stance clear from the start of the conversation: "Protecting the environment is a responsibility we take very seriously." Part of the Kiel-based Bartels-Langness Group, Fleischzentrale Neumuenster (FZ) supplies fresh meat and sausage products to Famila department stores as well as Markant supermarkets and associated retailers in northern Germany. "For several years now, we have continually been exploring all areas for increasingly green and recyclable packaging materials. We set the bar high in terms of new packaging solutions. Containers or films used to package fresh products must not only be robust and hygienic but also offer good protection," says the production manager. "Day in, day out, we work to find the optimum balance between material consumption and material properties in order to ensure long-term sustainability."
The Neumuenster site supplies around 130 supermarkets with high-quality meat products every day. Strict criteria are adhered to in the plant when handling and processing pork, beef, veal, lamb, and poultry. Together with its roughly 140 employees, the meat producer employs artisanal skill and a great deal of expertise to ensure grocery stores are stocked with fresh produce all year round. "In addition to using materials sparingly, we also place a premium in our day-to-day operations on sourcing meat within the region and ensuring the animals are well treated," Stemke explains.
A trade show visit
In 2019, the meat producer opted to replace an old tray sealer to respond more rapidly to fast-paced consumer market demands. With that in mind, the company's chief requirements included boosting flexibility in the packaging process while significantly reducing the quantity of plastic used. "At the IFFA Meat Technology trade show in Frankfurt, we looked at a number of machines from different manufacturers," says Stemke. "Unfortunately, we found that most of the machines showcased had not yet been technologically developed to the point where it was possible to reduce plastic – which is, after all, still an essential material – without compromising on safety."
In contrast, GEA's FoodTray exhibit presented a far more compelling and environmentally friendly cardboard and film composite solution. This packaging system delivers in terms of product presentation, haptics, safety, and sustainability without compromising the actual packaging process.
A combined packaging system
The FoodTray combined solution comprising a cardboard tray lined with film offers the combined advantages of carboard and plastic while reducing the quantity of plastic by up to 80%. Materials made from fossil resources are replaced by renewable fibers which have the potential to be fully recycled. All this without compromising on stability and food protection. Consumers can easily separate the cardboard and film before disposing of them in the appropriate recycling stream. 
After deep drawing the film on a GEA PowerPak PLUS thermoformer, it is sealed directly to the inside of the box. This is followed by the customer-specific packaging process. Responsible for overarching developments in process technology at GEA, Hans-Guenter Donges puts the benefits in a nutshell: "Not only are the investment costs low – the upshot is more environmentally sustainable packaging. MAP packaging heights range from 20 to 60 mm with skin versions reaching between 20 and 42 mm. Since the entire surface can be printed on, the system solution facilitates high-quality product presentation and takes account of growing product labeling requirements."
Easy conversion
From tray denesting at the start of the packaging process to the checkweigher and metal detector at the end, GEA offers all machine components within its scope of supply. In total, the packaging solution is just under 18 m long. Having placed the order in good time, the customer was able to show off the system's capabilities during the 2020 barbecue season.
In single shifts five days a week, the plant produces grill-ready marinated lamb, beef, pork, chicken, and turkey steaks in summer as well as pickled pork neck steaks in winter using the skin version of the FoodTray solution.
"The packaging line has operated without a glitch from day one. It has more than exceeded our expectations," enthuses the production manager. "Despite frequent product changes, production is now twice as fast as before and requires less labor. What's more, the film seals tightly around the piece of marinated meat like a second skin, not only ensuring its visual appeal but also that no liquid can escape. The packaged meats look appetizing and are shown off to their best advantage when displayed in refrigerated supermarket cabinets."
Not just the packaging industry and food retailers but also end consumers are demanding more and more that machine manufacturers minimize packaging materials and increase the proportion of recyclables. "Consumers are the be all and end all. Because their decisions in the refrigerated section can make or break a product," says Stemke. "Product quality alone is not enough. Sustainable packaging materials matter, too. On top of that, unpacking time is a key factor." The value of individual packaging that can be quickly and easily opened should not be underestimated. Instead of a peel corner, a whole peel strip lets the meat products be swiftly and conveniently removed without spilling marinade.
To further reduce material waste during the packaging process, GEA made software adjustments up front when designing the machine. That means fewer empty packages are produced as part of the feed-in process during product changeovers and thus less waste is produced.
Although the meat processing plant is currently using the FoodTray solution only in the skin version for packaging marinated steaks, the thermoforming machine can easily be retrofitted for modified atmosphere packaging (MAP) of, for instance, sausages, thus ensuring increased flexibility.
Fair partnership
Thanks to in-depth planning processes covering everything from the quotation phase through to installation, the entire project ran smoothly. Additionally, the two companies' long-standing relationship built on trust meant that many of those involved had forged strong personal ties over the years. The meat producer now employs a total of four GEA packaging machines that are identical in design. "Of course, this makes operating them that much easier. There's almost no chance of mistakes," says Stemke.
As the changeover to cardboard trays was performed during peak season, it was essential that everyone pull together. Thanks to excellent cooperation between the FZ service technicians and GEA employees, the packaging plant was up and running in no time. "It operated without a hitch from the get-go," confirms the production manager. "We are pleased to report that the complex machine technology works reliably, and the support is spot-on. If problems or questions arise, the people to contact are available within the shortest possible time so there's no unnecessary production downtime."
Eighty percent less plastic
The meat producer is confident that, with FoodTray, it can win over consumers in the highly competitive food market. "Our decision to go with a greener packaging solution has paid dividends from day one," says the production manager. By using fewer resources, the company boosts its image. "Our responsibilities today include our impact on the planet tomorrow. That's why we have reduced the plastic content in our product packaging by almost 80%."
Further information: gea.com