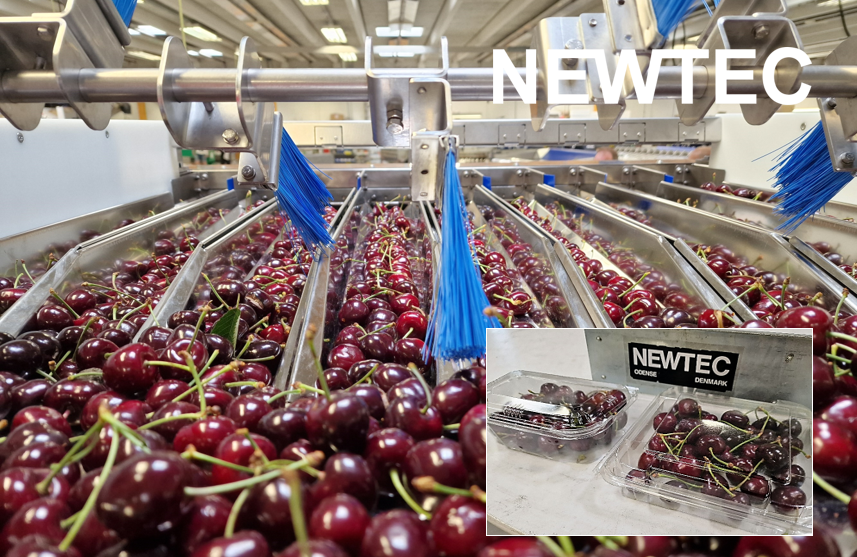 Newtec has added yet another success case story to its trajectory in the weighing/packaging industry. Its collaboration with Danfrugt Skælskør A/S for the automatic packing of cherries has proven that Newtec's weighing and packing solutions can address challenges related to product fragility and meet the client's requirements for gentle and accurate operations.
Danfrugt Skælskør is Scandinavia's largest grower of cherries and employs more than 200 people. The company produces and distributes cherries in 300g clamshell punnets in large, high-quality quantities, which means that the product should be appropriately handled and its production rates not compromised. With Newtec's machines, these challenges have been addressed through its optimised and automatic technology and its attention to product specifications.
Excellent way to combine high speed and weighing accuracy with gentle product handling
Newtec's solution is customised according to the packaging type and product, and for the needs of packing cherries for Danfrugt Skælskør, the Newtec Weighing Machine, model h3009MD, the Newtec Portion Collecting System, model 2CC, and the Newtec Packing Machine, model NBM-2QC with two filling stations, were employed for the accurate weighing and packing of cherries.
Generally, cherries are challenging products because of their susceptibility to bruising and injuries. Immediately after being harvested, cherries are sent to cold storage for refrigeration as they are sensitive to adverse conditions that may compromise their quality.
Danfrugt Skælskør CEO Anders Piper comments: "Cherries are difficult to handle because they are at risk of being bruised. We specifically chose Newtec's weighing/packing line because extra product care is taken on every step of the weighing/packing process to eliminate mechanical injuries."
Newtec's automated processes have also improved capacity, speed and accuracy, therefore minimising the possibility of human error and enhancing production while saving product, money and energy. Newtec provides the opportunity to ensure zero damage to the product while maintaining the product's fresh qualities. Piper goes on to add: "It is important to us that our handpicked, high-quality cherries are handled gently and yet efficiently on Newtec's machines, enabling us to get our fresh cherries weighed, packed and delivered as quickly as possible to ensure a long product shelf life."
More specifically, Newtec's solution achieves excellent product care and boosted production through an efficient portion collecting system, model 2CC, whose tilted sides allow for a soft landing on the cross conveyor. An additional and customised feature is the special cherry kit, which guarantees appropriate handling of sensitive cherries and prevents them from getting damaged or their stems from getting stuck throughout the process. To prevent bruising, the cherries are only exposed to low drops. In addition, V-shaped weight heads offer extra protection against damage. Side guards and flights make sure that the cherries stay in the punnets.
According to Piper: "With Newtec's weighing/packing solution for our valuable cherries, we ensure that our high-quality requirements are met with gentle handling of our fragile berries, accurate weighing in 300g clamshell punnets and a high capacity."
Transition from a semi-automatic solution to an integrated fully automatic solution
In addition to customised features that are tailored to fit each product and packaging specification, Newtec's weighing/packing technology offers the convenience of an automated solution that addresses many of the challenges of manual production. More specifically, this automation offers flexibility, ease of use, and boosted production as speed and quality are enhanced and not compromised by complex operations.
This level of automation makes a huge impact on the customer's business as they rely less on human labour and more on the precision and speed of Newtec's machines.
As Piper says: "We have come from a semi-automatic solution with a lot of manual work, high giveaway and low capacity, and now we have an integrated automatic solution with high capacity and an average giveaway of less than 10g."
The challenges of manual work and high giveaway were the main issues that Danfrugt Skælskør A/S aimed to address, and Newtec's automated solutions helped through 'reliability, capacity, accuracy and optimal product handling', the primary parameters on which the client chose Newtec machines.
Piper concludes: "By having an integrated solution that automatically weighs portions and packs them into punnets, we can with one or two employees make 40-45 punnets per minute/person, where before we could make five to ten punnets per minute/ person."