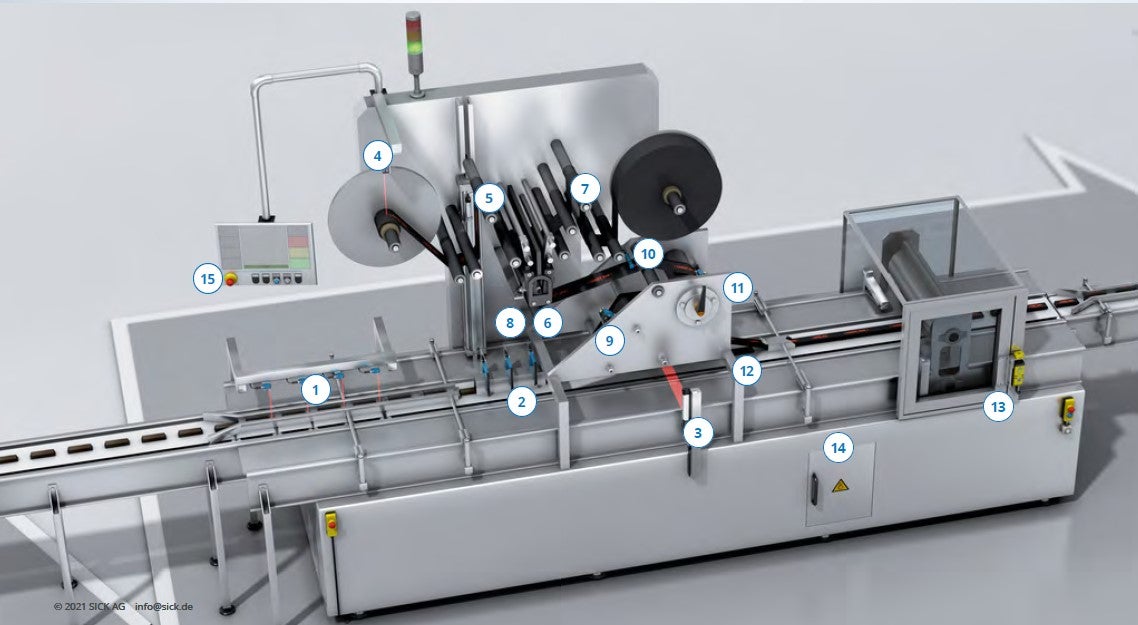 SICK's solutions render the packing process more efficient and reduce waste for manufacturers. Its sustainable solutions are related to accuracy and the timely and precise detection or measurement of objects and deviations in packaging throughout the whole supply chain.
SICK's field-proven applications include primary packaging, secondary packaging and end-of-line packaging, all of which are centred around great care for product quality and operational reliability. SICK advanced technologies ensure careful product handling and safe closure of the packages. System solutions, together with deep learning capabilities, allow early detection of faults and maximise the uptime for an automated, efficient, and cost-effective process.
Horizontal, form, fill and seal machines
SICK's smart sensor solutions enable automated, equidistant infeed of products, measure the product height, reliable fault detection, wrapping diameter processing, dancer position detection, edge and width measurement, material surfaces speed recording, and double-layer detection. More applications where our sensors are applied for edge guiding, film tear detection, print mark detection, measurement of packaging film, door monitoring, protective door protection, and reliable machine linking.
Side loaders for optimised packaging
Numerous advantages come with the side loader for the secondary stage of packaging. These include protection of the carton magazine, as well as protection against human injury, especially in cases of material transportation and handling, safety sensors for additional protection, monitoring the product pusher's location for accuracy and precision, format adjustments, as well as level measurement on the adhesive container through capacitive proximity sensors.
SICK's quality control systems solutions ensure food safety, which has become increasingly important in the food industry. The company's technology compares different 1D and 2D codes on packaging to make sure that the right product is matched with the right packaging, therefore enhancing food safety by securely sealing the product and keeping it intact. Additional checks are performed to ensure that the 'best before' dates are printed currently and reliably.
Concerning customised packaging, smart sensors set the parameters for the different kinds of packaging formats that can be stored for use. SICK's solutions also comprise accurate label detection, with self-adhesive labels applied to different kinds of packaging, which can be detected by the fork sensor. Checking the seal is also one of the features offered by SICK's technology.
End-of-line packaging
SICK's machine vision systems offer contour measurement for pallet loading through a 3D streaming camera. This sets positions and dimensions, positioning of boxes and cases during the palletiser function, automatic pallet detection, which allows for safe access through a light safety curtain, automated pallet management, stack height monitoring and safety locking feature for service doors.
The automated processes enhance safety and reliability as they can accurately take measurements of the pallet and ensure smooth processes by carefully measuring or monitoring the position of packaging for optimal cost-effective results. The technology also helps safely distinguish between pallets and people, thereby diminishing accidents and guaranteeing reliable product processing.