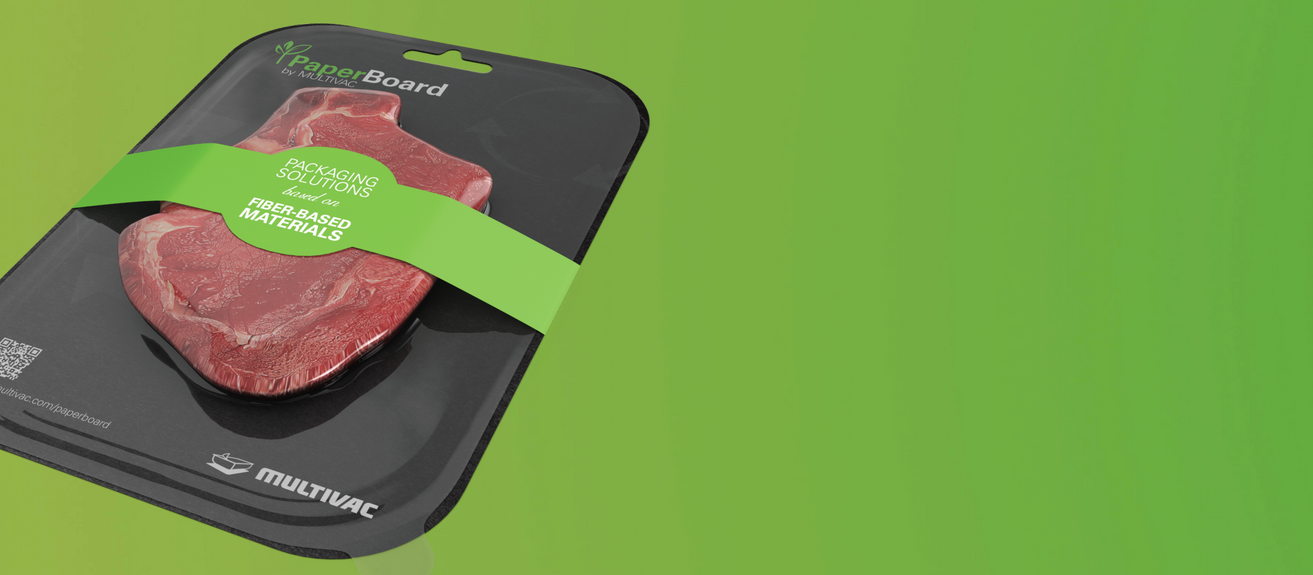 Much maligned, sometimes praised, but never overlooked—the packaging sector is rarely out of the headlines these days, as the industry seeks to become more sustainable in the face of growing consumer demand and regulatory pressure. Thanks to the use of a mix of new materials, novel concepts and industry innovations, manufacturers are on their way to making this a reality. So what are the major trends and technologies shaping the industry?
Where are we now?
The food and drink industry remains the biggest market for packaging, seeing steady growth over the past decade. Consumer demand, which is shifting towards efficient and sustainable packaging, continues to shape the industry. In Germany, where Multivac is headquartered, new packaging legislation has been in force since the start of 2019 that lays down challenging quotas for the recycling and reuse of materials. It also recognises that closed-loop systems are an important step towards a sustainable future.
Packaging producers are therefore driving the use of alternative materials, with many firms seeking ways to reduce their plastic consumption. Their main priorities are convenience, ease of use and ease of transport. Many see sustainability as both a massive challenge and a lucrative opportunity.
So, why is it so important to get plastic waste under control?
According to recent data, plastic packaging now contributes 60% of the typical end-user's plastic waste. Worldwide, around 325 million tons of plastic are now processed annually, with some 80 million tons used in plastic packing. Europe, Asia and the USA are among the largest producers, and if plastics production continues to rise at its current rate, it is estimated there will be a doubling of worldwide plastics production in the next two decades.
A holistic approach to sustainability
To introduce sustainable packaging across the food industry, it is important to take a holistic viewpoint of the value chain, from the manufacturing stage through the logistics and supply chain, right up to use by the consumer. It is all about understanding the various economic, environmental and social goals of plastic consumption and then setting realistic targets for replacing it.
One of the first things businesses do is look at how they can reduce consumption of plastics in packaging, and it's useful to look at success stories in other areas. Currently, there are many successful closed-loop systems in use in Germany for glass, aluminium and tinplate. Also, around 99% of PET plastic drink bottles (with a returnable deposit) are collected, of which 94% are recycled. Innovations of this kind show the circular economy is within grasp.
The story is less positive for plastic packaging. Germany has a target of delivering 65% of all plastics to a recycling station, which would outperform Austria, Belgium, and Slovenia. But the vast majority of this plastic waste is burnt as a heat source or sent abroad for disposal. A growing number of countries are taking a stand and demanding that nations take back their own waste.
One major reason for this poor record is that plastics are often made up from multiple different materials, what the industry calls multi-layer composites. These multi-layer products may be good for the protection of foodstuffs, but the mechanical separation of composite materials for recycling remains challenging, particularly on an industrial scale.
A great deal of work is being carried out to develop such systems. Chemical recycling methods that recover original raw materials seems to be the solution. Chemical recycling involves splitting the plastic molecule chains into constituent parts using chemical alterations such as hydrogenation, hydrolysis or pyrolysis. The process is theoretically more efficient than mechanical recycling of PET bottles. And practically all plastics can be recycled by this process. But it is early days and the technology remains impractical to deploy on a large scale.
Do we even need plastic packaging?
One solution is to use alternative materials. Closed-loop systems already exist for fibre-based packaging solutions. The great thing about paper-like materials is that, even if they are disposed of in the normal packaging waste bin rather than in the paper recycling bin, they can be detected in today's modern recycling centres.
Multivac has its own range of fibre-based products called PaperBoard. Cardboard trays, cardboard packing material or formable paper for skin or MAP packs are particularly popular. Developed in conjunction with leading manufacturers, PaperBoard can be run on standard machines and possesses the barrier and protective functions required by the food industry.
PaperBoard products work on traysealers, too. It is possible to run PaperBoard products on trays or pre-cut sheets made of board or cardboard composites. Multivac offers three different solutions for producing fibre-based packs on thermoforming packaging machines. Formable paper composites can be used in place of vacuum skin packing, available in various weights and with different functional layers. Cardboard composites from the roll can also be used as carrier materials for vacuum skin packs. And both types of material can be recycled by the consumer after use.
Sustainable packaging is popular with customers, practical, economical and can be easily introduced into existing machinery. When you consider that 61% of Millennials are willing to pay more for sustainable products when compared to 55% for Generation X and 46% of Baby Boomers, it makes less and less financial sense to continue with plastics.
Mono-materials are the future
Another important trend is the use of mono-materials, any product composed of a single type of material. Mono-materials are much easier to recycle than composite plastics and can be easily fed into a closed-loop system. The most common are Polypropylene (PP) and amorphous polyethene terephthalate (APET).
PP film possesses barrier properties, heat resistance and stability. It also has the lowest density of all standard plastics, an important consideration for those looking at sustainability. The downside is that running this material on thermoforming packaging machines is more challenging than other plastics.
APET has its own positives in that it is highly transparent and offers a strong barrier against gas and water vapour. Resistant to oils and fats, it can be used in temperatures between -40 °C and +70 °C. Currently, packaging made from APET and other mono-materials are already being used instead of composites for the packing of fresh products. To achieve reliable packaging results, special upper webs with a thin sealing medium must be used.
Businesses must consider the decrease in barrier potential when using mono-materials. It should also be noted that a reduction in the functional layers, such as the sealing layer, could also impact shelf-life. However, these issues can be mitigated using existing techniques.
Biopolymers—a practical alternative?
Biopolymers are comprised of two classes of materials. The first is manufactured solely from renewable raw materials. PA or PHA fit this definition and all biopolymers in this category are biodegradable. The second class includes polymers that can be manufactured entirely or partially from renewable resources. However, they are not biodegradable. These include PET or PE.
Thermoplastic PLA is the most practical alternative for producing thermoformed packs made of biopolymers from renewable resources, but due to its low barrier properties and impact resistance, application in thermoformed packaging is limited. We often see Thermoplastic PLA used in the fresh fruit and vegetable sectors.
When considering biopolymers it is important to consider not just the economic aspects such as price and availability, but also how these materials will be recycled at the end of the life cycle. In the absence of sufficient consumer education about these materials, as well as the lack of integrated disposal systems, it is not yet practical to completely separate the different types of biopolymer materials. This could lead to situations where biodegradable polymers are fed into the recycling stream for conventional plastics instead of industrial composting facilities.
Where do we go from here?
Germany's new packaging legislation will increase recycling of plastic packaging in the country. But its objectives will not be achieved by merely establishing quotas alone. Governments must introduce appropriate incentives and frameworks across the entire industry.
An additional challenge for the country and those in the sector is to increase the rate of recyclate, a raw material that is sent to and processed by a waste recycling plant. Without movement in this area, it is less likely that we'll see packaging recycled into high-quality materials. If the separation process is poor—colourants, plasticisers or stabilisers can significantly reduce the quality of the final material.
Stemming the amount of plastic waste through a reduction in packaging material volume is also a very productive approach. This can be achieved today by implementing innovative packaging concepts, such as novel pack shapes or using new machine technology for producing packs, and these measures can significantly reduce material consumption or increase material yield.
The likelihood is that no single organisation or business will come up with the one magic solution for the sustainability crisis facing the packaging sector. But we believe there will be many incremental changes that add up to a solution that will work for all. And Multivac is already leading the charge and we hope to work with you soon.