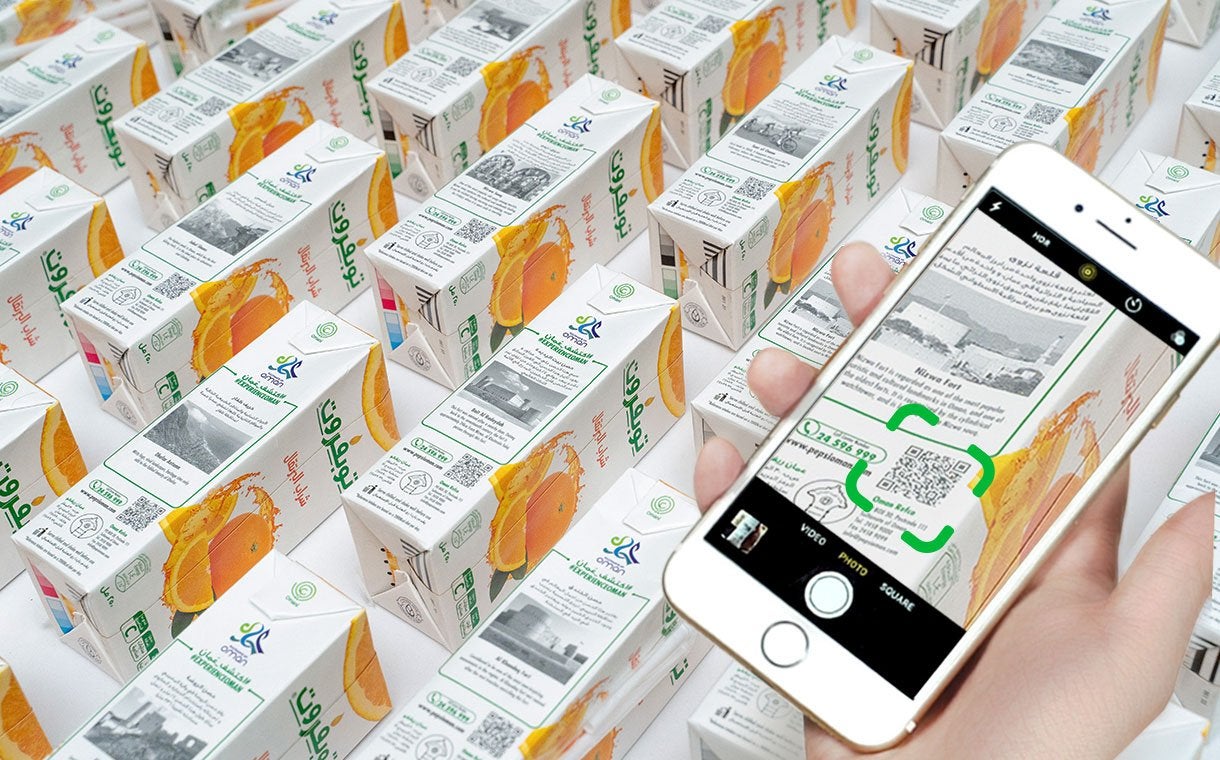 In November 2020, Greatview Aseptic Packaging triumphed in the coveted 'Best Marketing Campaign' category at the World Beverage Innovation Awards for its #ExperienceOman initiative with the Oman Refreshment Company (ORC).
Recognised by judges as a "clever way to engage with consumers", the campaign demonstrates the creativity being employed by brands to drive sales through targeted marketing campaigns directly printed onto packaging.
In an increasingly competitive market, food and beverage brands are under pressure to stand out. Packaging plays a crucial role in driving consumer engagement and loyalty. The digital print technology offered through Greatview's Smart Packaging solutions allows brands to connect with the end users of their products in inventive and continuously evolving ways.
For the first time, companies are able to deploy highly customised and fully interactive packaging at mass scale, without compromising on quality or cost. Perhaps most importantly, the digital print system used gives brands the flexibility to carry out just-in-time printing and respond to rapidly changing market conditions.
Free White Paper
Kodak Ultrastream Inkjet Technology
By Kodak
High ambitions
The Oman Refreshment Company prides itself on keeping up with evolving consumer trends. The company has launched three new formats of PET bottles in recent years and is a market leader in the Omani consumer goods sector, producing a range of world-famous brands, including Pepsi and Mountain Dew.
Due to its strong commitment to being an ambassador for Oman, promoting the country's unique culture and history, the company partnered with the Omani Ministry for Tourism to run a creative digital campaign for its popular juice brand Topfruit. From the outset, ORC had four clear goals: to promote the Omani culture and tourism industry; boost sales volume through repurchasing; increase brand awareness and appeal; and enhance engagement and communication with consumers.
Put into practice
Having installed Kodak's digital printing system on two of its flexographic printing presses, Greatview created a high-speed hybrid printing solution perfectly suited to the demands of the campaign.
Using Greatview's Smart Packaging technology, each Topfruit juice carton was printed with a unique smartphone-readable QR code and photograph from a selection of 22 different Omani landmarks.
The brand's existing packaging was transformed from a simple container to a platform for an innovative digital marketing campaign.
Customers were invited to enter a 'Scan-and-Win' competition, collecting various landmark stickers to be entered into a prize draw. The initiative showcased Omani cultural and tourist highlights to domestic and international consumers, boosting the local tourism economy, as well as increasing consumer engagement and encouraging brand loyalty.
With technology support from Greatview, ORC ran an effective and diverse campaign, successfully integrating online and offline content. Online content included social media promotion and an official website that consumers could visit to enter the competition. Offline ranged from point of purchase banners in shops to roadshow events where consumers could try the juice for themselves and take part in the competition.
Kodak's technology was easy to integrate into Greatview's existing production lines, extending the range of opportunities without requiring replacement equipment. Greatview used the print system to deliver customers sophisticated customisation options. These included micro-promotions, geocoding, barcoding and even unique games, driving high-value advertising opportunities with carefully targeted products.
Throughout the campaign, Greatview delivered consistent quality of packaging material, using Kodak's print-quality inspection and drying systems, which guarantee high-resolution printing.
The environmentally friendly inks comply with indirect food contact regulations, enabling brands to print on a variety of substrates commonly used in the food and beverage industry.
Youssef Ezzikhe, ORC's CEO, was impressed with the finished cartons. "I think the quality of the packaging is outstanding, and the technology adds value to our products," he said. "Bringing diversity to our packages has given us a competitive advantage."
Path to success
Just two weeks after the launch, ORC recorded more than 26,000 engagements across its social media platforms for posts related to the campaign. In addition, it noticed a significant amount of user-generated content, demonstrating not only interest, but active engagement with consumers. Approximately 9,000 customers participated in the scan-and-win competition, marking the brand out as a regional leader in implementing and exploring innovative marketing methods.
"Greatview is very much focused on providing their partners and customers with innovative products," says Ezzikhe. "That is why we felt, of the different ideas presented, this is one that we can execute in a simple manner, adding value to the product but also enriching the consumer with things they probably don't know – or don't know enough – about Oman."
The World Beverage Innovation Award is a testament to the success of such an approach. Digitally printed packaging is redefining the way brands engage with consumers. Greatview is working with a digital printing supplier like Kodak to help deliver a new digital future that leverages customisation, quality, scale and speed.