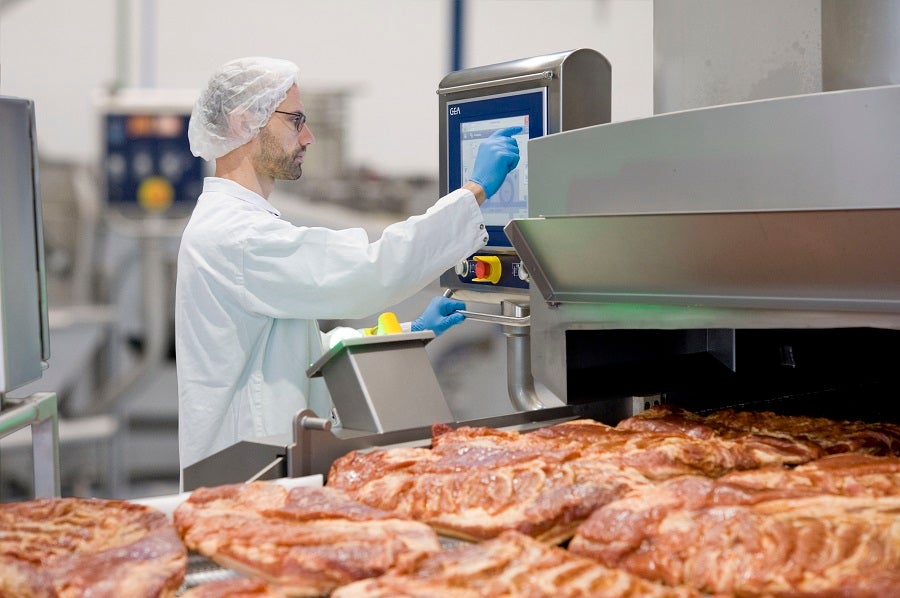 Traditional methods of using wood smoke to preserve meat and fish, also enhance the products with delicious aromas and flavours, but we now know that tars resulting from the age-old processes can cause health problems. With the consumption of meat, and meat-replacement products, on the rise, offering consumers a safe alternative for smoked and barbecued foods has become increasingly important for producers.
Additionally, food producers are always looking to increase efficiency and bring down costs, without affecting the food quality, consistency, or their authentic flavours.
"World's-first" spiral oven for inline smoking
Leading food processing experts GEA Group is forging ahead with continuous production methods featuring inline smoking solutions. Now, the same delicious flavours and aromas, as associated with traditional smoke houses, can be used much more safely, based on smoke condensate.
Integrating inline smoking capabilities into the highly lauded GEA CookStar double spiral oven, is a more efficient alternative to batch oven smoke processes. In a partnership with food flavour smoking specialists, Red Arrow, who supply condensates, the result is the SuperHeatSmoke, the "world's first" spiral oven solution for inline smoking. Creating an authentic taste within a fraction of the time, the SuperHeatSmoke is the first inline solution that smokes products.
For temperatures above 100°C, the SuperHeatSmoke process is suitable for chicken, beef, pork, seafood, and textured vegetable protein with final products eligible for a 'CleanSmoke' label; important for consumers looking for natural and healthy foods.
Paul Verbruggen, product owner, heat treatment, GEA Food Solutions, explains the significance of the spiral oven in smoking, over a conventional batch smoke house: "We have a very consistent and accurate air flow system that allows the product to have exactly the same treatment in each area. If you compare it to a batch oven, the products are on racks and there are different levels and so variations in your colour and smoke intensity.
"Another significant improvement is that you reduce the amount of manual interventions in this process, making it more cost efficient. Finally, we are smoking faster (than a batch process) and can achieve higher process units."
Simplified processes reduce costs and increase efficiency
For smoking foods under 100°C, GEA's has produced the HotSmoke, its new inline solution that is perfect for products such as pork bellies, bacon, and trimmings, using a smoke atomization solution specifically for low temperature applications.
Processors can adjust taste and colour using smoke condensates with different flavour intensities as the atomized smoke can be utilised in one or both oven sections. Further, flavour profiles are saved into the control system, which substantially speeds up production set-up times and ensures consistency of taste for each production run.
This ability to reduce manual labour and time is vital, as Verbruggen explains: "The HotSmoke process has been developed for products that are not fully cooked, such as raw, cured or uncured bacon, which is smoked using a process with temperatures below 100°C."
Using batch ovens for this process is time consuming and very labour intensive. "It's hanging bacon belly in racks and moving racks into the batch ovens. The pork and bacon market in general uses residual parts or trimmings, and with a batch oven this is quite labour intensive."
An in-line solution solves all these issues. For example, the fragile nature of reconstituted bacon has always restricted it to being a batch product. Using the GEA CookStar spiral oven is a simpler and more efficient process, with enormous labour reduction, while also maintaining consistent smoke flavour and full control of air flow, resulting in less give-away.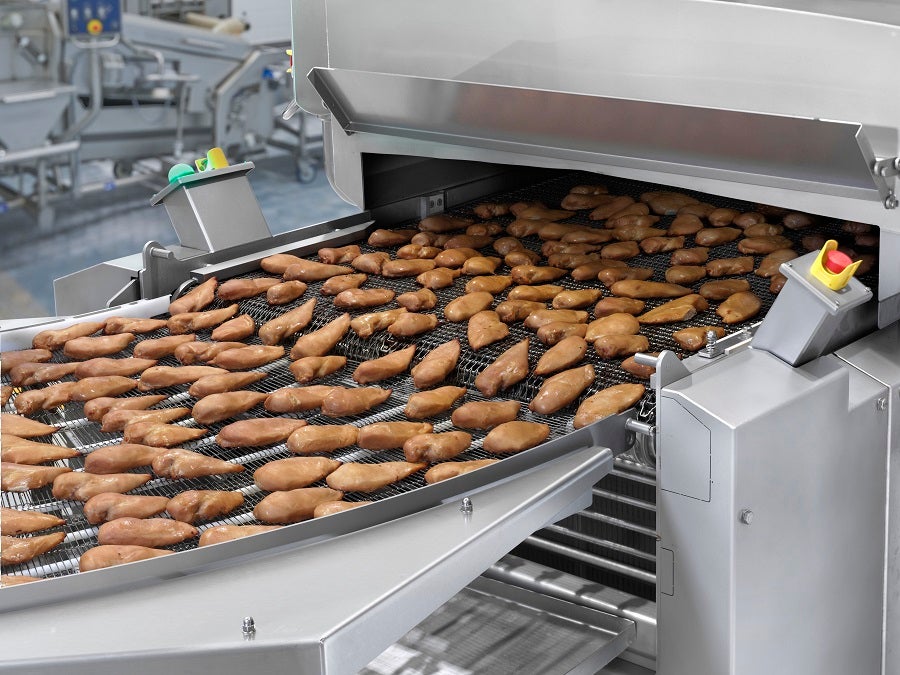 More flexibility for food producers
Verbruggen points out how flexible this process is for producers: "Customers that would like to bring to the market newly smoked products or customers that are using a conventional batch process, can use CookStar to scale up capacity, use less labour and have more flexibility.
"We can adjust the conditions in the oven. Two chambers, different temperatures. Adding smoke in the first oven or the second oven, or both. So, there is a wide variety. Depending on the size of the product and the qualifications of the smoke requirements, we can be really flexible in that."
This flexibility is key for food producers, explains Ben Kop, GEA's application technologist: "It is flexible enough and situated so that it can deliver a smoked product at a very high throughput with minimum labour. If you have a company who wants to make smoked products but currently are not, it's an addition to their product portfolio. They can deliver an oven baked product, or steamed product, as well as a smoked product, without a separate operation."
The inline continuous process has huge cost savings in terms of labour, says Kop: "Such a saving is easily six or seven persons from the process. Using the CookStar, you simply load products onto the belt. That's an enormous benefit, more flexible than a rack oven. We typically see more consistency compared to a batch process; less give-away and more product value for the customer, at a lower cost."
Verbruggen concludes that GEA's SuperHeatSmoke and HotSmoke solutions are allowing food processors to ensure that their production lines remain flexible while still ensuring high productivity and efficiency: "At the beginning, the market was very conservative, but now, the results are so convincing that we can see the shift even in very traditional markets, driven by the savings in labour and automation."
To learn more, download the paper below.