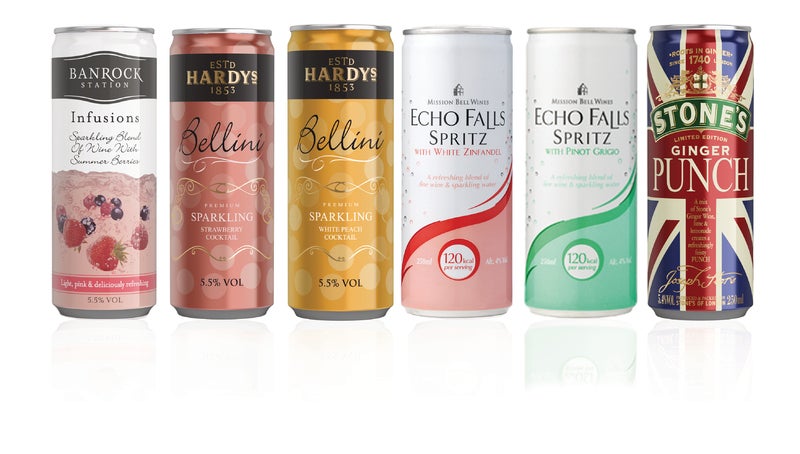 Rexam Beverage Can has extended its partnership with Australian winemaker Accolade Wines to create cans for the launch of four new drinks from the Hardys, Banrock Station and Stone's brands.
The new 'Sparkling Collection' will feature alongside Echo Falls Spritz in a can, which was launched in 2011.
Targeted at existing wine drinkers as well as 25 to 35 year old females who are new to the wine market, the 250ml slim cans are being produced at Rexam's Gelsenkirchen plant in Germany.
Accolade Wines European marketing director Clare Griffiths said with the launch of the new cans from some of its brands, the company is creating a new category which will open wine up to new consumers.
"Our new cans offer a level of convenience in the wine market that currently hasn't existed in the wine category with trusted recognisable brands, and we hope consumers, new and existing, will embrace the range as they have done with our top selling brands," Griffiths added.
The convenience and portability of the new cans, which have listings in Sainsbury's, Morrisons and One Stop, make it possible for consumers to enjoy the products for a variety of drinking occasions, said Rexam.
According to the UK-based consumer packaging company, the range includes two Hardys Bellinis, offered in both strawberry and white peach flavours, and Banrock Infusions, a mix of wine and summer berries.
A mixture of ginger wine and lemonade, Stone's Ginger Punch, is also offered in a limited edition Union Jack can.
---
Image: Accolade's Sparkling Collection will be launched in new 250ml slim cans from Rexam. Photo: Rexam