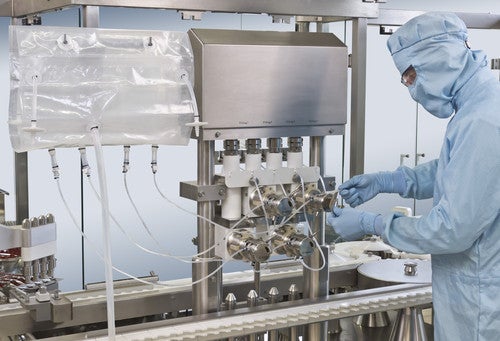 Sartorius Stedim Biotech (SSB) and Bosch Packaging Technology have signed an agreement to design and develop single-use filling packaging solutions, which will be used on Bosch's aseptic filling equipment for final fill-and-finish operations of pharma products.
As part of the long-term partnership agreement, French pharma and biotech supplier SSB will provide pre-configured single-use filling transfer sets comprising of bags, filters, tubing and connectors.
SSB fluid management technologies marketing vice president Jean-Marc Cappia said the partnership enables the implementation of single-use technologies into critical applications such as final filling operations.
"By integrating single-use technology into fill-and-finish unit operations, they can handle smaller batches and product change overs in a safe, economic and flexible way," Cappia added.
Bosch will merge the filling transfer sets with its own aseptic filling and barrier isolation technology to create new systems for aseptic filling which will be marketed, distributed and serviced by the company exclusively under its brand name.
Bosch said that with the new pre-validated, pre-assembled, pre-sterilised (PreVAS) product line, it will be able to supply plug and play tools to its customers for aseptic filling operations that offer extra flexibility.
Both companies will not only develop configurable and customised single-use filling solutions but also provide validation and technical support once implemented by customers.
---
Image: The single-use filling solutions designed and developed by SSB and Bosch will be used on Bosch's aseptic filling equipment. Photo: Sartorius Stedim Biotech