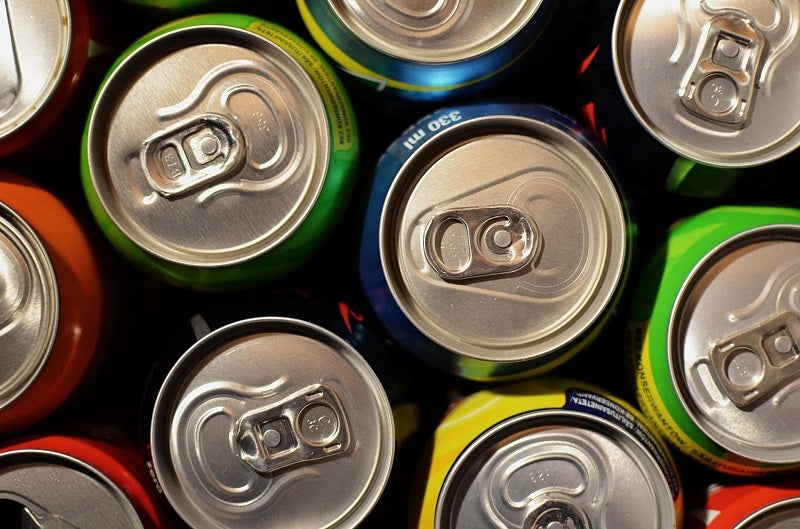 With the rise of sustainability and introduction of technology making its way into the packaging sector, beverage companies are now looking to understand how they can integrate these solutions into their drinks packaging.
Five drinks packaging trends to watch
Solutions such as flexible packaging, which reduces costs and material waste – taking away old packaging formats, and blockchain technology, which enables transparency throughout the supply chain, are emerging to be the next big drinks packaging trends to look out for.
1) Aluminium cans
The use of aluminium cans for drinks packaging has risen significantly in recent years. Companies such as CanO Water and Eau Lab have decided to make use of this indefinitely recyclable, sustainable packaging, responding to the continuing 'war on plastic'.
Furthermore, aluminium packaging can keep beverages cooler for longer than plastic and pack tighter,  making it more efficient for transporting. And despite reservations, aluminium cans are actually easily adaptable – with CanO Water adding a resealable pull closure so that consumers do not have to finish their water in one go.
Don't worry, I'll be back 😉♻️ https://t.co/0JXeZNfYEG pic.twitter.com/KnsS5Rjs0A

— CanO Water (@canowater) January 29, 2019
2) Shape designs
The innovative packaging shape trend has started to gain traction in the drinks sector due to its efficiency for packing and transporting. Tetra Pak's cube packaging solution for dairy juice and liquid food does just this. With every six packages forming a cube, the product enables Tetra Pak to reduce costs, save space and material, and allows the consumer to purchase the product at an affordable price.
Iconic designs always stand out! Our new Tetra Classic® Aseptic 65ml Cube provides ideal surfaces for maximum expression, enhancing shelf presence, and enabling brands to stand out with a unique twist. https://t.co/JsJnz2lwFF #packages

— Tetra Pak (@tetrapak) April 8, 2019
3) Paper straws
With the UK Government announcing a ban on the sale and use of plastic straws, drink stirrers and plastic-stemmed cotton buds in England from next April, companies are ditching single-use drink accessories and opting for paper alternatives.
Companies that have already made the plastic to paper straw switch this year include Global food packaging specialist Huhtamaki, Coca-Cola Amatil Australia, US-based tableware products maker World Centric, ice cream chain Ben & Jerry's and Macau integrated resort developer and operator Sands China.
Straws play an important role in helping people enjoy their cold beverages. Our durable and natural paper straws are a sustainable and responsible choice to serve drinks. Watch the video to find out more: https://t.co/yeatjfzdMe pic.twitter.com/cFUwWs5Ict

— Huhtamaki (@HuhtamakiGroup) April 2, 2019
4) Eco-friendly drinking mechanisms
Keeping on the topic of drinks accessories, other sustainable drinking mechanisms are gaining traction, with many consumers searching for recyclable, biodegradable or compostable items with improved functions when purchasing beverages. Novolex brand Eco-Products introduced compostable cup lids, which enable customers to drink without any spills, earlier this year.
If you like compostable lids that allow you to sip without a straw, have we got something for you! #zerowaste https://t.co/KIRELNe3je pic.twitter.com/wNxOy03kRr

— Eco-Products (@ecoproducts) January 22, 2019
5) Interactive digital platforms
Finally, in a digitally-driven world, it is expected that companies would integrate some sort of technology advancement to further their growth and consumer popularity.
Last month, Tetra Pak launched a new connected packaging platform to transform milk and juice cartons into interactive channels, full-scale data carriers and digital tools. Using code generation, digital printing and data management to offer insights to food producers, retailers and shoppers, the platform also provides consumers with product information on manufacturing, ingredients and packaging recycling.
How is digitalisation changing the role of packaging? Sign up for our free webinar, where Tetra Pak experts will discuss intelligent packaging, connectivity and why the future of packaging undoubtedly is digital. https://t.co/AznDx5CrH4

— Tetra Pak (@tetrapak) May 27, 2019
Free Report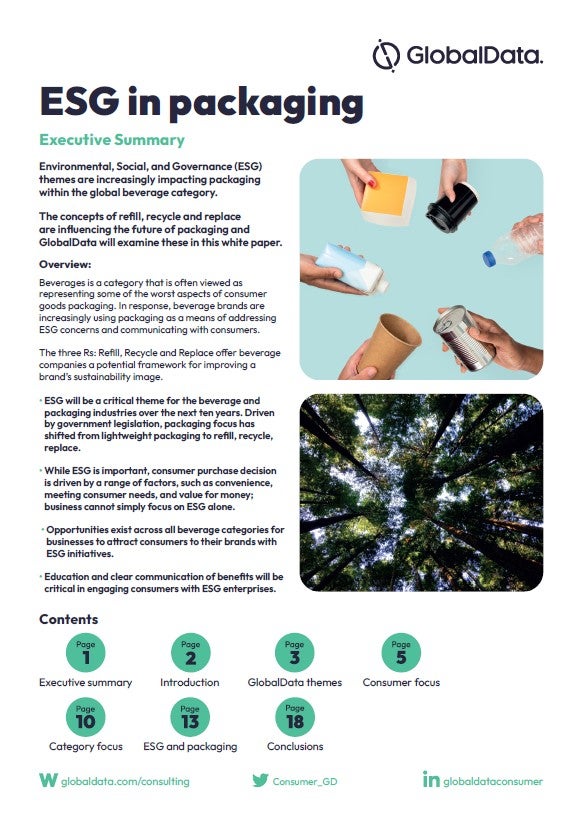 How is ESG transforming packaging in the beverages sector?
The beverages sector has already been re-shaped by increasing corporate and consumer consciousness of environmental, social and governance (ESG) issues around packaging. Now, amidst a raft of new regulations, those who get ahead of the curve may find new opportunities. Brands are increasingly using packaging as a means of addressing ESG concerns and communicating with consumers. Access GlobalData's new whitepaper, ESG in Packaging, to examine the challenges faced by companies, and understand how adapting to regulation around packaging, as well as appealing to ESG-conscious consumers, presents opportunities. The white paper covers:
Which regulations are governments looking to introduce?
How can beverage manufacturers get ahead of regulations?
How can packaging manufacturers help and how will consumers react?
What packaging and recycling innovations are required and what are the barriers to consumer engagement?
Zero in on how the industry operates in the EU and USA, exploring conclusions that remain relevant for other markets too, including Brazil, Canada, Russia and Turkey.
by GlobalData