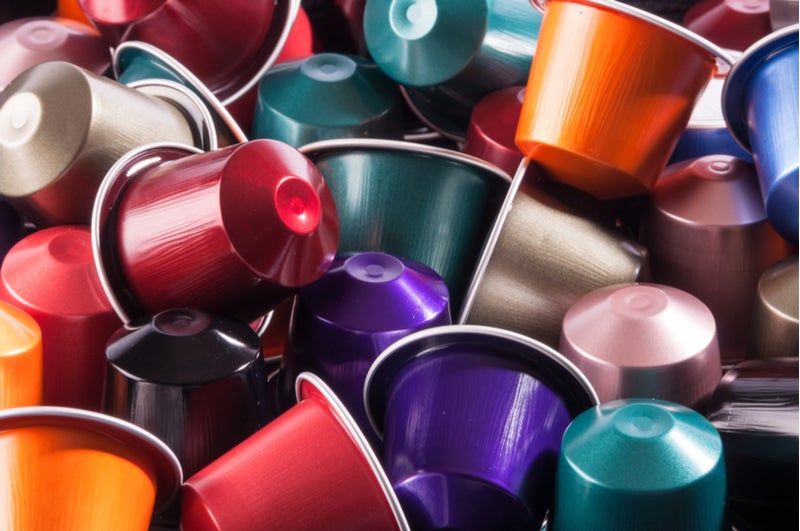 As sustainable and eco-friendly practices gain more traction in consumers' daily lives, Lost Sheep Coffee, an independent UK-based coffee house established in 2012, has boldly entered the green space with the world's first compostable coffee capsule that is also airtight and fits into Nespresso machines.
Whilst it is not the first compostable coffee pod to hit the shelves, it is the first to have a shelf life of 12-plus months. The capsules are made from lignin, a plant-based compound produced when wood is processed into paper. By using this waste product from the paper industry, Lost Sheep claims that the capsules only take a few weeks to fully decompose.
Compostable Nespresso capsules
Coffee is going green
Within the UK there is a growing demand for such products, as consumers are increasingly looking for accessible ways in which to live a green lifestyle; 68% of UK consumers find compostable/bio-degradable packaging extremely or very important, according to GlobalData's Q1 2017 consumer survey.
However, as reported by Ireland-based broadcaster News Talk in 2018, 50% of British consumers claim to not know the 'difference between recyclable, compostable and biodegradable capsules – and blame coffee manufacturers for confusing them.' Confusion such as this leads to unnecessary waste, with approximately 56 billion coffee capsules going to landfills worldwide in 2018, according to the same source.
Capitalising on this, Lost Sheep has positioned its new offerings as 100% natural and has been awarded the 'OK Compostable' certification by TUV Austria, clearly highlighting its sustainable stance for consumers that may be uncertain or uninformed on the subject. Accessibility such as this helps to promote consumer confidence in the brand as they feel that they know what they are getting.
Ethical equals quality for some
Lost Sheep says it aims to bring consumers an ethical product that offers the convenience and practicality of regular long-lasting brands. Although Lost Sheep's new capsule format is not likely to make massive waves in the coffee industry, it is a step in the right direction for many consumers. Ethically positioned offerings are often seen to be of better quality, for which consumers are willing to pay a premium.