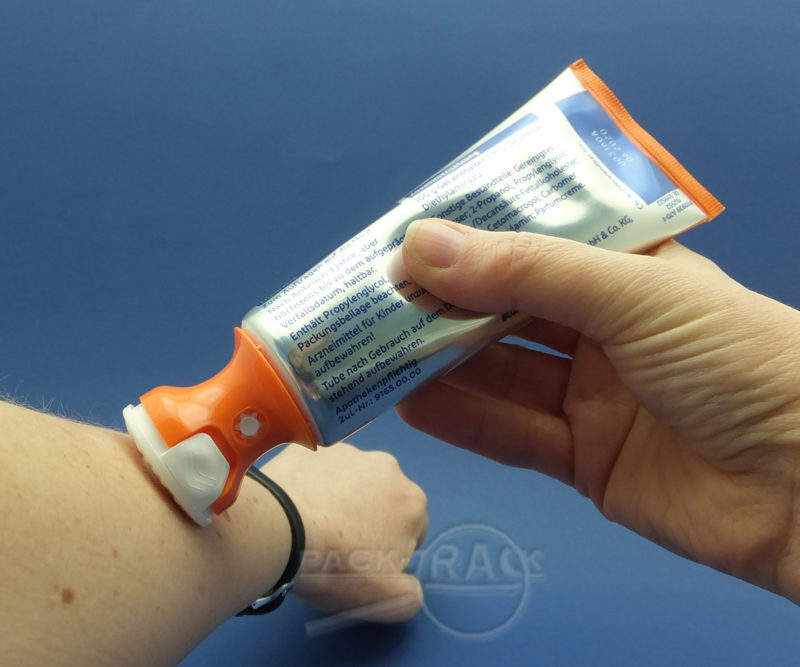 Applying pain relief gel can be a messy process and leaves a sticky residue on one's hands that needs to be washed off, but this is not always practical or possible. However, this is no longer a problem thanks to GlaxoSmithKline Consumer Healthcare's recent introduction in Germany and Austria of Voltaren Schmerzgel in a handy applicator pack with a multipurpose closure.
The gel is packaged in a foil-plastics laminate flexible tube with a sealed nozzle, the tip of which needs to be broken off before first use. The tip is cog-shaped and fits into a similarly-shaped recess on the side of the closure, which is designed to provide leverage for twisting off the end of the nozzle. The tip is retained in the closure, meaning there are no fiddly parts to dispose of.
The top of the closure features a surface-textured applicator that has a series of raised pimples to provide a soothing massage effect. Once the nozzle has been opened, the consumer just pulls up the applicator head, squeezes the pack to dispense the gel through an aperture at the centre of the closure, and uses the applicator to rub the gel into the affected area without direct hand contact.
Pain relief gel is typically applied at bedtime and having to get up to wash your hands after use is a nuisance. Voltaren gel is a popular product that has been on the market for many years but this is the first time it has been available in an applicator pack. Whether the product is being applied by the person actually suffering the pain or by a carer, eliminating that direct contact with the gel makes the usage experience cleaner, more hygienic and generally more pleasant. The fact that the closure also doubles as a nifty, ergonomic gadget for opening the sealed nozzle further improves convenience and shows that the brand owner's packaging team has really given thought to the needs of the consumer.