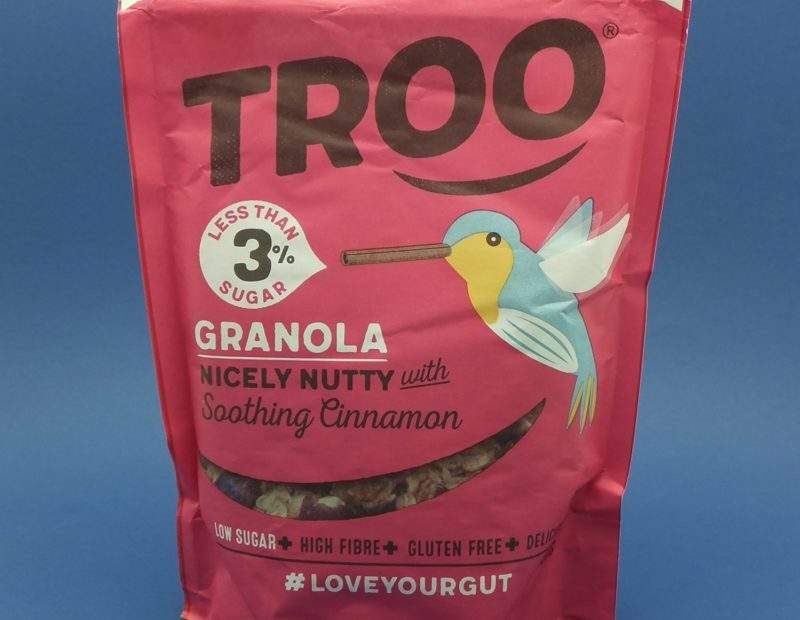 Consumers are becoming more aware of the impact that packaging has on the environment and there is a growing expectation that it should be sustainable, kept to a minimum and easily recyclable. UK-based Troo Foods followed these unwritten rules when repackaging its range of prebiotic, 'gut-friendly' granola cereals in plastic-free, paper-based pouches.
The free-standing pouch is made from paper with a plastic-free heat-sealable coating to the inside. The material tears easily for opening and paper brings a very natural look and feel that is appropriate for a product with a 'good-for-you' positioning. Branded Earthpouch by its packaging supplier, Sirane, the pack is suitable for both dry and moist foods and the material is resistant to grease, water, and moisture.
Troo Foods has chosen to shout about the pouch's environment-friendliness, with pack copy promoting the format as '100% plastic free, recyclable and compostable.' This is significant because consumers don't just want to know that a brand owner is doing something to make their packaging more sustainable, they want to know exactly what they're doing and putting a clear message on the pack is an easy and overt way to communicate that to the consumer.
According to GlobalData's 2017 Q1 global consumer survey, when asked about environment-friendly packaging, 68% of consumers agreed that it is either extremely or very important that it should be made from renewable sources, while 71% rated compostable or biodegradable packaging as extremely or very important.
On this basis, Troo Foods' granola pouch ticks all the right sustainability boxes as far as the consumer is concerned and, with the packaging supplier reporting that it is now working on the development of high-barrier and ovenable versions of Earthpouch as well, it's likely that we will see more brand owners and retailers turning to this eco-friendly alternative to flexible plastic packaging in the future.