Founded in 1990, Arconvert, along with Manter and Arconvert Brasil, is the converting division of the Fedrigoni group, a leader in the production and distribution of a broad range of special papers. Arconvert is specialised in the production of self-adhesive materials (paper and film) and offers specific solutions for every single kind of application in sectors as diverse as industrial chemicals, health and beauty care, pharmaceuticals, food and beverage. Arconvert is moreover able to provide self-adhesive and gummed security products representing an excellent guarantee against fraudulence and forgery.
Self-adhesive materials for a wide range of applications
Arconvert produces self-adhesive paper and film in sheet as well as in reel format. A wide range of products are available: commodity products, products specifically designed for the wine label industry, for the cosmetics label industry and for the philatelic and security market. A range of FSC and PEFC certified products are also available. In addition to the production and distribution of high aesthetic and technological content self-adhesive paper and film, Arconvert specialises in the distribution of casting release products for the production of exclusive genuine and by cast synthetic leather.
Self-adhesive materials for the enology sector
Arconvert's range of self-adhesive materials in reels specific for the wine and spirits sector combines extreme reliability in labelling stages, quality and prestige of the Fedrigoni paper, along with an advanced adhesives technology.
Several of Arconvert's self-adhesive products are made with face materials created by Fedrigoni Cartiere. The self-adhesive products for the wine sector have therefore corresponding products in paper and cardboard, offering the possibility of a coordinated product image (labels and packaging).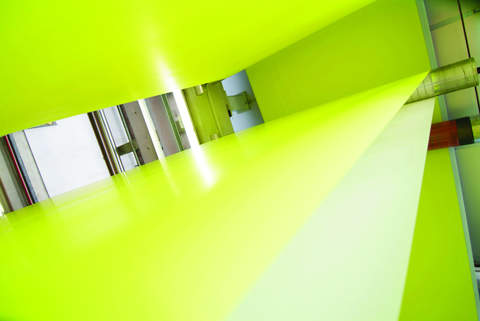 Arconvert produces self-adhesive materials in paper and film for every single kind of application.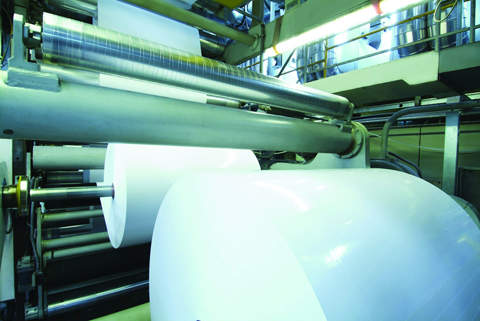 Arconvert offers self-adhesive materials in reel and in sheet format.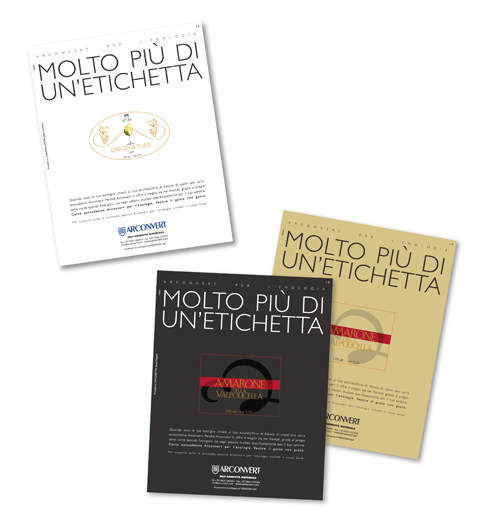 A special range of products dedicated to the wine industry, such as Arconvert's Constellation Jade Intreccio, Tintoretto Black Pepper, Savile Row Tweed Camel.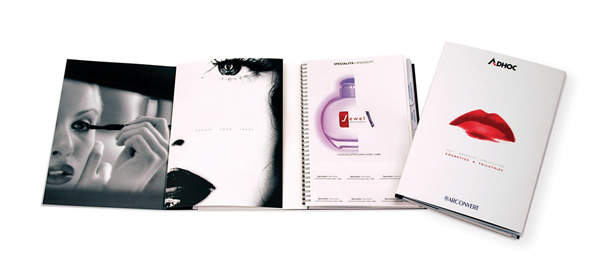 Self-adhesive papers and films dedicated to the cosmetics industry.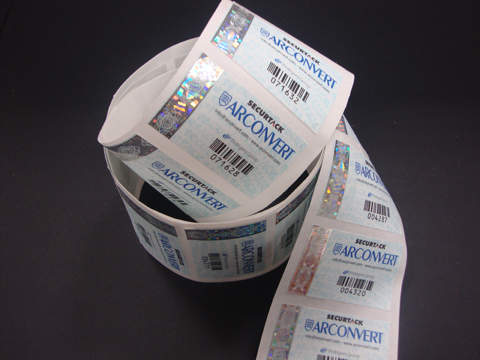 Arconvert's range of security products marked Securtack™ includes postage stamps, tax stamps, security labels, visas and security tickets.
Arconvert's specialisation in glass has allowed the company to develop the most technologically advanced adhesives in the market, resistant for both dry and moist surfaces. The SH 6020 Plus adhesive represents the latest evolution in this field. SH 6020 Plus is a permanent adhesive that ensures superb initial adhesiveness, excellent resistance to water and ice, and impressive versatility with applications involving moist and low-temperature surfaces.
Self-adhesive materials for the cosmetic sector
Image is everything in the cosmetics and personal hygiene product sector. This is why cases and packaging play such a fundamental role in creating products which are unique, exclusive, and give immediate recognition. Because of these important factors, Arconvert produces a collection of self-adhesive products in reels specifically for this sector.
In order to guarantee complete product recycling and environmental awareness, these products are developed using face paper manufactured by Fedrigoni and Fabriano together with the appropriate plastic film finishes based on polypropylenes, polyethylenes and polyester.
Self-adhesive materials for security and philatelic sectors
Arconvert is able to provide its clients with personal solutions and reliable protection against fraudulence and forgery. This category of security products is represented under the trademark Securtack™.
The main sectors involved in the application of these products are the public/government sector (self-adhesive paper for passport visas, self-adhesive postage-stamps and duty-stamps in general), the pharmaceutical sector (labels applied to the packaging of medicines), the event sector (entry tickets for events of all kinds), and sectors that need copyright protection and product integrity.
Thanks to its versatility, the company offers a wide range of face materials, liners and adhesives marking a breakthrough particularly in the stamp sector where the use of Arconvert adhesives also satisfies the needs of its clients and, above all, stamp collectors.
Environmentally friendly self-adhesive materials
In working toward its objective to achieve elevated product and process standards, safety in the workplace and environmental respect, Arconvert has obtained the ISO 9001:2008, OHSAS 18001:2007, ISO 14001:2004 certification along with the FSC and PEFC certifications.
In the name of the ecological spirit, solvent-free technology is used for the production of self-adhesive paper and the adhesives are selected for their characteristics reducing the environmental impact to a minimum. Many of the adhesives used are also approved by the FDA (Food and Drug Administration) and BgVV (Bundesinstitut für Gesundheitlichen verbraucherschutz und Veterinärmedizin) for indirect contact on food products and for toy safety.
Synergy in the group
Being part of the Fedrigoni group means that Arconvert can rely on important synergies with other group companies. Thanks to this, Arconvert can exploit to the full all the special, high-prestige and deluxe papers by Fedrigoni Cartiere, the best hi-tech solutions in the security paper sector marked Fabriano and even the exclusive security systems marked Fabriano Securities.