Kongskilde's industrial division specialises in the design, manufacture and supply of equipment and systems for the handling of virgin material and process waste throughout the plastics, paper and packaging industries.
Whether it is the conveying of plastic granules, production waste, edge trim, finishes items or other special applications, Kongskilde is able to offer a variety of custom-built solutions.
Pneumatic conveying systems
For over 60 years Kongskilde has been at the forefront of materials handling using high-pressure blowers. These systems are now commonplace in many factories around the world to convey granules, pellets, flakes and other moulded items in an efficient manner. The conveying of these materials can be done using either positive or negative pressure systems depending on the client's requirements.
Using Kongskilde's unique standard modular components these systems can be built quickly, are easily modified if necessary and the capacity can be increased at a later date by changing a few components, making them an extremely versatile way to convey material.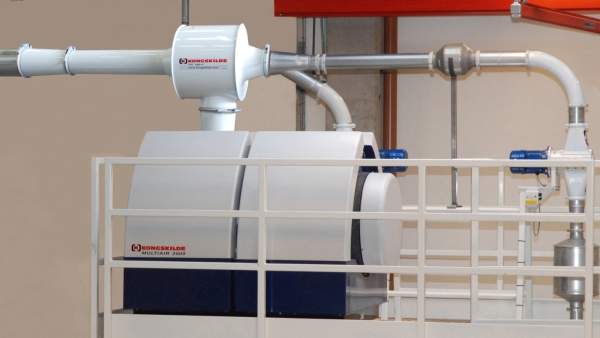 Multiair high-pressure blower with ITF venturi and inline cutters removing trim from a slitter.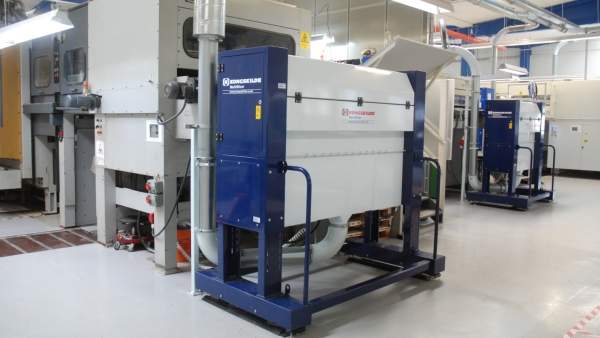 MultiDicers taking skeleton waste away from Bobst die-cutters.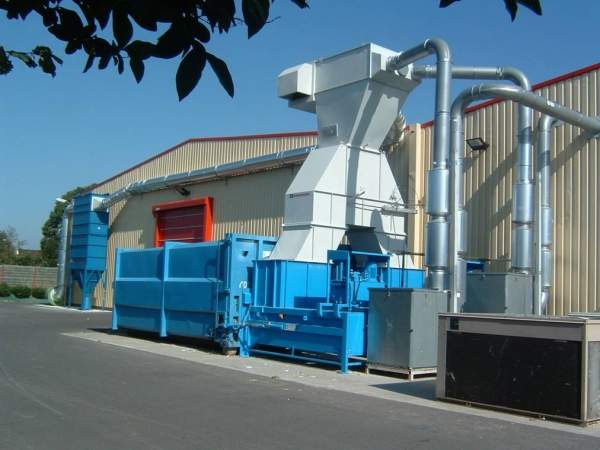 Centralised waste extraction system above a compactor and linking into a dust filter system.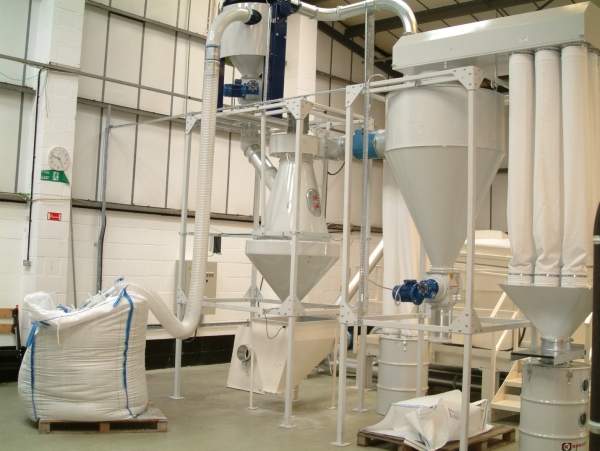 MultiEvacuator and KIA aspirator used to clean granulated plastic.
Waste extraction systems
Kongskilde's process waste handling systems can be found on many types of converting equipment, from slitters and re-winders to die cutters and sheeters.
Kongskilde has an unprecedented knowledge of converting equipment, which has been gained from working directly with many of the world's leading manufacturers of converting machines.
Waste extraction systems for continuous trim
Kongskilde waste extraction systems can handle continuous trims from film and foil production machines (cast lines) and slitters / re-winders.
With slitter / re-winder speeds ever increasing Kongskilde has been able to adapt and offer single and centralised waste extraction systems (trim systems) to cope with the high speeds.
Waste systems for film, foil and laminates can be designed in many ways using either Kongskilde's patented FVO venturi and air return, which allows the trim to be conveyed without coming in contact with the fan, or designed using inline cutters, high-pressure rotary separator or product through fans.
Waste extraction systems for die cutters
Kongskilde's MultiDicer has been designed specifically for dealing with die cut waste. The MultiDicer downsizes the cardboard (carton board) skeleton waste released from a die cutter, which would normally be difficult to handle in a conveying system, to a manageable size. This minimises the size of the conveying pipes, which reduces the demands on space for the installation.
The main benefits for the customer are that the power consumption in minimised by optimising the conveying pipes so smaller blowers, separators and filter systems can be used, which are less expensive to purchase, operate and maintain.
The MultiDicer can handle up to 12,000 sheets/hr of cardboard with widths of up to 1,630mm and in gauges from 90g/m² to 1,000g/m².
Waste extraction systems for the print industry
Kongskilde can handle many types of waste in the print industry from processes such as:
Rotary and three-knife trimmers
Bindery lines
Stitchers
Trim lines
Guillotines
Folders
Reject copy conveyors
Kongskilde waste extraction systems offer efficient solutions to meet the demands of high-speed production in today's print sector. These systems offer savings on labour and can pay for themselves in a relatively short amount of time. Kongskilde can offer single waste extraction systems to fully automated centralised systems. All systems are designed specifically for each client's needs.
The collection of process waste in an efficient manner helps to reduce operating costs and improves the factory environment; it also helps with health and safety compliance. A Kongskilde waste extraction system can be placed inside or outside the factory with the conveyed waste being deposited in a compactor, baler or other receptacle. Kongskilde can offer complete turnkey projects and supply compactors, balers and filter systems.
Waste extraction systems for plastic rejects
Handling process waste need no longer cause a bottleneck in the production process. A Kongskilde waste extraction system frees manpower resources and space for other purposes allowing for a clean factory environment. Kongskilde has a thoroughly tested and efficient conveying system that returns process waste generated during production for either reclamation or disposal.
Kongskilde waste extraction systems can handle process waste from blow moulding and injection moulding machines.
These systems can convey plastic waste such as tops and tails from the blow moulding process and sprues from injection moulding machines using Kongskilde modular pneumatic technology. These waste products can be conveyed directly to a granulator and, from there, either into a pelletiser or directly back into production, allowing for closed loop recycling.