KRELUS AG is a leading manufacturer and supplier of custom-made infrared radiation systems for a wide range of industries and applications.
Specific applications include:
Thermoforming
Textile, film, paper and foil coating
Embossing calendars
Laminating machines
Pre-drying and heating equipment
MEDIUM WAVE INFRARED HEATERS – KRELUS IR
The unique technology used in the fast medium-wave KRELUS IR heater allows operation with precise temperature control. These infrared heaters have very rapid reaction time, which allows them to be switched on and off for brief periods to allow energy savings in comparison to traditional radiation systems.
KRELUS IR heater systems are suited to a range of applications, including: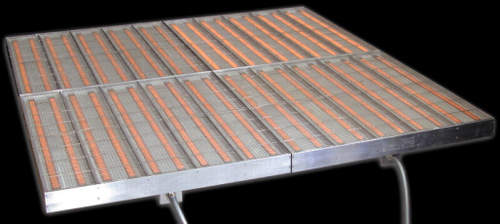 IR-Heaters, custom engineered installations, uniform full heat area, long element life, maximum wattage to 50kW/m2. All voltages.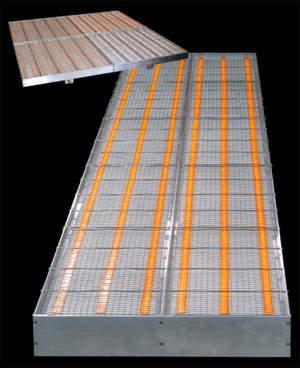 KRELUS heaters are manufactured in various designs and sizes. It is possible to join several heaters together to get a big panel with uniform heating characteristics.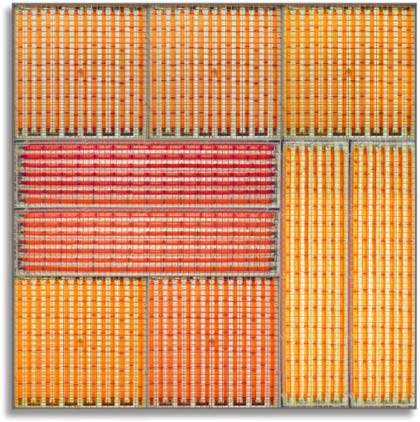 Full area Modulare Infrared heater. The KRELUS-MINI-IR-heaters combine all the advantages of more than 30 years experience with KRELUS infrared techniques.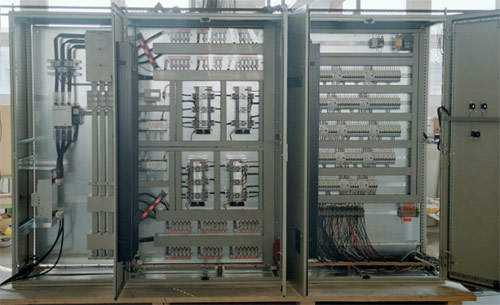 The wavelengths of the infrared radiation emitted by our heaters are 2.6mm to 9.6mm and with the electronic control, any wavelength in this range can be emitted.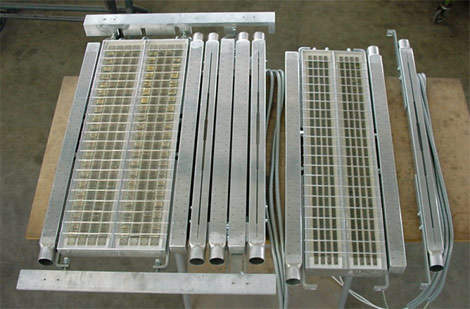 KRELUS drying systems suit a wide range of industries and applications.
Evaporation of liquids
Drying inks
Melting plastics
Installation in ovens and drying tunnels
Speed improvement on existing production lines
STANDARD INFRARED HEATING MODELS
The company have recently added two standard models of made-to-measure KRELUS IR infrared heaters. These use identical technology, and are available in sizes 248mm x 248mm, 123mm x 496mm and 123mm x 248mm. Power densities of 26kW/m², 32kW/m² or 40kW/m² are available.
The two new types of heater module allow clients to construct individually controlled radiation zones in any desired size. These are particularly suited for use in thermoforming equipment.
MAINTENANCE
KRELUS IR infrared heaters require virtually no maintenance, as they have no moving parts. Any necessary foil replacement can be easily achieved by the client's own personnel.
ELECTRONIC HEATER OUTPUT CONTROLS
Electronic controls allow the user to regulate heater output continuously on any of the following principles:
Machine speed
Humidity (measured by probe)
Temperature (measured by probe)
Optical pyrometer
Manual regulation by potentiometer
KRELUS INFRARED DRYING SYSTEMS FOR PRINTING INKS
Designed for drying printing inks and water-based varnishes on sheet-fed printing presses, KRELUS offers a wider range of custom-made solutions. The KRELUS infrared dryer for normal printing inks has been installed more than 2,500 times. It shows a
number of advantages, compared to so-called lamp dryers, including:
Fast on / off reaction
Self-cleaning function
Pure IR heat, no eye irritation from bright light, and optimal absorption of heat energy on printed sheet
Low energy consumption
Excellent price / durability / performance ratio
KRELUS AIR-DRYING FOR WATER-BASED VARNISHES
For water-based varnishes, KRELUS offers the AIRTHERM system. This is a combination of the famous infrared dryer and a hot air system. AIRTHERM fits perfectly into almost all sheet-fed presses with extended delivery. Benefits of the AIRTHERM system
include:
Precise guidance of hot air to the varnished sheet
Efficient varnish drying
Continuous control of air volume and air temperature
Various configurations available