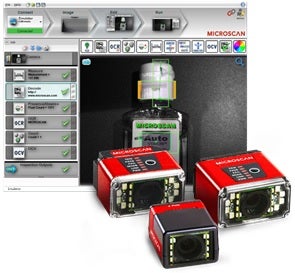 Microscan invites visitors interested in scalable auto ID and machine vision solutions, as well as barcode verification, to explore the 'inspect award' nominated MicroHAWK® barcode reader and smart camera platform, and Microscan's LVS verification solutions, at the VISION 2016 show.
Microscan will exhibit at the show in Hall 1, booth I31 at Messe Stuttgart, 8-10 November 2016.
Visitors can the compact and powerful Microscan's products in real life, as well as compete in a race to become the fastest to set up and run a machine vision job on Microscan's new AutoVISION 4.0 simplified machine vision software, which runs on the MicroHAWK® smart cameras. MicroHAWK offers the breadth of Microscan software and hardware options on one of the smallest smart camera suites ever developed. It offers scalability to accomplish basic to high-performance auto ID, as well as simple to advanced machine vision in one.
The MicroHAWK family includes a fully-integrated imaging engine and three industrial-rated miniature imagers. With the release of AutoVISION 4.0, Microscan has added more powerful features to Microscan's machine vision technology portfolio. For example, the Circle Measure Tool measures the radius of a circle when inspecting features like drill holes and apertures, and the Color tools detect, identify, and match colored objects such as test tube caps, PCB components, or features in automotive dashboard displays.
With Microscan's 25 August 2015 acquisition of verification systems innovator Label Vision Systems (LVS), Microscan has added a full suite of all-in-one barcode and print quality verification products to its line of industrial automation solutions. Microscan's technology portfolio now comprehensively addresses factory automation challenges from product packaging and labeling compliance to full-scale product inspection, tracking, and traceability throughout the supply chain.
At Microscan's booth, visitors can try the LVS barcode and print quality verifiers, which provide both inline and offline verification of codes (symbols and text) printed on labels and packaging. Verifiers identify errors in code readability and compliance as codes are printed, allowing manufacturers to address printing or formatting issues before incurring fines and scrapped product down the supply chain.
Don't miss Microscan's presentation on 'Becoming the Factory of the Future: How to Prepare Now for the Industrial Internet of Things' at the Inspect Application Forum on Tuesday 8 November at 11.30am.