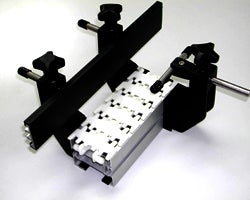 ProfileFlex Modular Conveyor System is now available in North America, having been the number one system used in the Australian blow moulding industry for ten years.
Why, is this the case?
Lower in cost (on average over 20%+)
100% compatible with another leading modular system, to the point where in ten or 11 sizes of chain and profiles are totally interchangeable
Yes, you could link our chain, to the other and it will run perfectly. Thus if you need to modify your existing system then use our gear and save. This has been proven many times over in Australia
Chain widths from 35mm-295mm
The chain is made from the same DuPont resin as the leading system
Available in 20 countries and many thousands of systems installed
Do you want a complete system supplied? Then send us a layout and advise us of your projects lead time.
Let us save you on spares, DIY installations, fully supplied systems
All the accessories like guide rails & brackets, nuts, etc. also fit
We will also work with your local conveyor integrators, if you wish as well
Call our US sales manager on +1 877 776 5325 or email use the form on this page to request more information about the company's superior leak detecting and cost efficient modular conveying system
Conveying is as simple as ProfileFlex.
The 6LD has been the world's fastest single head leak tester in the world for well over a decade. A few years ago we did...
A high-quality modular conveyor system, ProfileFlex is used by major multinationals in the plastics, food, tissue, automotive and medical industries worldwide.