Alvey Group specialises in tailor-made industrial automation projects. Our systems help increase efficiency in plants, where the handling of secondary packaging, semi-finished or finished products is involved.
More than 40 years of experience and our continuous striving for excellence guarantee long-term satisfaction for our customers.
Our portfolio includes:
Warehousing and distribution systems
Palletising and depalletising systems
Industrial software
Services
Warehousing and distribution systems
Alvey Group solutions include both hardware and advanced software to substantially improve your warehousing efficiency.
We have mini load systems, which are a stacker crane for "small" loads such as cartons or crates.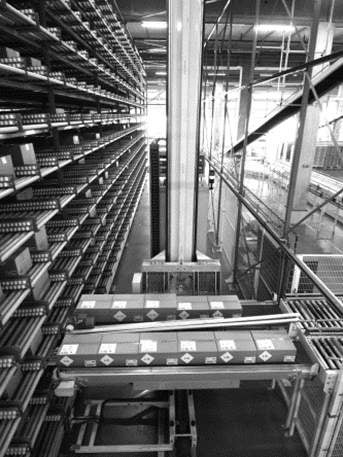 Mini load systems are ideal for automatic storage and retrieval of "small" loads up to 50 kg, such as cartons or crates.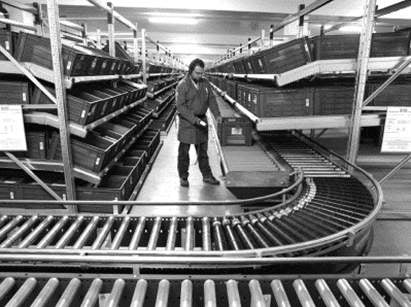 Order picking systems ensure that items are collected in specified quantities. Operators are instructed using various systems, such as Pick by list, Pick to light or Pick by voice.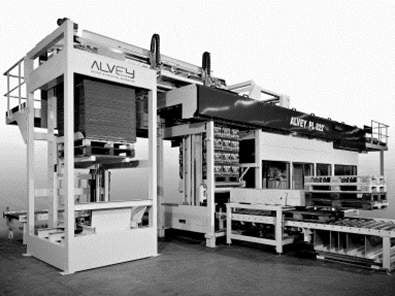 The fully automatic multiline palletiser is a cost-effective solution offering minimum footprint and clear separation between production and logistics.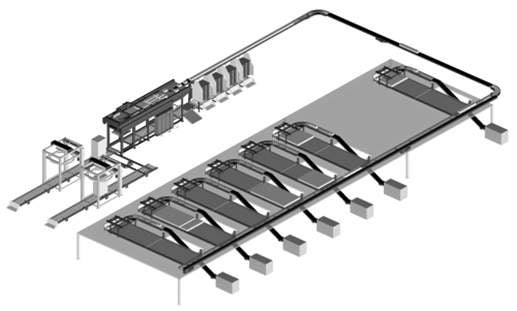 An example of a multiline palletising system: high-capacity palletiser handling products from seven production lines.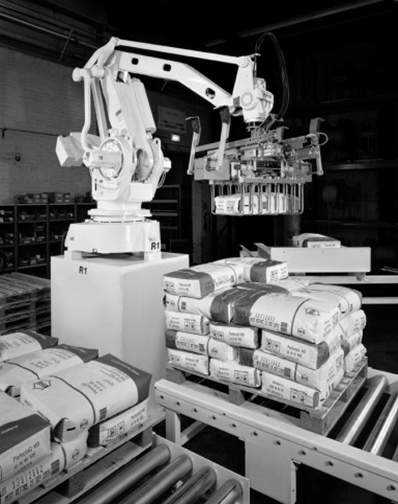 Robot palletisers offer high flexibility of pallet build formats. Alvey has a complete range.
Fluent horizontal and vertical transport is ensured by various types of conveyors. The range of solutions is vast and always tailored to your needs. It basically centres on:
Efficient receipt of goods
Temporary and longer term storage
Warehouse Management Systems software
Order picking and preparation
Click & Collect stores
Alvey Group supplies turnkey warehousing and order preparation solutions for retail stores with e-shops. Goods ordered over the internet are automatically retrieved from the warehouse by stacker cranes and prepared by pick-to-light or pick-to-voice guided operators for the drive-in collection or dispatch to home delivery service.
Our references include a wide variety of sectors, such as:
Retail distribution
Auto-parts and spare parts
Hardware stores
E-business
Post order companies
Foods
Cosmetics
Office supplies
Books and newspapers
Textile products
Palletising and depalletising systems
Alvey Group is a specialist in automatic palletising systems for all kinds and sizes of products.
Installations can involve multiline or single-line palletisers and combinations of these. Utilizing either conventional or robot units, flexibility can be achieved even at high capacities.
We have in-depth expertise in depalletisation of empty containers like cans and bottles. Our portfolio includes both high-level and low-level outfeed system designs to meet various project requirements.
Our solutions can be implemented under the most demanding conditions, including deepfreeze at -30°C.
Industrial software Maestro+
Efficient automation of industrial processes would be impossible without an advanced software control system. Alvey Group developed its own software package "Maestro+" for, among many others, monitoring production processes and warehouse management.
Maestro+ is multilingual and fully modular. It provides an interface between the customer's ERP system and PLCs controlling the equipment.
This enables the system to automatically adjust settings according to actual production needs, to gather and analyse various operation data, to create reports and much more.
Services
Alvey Group provides a complete portfolio of engineering, installation and maintenance services:
Expert advice
Design services
Provision of mechanical, electrical and software engineers
Assembly and installation
Dismantling, modification and updating
Operator training
Emergency and preventive maintenance services
Spare parts supply
Alvey Group operates through three daughter companies with several strategically positioned production sites and sales and service offices. These are located in Belgium, the United Kingdom, France and the Czech Republic.