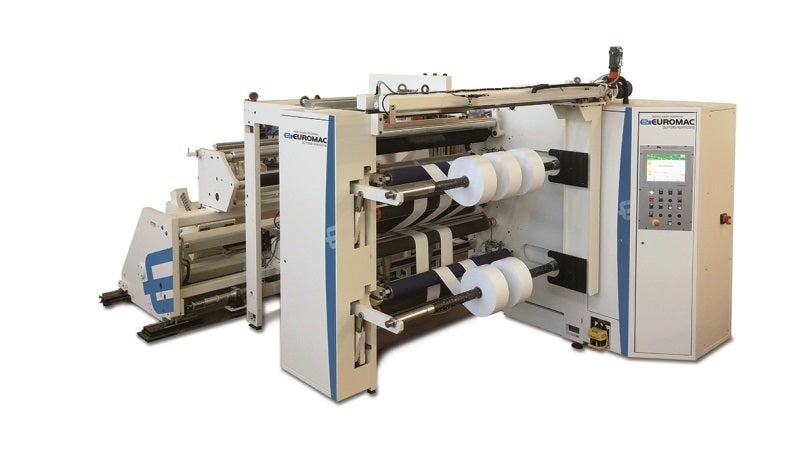 As well as serving the perfect espresso coffee and traditional Barbera wine to those stopping by their booth, Euromac will be presenting the latest in slitter rewinder engineering technology at the International Converting Exhibition 2017, which is due to run from 21-23 March in Munich, Germany.
This year will also see Euromac celebrate its 50th anniversary, and the company plans to showcase its high-end duplex TB3-M (movable rewind shafts) series, which consists of a brand new rewind section that boasts a whole host of novel advantages, to mark the occasion.
Euromac have recently been working to overhaul and improve all of their duplex series variations, and the ensuing research has inspired the development of a whole new and exciting product line of packaging solutions.
The new range of slitter rewinders feature horizontally moveable contact rollers, which make use of the rewind diameter to guide the shafts and support arms, resulting in excellent tension controls and roll geometry.
The rewind section of the TB3-M has a short and direct web path from slitting section to rewind to facilitate the potential for constant gap rewinding, which also allows for running different rewind diameters on both superior and inferior rewind shafts.
The main exhibit at the ICE 2017 will be the new TB3.08M, which features a rewind diameter of up to 850mm, and a maximum working speed up to 800m/min; other innovations on display will include a new automatic knife unit with millimetric depth adjustment.
All of these cutting-edge products and more will be demonstrated at Euromac's ICE booth, which will be located in Hall A6 stand 484.
Euromac provides heavy-duty slitting and rewinding machines with bridge paths.