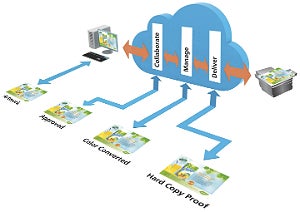 GMG, a leading developer and supplier of high-end color management software solutions, will be participating in booth 6408 as an exhibitor for the first time at Labelexpo Americas, demonstrating solutions for the color management, proofing and short run production of labels.
On display will be two solutions introduced at drupa: GMG OpenColor, a revolutionary spot color tool for labels and packaging which extends color control and repeatability; and GMG CoZone a comprehensive cloud solution for professional media and color management users that redefines how color management will be used in future.
In addition, advances and upgrades to the GMG prepress portfolio, featuring products such as GMG FlexoProof, GMG ColorProof, GMG ProductionSuite, GMG ColorServer and GMG InkOptimizer will all be showcased.
GMG OpenColor: accurate color, no matter the process
GMG OpenColor creates high-quality multicolor profiles that simulate the printing behavior of diverse printing technologies, media types, and screens – if necessary, without use of 'proprietary chart based' press fingerprinting.
While the increasing use of multicolor printing reduces the amount of press units used by assuring accuracy to the necessary spot colors, there must be the ability to simulate spot color overprints, one of the biggest challenges for label printers. GMG OpenColor addresses this complex problem, resolving CPC color accuracy expectations across different printing processes and numerous converters.
GMG OpenColor analyses each ink color and substrate, applying them to a specific printing process (flexo, offset, digital, gravure). Then process-specific information is added (ink rotation, trapping) and the final press condition is simulated.
If needed, OpenColor can create a profile with very few color wedges automatically on the fly – step scales of spot colors on the substrate. Adding additional overprint readings increases accuracy. OpenColor supports up to 15 colors, is offered with standard targets and is compatible with Equinox, Hexachrome and other multicolor technologies.
GMG CoZone: comprehensive cloud solution for professional media and color management users
CoZone is GMG's new, modular cloud-based tool for companies across the entire packaging / label supply chain. Many companies just don't have the resources to manage color the way they want, along the entire supply chain. How do they connect?
CoZone is GMG's new, modular cloud-based tool for companies across the entire supply chain from creation to press. It's a flexible, modular-based business model, without the need to use expensive local hardware or software, appealing to small agencies as well as large corporations. With CoZone customers can let people collaborate on files without additional investment in infrastructure and support, CoZone dynamically provides the resources needed with little user interaction.
In its first release CoZone.Collaborate is available for collaboration and approval of PDF or image documents. Later this year multimedia and web file formats will be fully supported for collaboration as well. With CoZone.Collaborate the entire approval / sign-off experience is more collaborative and streamlined.
CoZone.Collaborate lets users track project status and efficiently manage the production processes. GMG CoZone will continuously evolve to a complete end-to-end solution. The next steps are CoZone.Manage to apply color management to files in the CoZone cloud and CoZone.Deliver, the integration to the cloud of local GMG ColorProof systems.
Deliver will enable CoZone customers to create and track hard proofs at practically the click of a button anywhere in the world, to verify content and color accuracy on GMG-quality hard proofs, providing a true quality reference at the end of the complete process.
Providing accurate color throughout Labelexpo
At Labelexpo, GMG will be partnering with a number of companies, with many software solutions. Sharing the GMG booth is Beyond Manufacturing, featuring a contract-quality, double-sided proofing on press substrates with varnish, die cutting and embossing – all powered by GMG color technology.
At Roland booth 6412 will be a new, complete label proofing and prototyping system – including diecutting – featuring a Roland BN-20 printer powered by GMG ProductionSuite, for label, tag and decal proofs and prototypes on white, clear and foil substrates.
The GMG-Roland mini label system includes a GMG ProductionSuite package with a RIP, PDF editor, Roland BN-20 driver, step and repeat (to place as many labels on the substrate as possible), cutting integration, GMG InkOptimization to conserve ink and GMG SmartProfiler, to easily create profiles to match brand colors.
The color gamut and resolution of the Roland printer is also powered by GMG ProductionSuite software. Narrow Web flexo printers can use this system to produce color accurate prototype labels that are virtually identical to the final flexo products.
Visitors will also be able to experience GMG solutions at the Pitman (5403), Hewlett-Packard Company (3223), Anderson & Vreeland, Inc. (929) and Nazdar (455) booths, working with diverse output devices and production environments.
"GMG is making the most of its first official visit to Labelexpo. While we have been present at Labelexpo and have always offered solutions for packaging – most notably FlexoProof – this year we have developed solutions that have been widely accepted by tag and label printers," reports Joe Varone, GMG Americas vice president of sales.
"As the trend to digital printing becomes even more significant, we believe it is paramount to offer consistent color between a broad range of print processes, to satisfy brand owners. For that reason, GMG believes that GMG OpenColor and GMG CoZone will be well received."