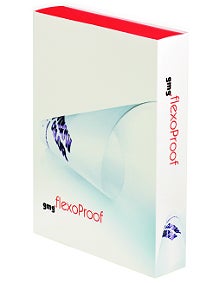 YRG Group, a full-service packaging print solution provider headquartered in York, has invested in the GMG FlexoProof proofing solution.
Founded in 1974 with 65 employees across four locations, YRG has deployed FlexoProof as a digital front-end that drives their Epson Stylus Pro 4900 17-inch and Epson Stylus Pro 9900 44-inch printers, along with a newly-installed 24-inch Epson Stylus Pro WT7900 printer, a wide gamut nine-colour device that includes the ability to proof using white ink.
The company services printers, retailers and well-known FMCG brands by offering a complete print services solution – artwork, repro and flexographic platemaking.
"Accurate and consistent proofing has become the more crucial aspect of our services," says commercial director Steve Buxton. "Printers and end-users expect proofs to be precisely representative of what, ultimately, ends up on the shelf – regardless of the printing process involved. We need to proof on a wide-variety of different substrates from increasingly complex jobs that often include spot colours, white inks and metallics."
"We have made sizeable investment in both resources and technology to ensure our proofs are what we term "Press Predictable" – proofs that accurately reflect the production output. Today, clients expect proofs to give an accurate representation of how a job will appear when printed – regardless of the colour space, substrate or inks that are used."
Having used a variety of proofing systems in the past, YRG searched for a solution that would both strengthen their current proofing capabilities and address the evolving requirements of their customers.
"We wanted to be able to send a job through and have the confidence of achieving "right-first-time" results regardless of the complexity of the job. We were well aware of GMG's reputation as an industry standard and decided to invest in FlexoProof as the best solution out there to handle the majority of our work," continues Steve. "We looked at our current offering and felt that FlexoProof would enhance what we were doing."
GMG FlexoProof is a colour proofing and calibration application designed for the specific requirements of the packaging and label printing industry. Featuring halftone digital proofing of flexographic and packaging print jobs, FlexoProof ensures accurate and consistent proofing output, regardless of print device, colour space or substrate. FlexoProof includes the GMG SpotColour Editor for precise and repeatable colour matching of spot colours.
"Since installing GMG FlexoProof, the feedback that we're getting has been extremely positive, both from our staff as well as from our customers," says YRG Director Phil Brown.
"We've been providing "Press Predicable" proofs for some time, but FlexoProof has been a more efficient and consistent way of providing that service to our customers."
Toby Burnett, sales director GMG UK, comments: "GMG FlexoProof has been designed from the outset to address the complex and specialist requirements of flexographic and packaging proofing. Offering powerful functionality in terms of spot colour handling, substrate simulation and enhanced integration with third-party production workflows, GMG FlexoProof offers the most accurate, consistent and flexible proofing solution for even the most demanding packaging, carton, box and label jobs."