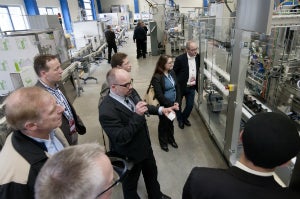 A week of events took place at Optima Consumer GmbH from 8 to 13 April, with one event after another. These included Open House for customers, Open House for visitors to Packaging Valley Days 2013, official opening ceremony for the new administration building and last but not least, Open Day for employees and their families. During this time visitors from 20 nations were welcomed and everyone was able to experience the enormous diversity of Optima Consumer.
On Monday, the first visits took place and then on Tuesday, the Opening Celebration for the Consumer Division administration building started off the week of events. Hans Bühler, managing partner of Optima, gave an opening speech in which he reviewed recent Optima developments: "Today we are not only inaugurating a new building but are in fact celebrating the baptism of a new company based on five of our companies: SF Vision GmbH, Kugler GmbH, PPS GmbH, Stern GmbH and a part of Optima filling and packaging machines GmbH. Today, instead of the 250 employees planned for here in 2012 we now already have 275 employees. We can accommodate every one of them."
According to Hans Bühler, Optima is currently entering the next phase of globalisation, in which high-tech and service "made by Optima" must also be made available in newly industrialised countries. "The course has been set. We are one of very few companies worldwide which holds a leading position in filling both liquids and dry consumer products."
According to Rainer Feuchter (managing partner of Optima Consumer) further exchanges between regional executives, the Mayor Josef Pelgrim, the Chief District Administrator Michael Knaus and the President of the CIC Prof. Dr. Harald Unkelbach, as well as the architects Roland Wilhelm and Rolf Blank, took place during the week. During their tours, visitors gained first impressions of the new premises and the current machine projects in the assembly hall at Optima Consumer.
Filling, closing and flexible robots
Exhibits displayed the extensive growth and diversity of Optima Consumer: liquid filling technologies in connection with robot units, allowing extremely flexible procedures; several robots which transport, mount and seal water cartridges hand-in-hand; the fastest machine currently available on the world market for coffee portion packs, producing up to 1,500 products/min; a filler machine for extremely sensitive instant coffee with 32 filler heads and also a machine for filling nut-nougat crème into glass jars. A large line for soft cans was in operation and proved to be a further impressive highlight.
On the following Wednesday and Thursday, visitors to the 2nd Packaging Valley Days were welcomed to Optima Consumer, Optima Nonwovens and Optima Pharma divisions. An eventful week drew to a close on the Open Day for employees and their families. More than 200 customers and interested parties from 20 countries took part.