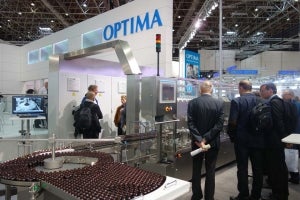 System flexibility and line solutions are recurring customer requirements in all four of Optima's divisions: Consumer, Pharma, Nonwovens and Life Science. Optima specialises in meeting the very specific needs of these sectors, for example with a compact machine for portion packaging used to dose, fill, flush and close beverage capsules (liquid, powder and ground coffee). Combined with the new OPTIMA CBF cardboard packaging system, this flexible integrated solution is ideal for numerous applications in primary and secondary packaging.
Optima Consumer business manager Martin Sauter said: "Decision-makers from the chemical and cosmetic industries were impressed by the ability of our systems to accommodate a wide range of packaging formats, including tubes, bags, bottles and canisters. Functional solutions for machine closure were likewise in high demand. New innovative joint-projects for packaging materials were launched between customers and Optima Consumer at the trade fair."
Flexibility was also a hot topic at Optima Pharma; sterile processing of three nested container types on a single machine in particular met with great interest from visitors. An additional focus was on the comprehensive range of barrier technologies and freeze drying as line solutions.
"Optima and its numerous new solutions were a major attraction at this year's Interpack."
The new LSX transport system from Optima Nonwovens impressively showcased the flexibility and high output possible with magnetic levitation, a technology that is especially well-suited to current market trends, such as small packages, for example for feminine care products.
The response to the OPAL software was also very positive. This intelligent system carries out statistical evaluations of production and packaging processes to more precisely identify barriers to efficiency. Combined with a tablet PC, it also makes it possible to efficiently organise workflows when switching formats. This software, developed by Optima Life Science, is now being used in customer projects throughout all Optima divisions.
In summary, Optima and its numerous new solutions were a major attraction at this year's Interpack. The quality of contacts was high and a number of contracts were signed at the event. Division heads view the number of substantial enquiries for upcoming projects as a definitive sign of success.
Changing Markets. Your Needs. Our Passion. This is the motto under which Optima will be...