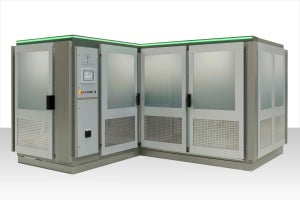 An Optima filling and packaging machine is one of the winners of the renowned Red Dot design award. The prize was awarded for the IS band machine status display.
Unforeseen machine down-times of high-performance packaging machines are expensive, however the LED ribbons integrated into Optima machinery allow much quicker location of machine faults.
The system permits a valuable one-glance overview of all functional areas, while signal colours indicate behind which door a possible malfunction may have occurred. Similar to stack lights on machine tops requesting a machine check at the display, the operator gets to the critical point much faster.
The design of the IS ribbon, which Optima offers optionally in many of its packaging machines, underlines the functional structure of their machinery and enhances the lines' compact, clear and striking design.
The internationally distinguished Red Dot design prize was awarded to Optima in the product design category. The machine status display convinced the international 30-member jury by its function just as much as its design. The jury reviewed a total of 4,515 products from 1,800 manufacturers and designers, from 58 countries. The official Red Dot awards show will be held in Essen on 2 July.