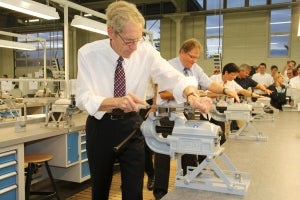 In the business year 2012, the packaging machine manufacturer Optima (Schwäbisch Hall, Germany) has once again shown positive growth. The consolidated turnover of the group rose from €220m to €240m, an increase of around nine percent. At the end of the year the company had 1,700 employees (previous year 1,500).
Chief Executive Hans Bühler, reports that "according to all forecasts, growth will continue throughout the current year of business." Arguments in favor of this are the above average capacity utilisation in all four divisions, Pharma, Consumer, Nonwovens and Life Science. "The enquiries we are receiving for new projects also give reason for an optimistic outlook."
Once again the export quota was over 80%. The percentage sales based on region have hardly changed compared with the previous year. The USA and Europe, with respectively 31% and 28% of total sales, continue to dominate. The percentages of the striving BRIC countries and East Europe are also unchanged such that growth can be attributed relatively evenly amongst all the regions. In 2012 Optima set up two international subsidiaries in India and Malaysia. With further business locations in Japan, South Korea and China there is today a good market presence in the Asian area. The Optima group is present all over the world with its own international subsidiaries in eleven countries.
Technology as the driving motor for growth
Apart from the opportunities in the global market it is primarily the hands-on technical developments in all fields of group business which are the determining factors for growth. One development that can be mentioned is the robot control presented in 2012 specifically for handling pharmaceutical liquids. During all movement, it keeps the filling level in the containers constant. In other segments, self-configuring, freely placeable converting machine modules which together give rise to an easily modifiable production and packaging process, for example for wound dressings, are unique in the world.
With the move to a new central administration building at the end of the year, all Consumer activities were consolidated to one location. The new building complex in Schwäbisch Hall provides room for around 180 desks. Environmentally friendly facility management and an agreeable work atmosphere are united. In 2012, investments were also made in the construction of the new, excellently equipped training workshop for the 125 trainees and students of the Dual Academy (DH) at Optima in Schwäbisch Hall. Celebrations also took place on the occasion of the 90-year jubilee of the family business including the publication of a 150-page chronicle of the company's history.