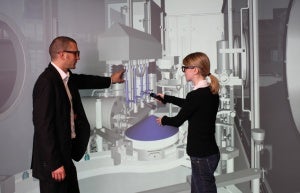 For coffee portion packs, Optima Consumer has a line system that produces up to 240 coffee capsules per minute. There is a 100% weighing system in operation that regulates individual dosing with an accuracy of +/- 0.3g. High-level production quality is supported by the integrated gas installation that ensures the defined rest oxygen content in the closed pack. The Optima CFL series has been optimized at the interfaces as a line system including sorting, feeding and filling machinery and thus enables a considerably simplified project development.
On our Pack Expo booth, you will experience totally new views of packaging machine systems in the Optima 3D ExCube. The Optima divisions Pharma, Nonwovens, Consumer and Life Science are shown here in a virtual three-dimensional form, all with information points. Optima has made the latest innovations in these fields, such as an enormous reduction in isolator cycle times and applied robot controls in pharmaceutical systems that include liquid handling for freeze-drying.
Flexible-format turnkey systems with hygiene technologies are presented in the Consumer section. Nonwovens shows i-Pack, a new linear and extremely flexible product transport system, which works on the basis of magnetic fields. Information on the extended range is also available, from primary packaging through to palletizing.
Optima Life Science presents a modular Converting Development System for wound-care products. Although based on a Plug & Play system, it still produces at series speed. At the same time, the Doyen brand acquired in the spring of 2012 is presented for the first time under the Optima name.
Changing Markets. Your Needs. Our Passion. This is the motto under which Optima will be...