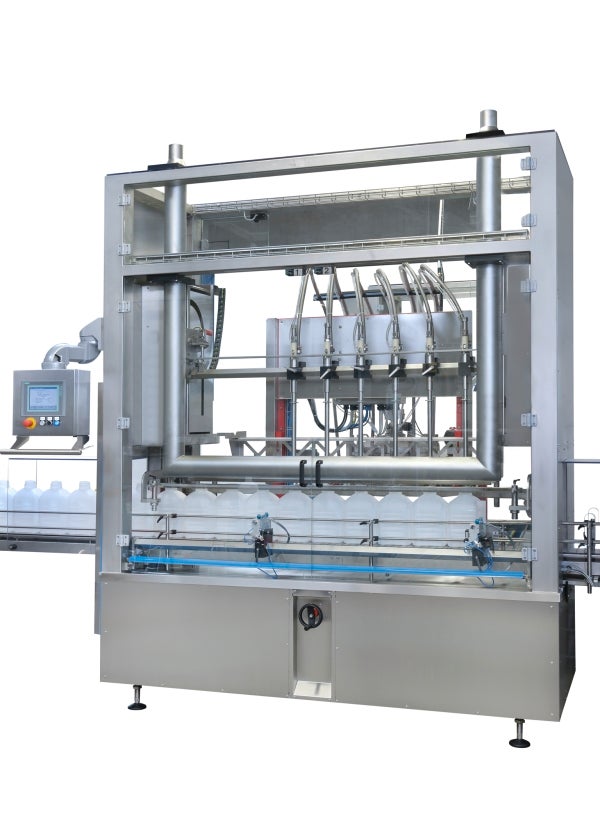 Optima was recently commissioned with replacing several existing decentralised filling and packaging lines with a smaller number of new lines. The range of products involved is considerable: fungicides and herbicides in numerous bottle and container formats, as well as product variations, are processed.
System flexibility was key for the technological design of the processing lines. A prerequisite for centralising the plants was that cross-contamination in the equipment needed to be reliably prevented when changing over products. Another special requirement was compliance with ATEX guidelines up to zone one, which means very high-safety levels to prevent explosion.
Decentralised cleaning concept saves time
Optima realised several filling lines for the group of fungicides and herbicides. All parts in contact with products can be quickly exchanged in order to reduce the number of lines and to ensure rapid changeover between products and formats. All other components in the complete lines, including bottle and canister unscramblers, cappers, check weighers, sealers, labellers, case packers and palletisers, can be adjusted primarily by machine control, as well as via pluggable format parts.
The filling machines in all lines are of a unique modular design. The permanently installed machines feature mass flow metering systems built on top.
The difference to conventional systems is that when products are switched, or a cleaning cycle takes place, all parts in contact with the product are removed from the machine as a module and are transported to a decentralised cleaning station. New, pre-cleaned modules can be immediately docked as soon as the used modules are removed, thus saving time. Filling modules can be independently cleaned and prepared for the next product without interrupting on-going production. The cleaning stations are controlled with equipment from Optima.
The mass flow metering machines vary in their filling capacity. Bottle lines are used to fill volumes up to 1l, while canister lines can fill up to 2.5l. Dosing accuracy is designed to ideally fulfil the pre-packaging directive. Closing takes place via a gantry system (Optima KVG) and an Optima V100 capper with servo-technology. Identical check weighers are followed by labelling machines. To comply with ATEX safety regulations, the plants are divided into zones with different requirements; specific components are used within these zones as needed.