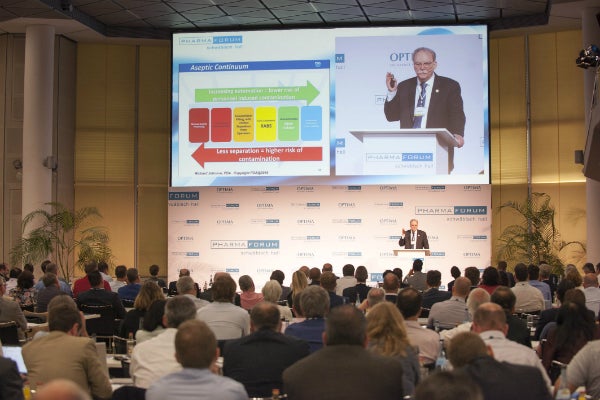 One common goal unified more than 200 participants at the 6th Pharma Forum in Schwäbisch Hall, Germany: The highest possible level of patient safety and health.
Some 25 countries and a number of internationally renowned pharmaceutical companies were represented at the Pharma Forum on June 8th and 9th. The sponsor, Optima Pharma, took over the organizational role as well as hosting the event.
"We have a responsibility, and people's lives depend on it," said Richard Johnson, President of the worldwide PDA (Parenteral Drug Association) trade group at the Pharma Forum. Ultimately, this is the common thread of the technical details included in the presentations of the ten speakers. Technical processes are responsible for ensuring medications reach patients untainted while simultaneously maintaining the highest level of quality. Experts from pharmaceutical companies gave lectures in which they reported their firsthand experiences with the latest types of technologies in processing medications.
The current development of medications has a major impact on plant engineering, this was made abundantly clear in many presentations. In particular, biotech substances require new approaches. Most notably, this sector utilizes minimum quantities in small batches of very sensitive ingredients that have a high efficacy and are very expensive. Automated processes are mandatory and, as a result, human intervention in sterile areas is minimized.
A direct result of these developments: systems that can process different containers. Ryan Hawkins of Cook Pharmica in the USA reported on a collaborative project with the objective of processing syringes, vials and cartridges in one platform. To accomplish automated processes in machines in the most universal way possible, i.e. without format changeovers, highly flexible components such as new conveying systems have been rethought and redeveloped with the implementation of robotic technology.
Gabriel Vainadeu of Israel's Teva demonstrated technical flexibility in another form. Namely, how multiple process steps like filling, freeze drying, sterilization or loading and unloading in isolator conditions can operate independently in parallel processes, or in combination with each other on a system.
Multiple requirements for pharmaceutical mechanical engineering
The importance of isolator technology for sterile processing was made abundantly clear in multiple presentations. The use of catalyst technology for reducing cycle times is only one example of the many benefits provided by this dynamically growing isolator technology. Additionally, the advantage of validateable sterile processes compared to manual processes is indisputable.
The necessity of sterility test isolators for microbiological quality control in laboratories was emphasized by Dr. Ellen Oelgeschläger (Bayer Pharma, Leverkusen, Germany). Catalytic ventilation is also used here. Dr. Brian Bergin of Aseptic Technology & Design Ltd. then examined the aspect of cycle development for isolators. In doing so, strategies involving how to achieve an automated sterilization process that is safe and secure in every aspect as well as being time-optimised were discussed.
Sandrine Favre (Octapharma, Switzerland) and Alberto Penati (Patheon, Italy) then presented on the importance of flawless organization in pharmaceutical projects. Octapharma was concerned with the question of how the latest technologies, which were developed in a major pilot project with Optima, could be duplicated and implemented in the company's other locations. Patheon expanded an existing sterile production facility with the installation of two pharmaceutical freeze drying systems, without interrupting ongoing production in the process. This was a scheduling, logistical and technical challenge because all processes are currently coupled to one another.
Dr. Nicolas Brandes (West Pharmaceutical Services, Eschweiler, Germany) discussed the interrelationships of new pharmaceutical ingredients and touched on glass and plastic container materials in his presentation. Glass particles and sensitivity to oxygen are just two of many aspects to observe here. Dr Daniel Müller's lecture focused on disposables, single-use materials in machines such as filling hoses. Müller is a member of the Tübingen regional council. Müller's plea to the audience members here was to not blindly trust the suppliers and their certifications. From a regulatory point of view, the system user always takes responsibility.
Solutions were sought and found
The safety and security requirements that the pharmaceutical plant engineering sector has to fulfill are higher than ever before. Plant engineers must also simultaneously offer new ideas and technologies from an economic point of view. This was made abundantly clear at the Pharma Forum. Machine types that are especially flexible are one answer to these demands. Optima offered the participants a look into how these can be achieved by hosting tours of the manufacturing area.
One of the seven machines presented was the new MultiUse Filler from Optima. It relies on robotic technology housed under isolator conditions for handling and transporting vials, syringes and cartridges. The MultiUse Filler and additional systems contain technologies that all but eliminate product loss and, as a result, generate the maximum number of saleable units from a batch.
Turnkey projects with E-beam tunnels, freeze drying systems, isolator technology, SCADA systems as well as systems for eye drops and diagnostic projects rounded out the tour. Many details are decisive for optimal plant function. One of these is precision positioning during loading and unloading of a freeze-dryer. A basic requirement here is a completely level transfer unit route to ensure gentle and secure transportation of the filled vials. A new docking technique to the freeze-dryer ensures this happens.
In addition to encapsulated robots, sophisticated feed systems and glass pane barrier elements, virtual technologies were a must-see at the forum. An expert from Optima explained how filling and sealing machines can be simulated in three dimensions and optimized prior to build and installation. For example, this includes checking the accessibility on the final design of the machine. Supercomputing applications, including flow visualization are very different. They focus on optimizing cleaning results to perfecting laminar flow conditions within the clean room.
Because pharmaceutical systems can be the size of three-story houses, participants at the Pharma Forum were also interested in the Virtual Reality Center, which was implemented by Optima and Packaging Valley Germany e.V. Large and small plants can be presented virtually and be inspected down to the smallest screw, even before they have been built.
Networked and inspiring
In-depth follow-up questions and an extensive exchange between the presenters were generated from the over 200 guests' strong interest in the topics. Jürgen Rothbauer (CEO of OPTIMA pharma GmbH) thanked the participants and presenters for their inspiring exchange of information.
His invitation for the next Pharma Forum in three years was the following: "We will see each other again, and in the best of health."
Changing Markets. Your Needs. Our Passion. This is the motto under which Optima will be...