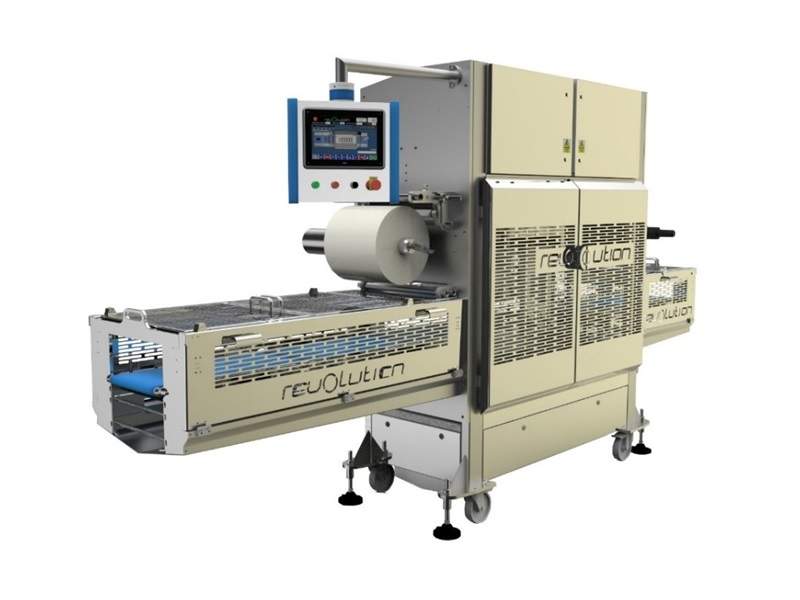 The Perfectseal Revolution M tray sealer is a fully automatic machine designed to minimise operating costs. When compared to rival machines, this tray sealer can increase speeds by five cycles per minute and increase output by 25%.
Utilising Powerdrive™ technology, the Revolution M is a fully electric machine and operates without compressed air, therefore offering savings of up to 98% of the running costs of conventional pneumatically operated tray sealers.
The Revolution M can heat seal reel fed film, pre-cut foil, paper or laminate lids to performed trays and containers of CPET, polypropylene, PVC, styrene, board, smooth walled foil, pre-cut board, paper, plastic, foil lids and many other types of container.
Features:
Fully electric, robotic, motion controlled operation
Fully servo driven, giving highest speed and accuracy
Can cycle up to 25 cycles/min
Flat removable extremely hygienic belts for clean downs
Quick tool changes and blade changes
Uptime on unplanned downtime (i.e. breakdowns) using pod tool technology
Up to 36% faster warm-up times from cold
Remote diagnosis for service and support
RFID options for operator responsibility and monitoring
Servo controlled sensitivity to run very thin films
Reduced film wastage on changeover: one cycle only
Faster changeover times with Recipe driven programmes to change from product to product
Capable of direct integration with third-party feeding equipment, printer and labellers
Integrates into any line simply and can synchronise directly with feeding equipment due to the robotic continuous in-feed
Very small footprint
Can run competitor tooling simply and easily if required (on equivalent machine)
Want to know more about the fastest tray sealer? Send an enquiry through this page to find out more.