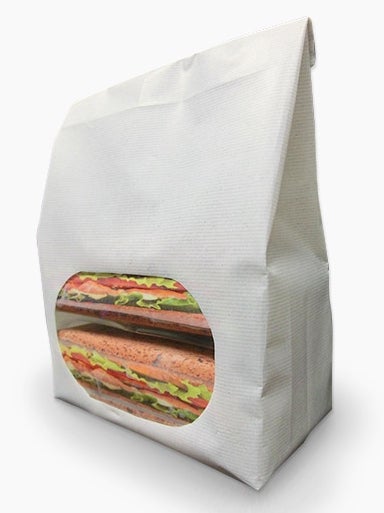 Italian manufacturer PFM Packaging Machinery will demonstrate its new automatic system to present sandwiches and similar food in a 'grab-bag' style of packaging for the first time at the PPMA Show.
Based on the PFM Mistral Servo flow-wrapper, the packaging replaces the traditional pre-made hand-loaded paper bag with a flow-wrap created from Paper-Like™ film, produced and printed by Bemis Europe. Paper-Like imitates paper in both appearance and feel, giving an authentic artisan look for optimised brand recall.
PFM sales and operations director Chris Bolton says: "The result is substantially reduced labour and material costs, while preserving the appeal of a hand-packed product.
"The pack is also much stronger than paper."
The pack's increased strength is due to the structural properties of film laminates.
PFM's Mistral machine is available equipped with a number of product feed options to handle sandwiches or collations of goods, such as cookies at speeds up to 60 packs per minute, and reclosure can be achieved with a label. Advantages of the PFM Mistral packaging machine include:
Gas flush facility
Hygienic construction
Suitable for high-care environments
Easy to operate colour touch-screen
Fast product change over
High-speed packaging
PFM Mistral Hermetic seals increase shelf-life
PFM will also showcase the new multi-mode Vetta II bagging machine, which is able to meet marketing demands for pack versatility and variety, providing more than 20 different bag styles from a single machine, in addition to traditional pillow packs.
In addition, PFM will demonstrate the ZC1 entry level combination bagger / weigher and the Pearl low-cost servo-driven flow-wrapper.