Samuel Strapping Systems
Complete Packaging and Unitising Solutions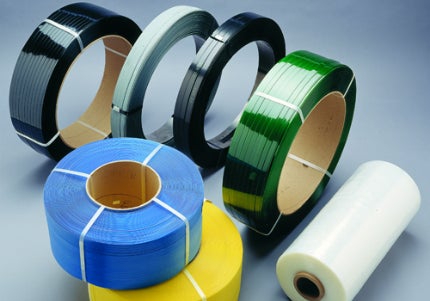 Samuel Strapping Systems is a complete single source supplier for all clients' packaging and unitising needs. We are customer and market driven, focusing on timely, value-added packaging solutions to meet all needs of our customers.
Steel strapping
Samuel's steel strapping is available in a wide range of sizes and gauges to accommodate your strapping requirements. Our edge-conditioned strapping ensures a safe, rounded edge that is problem-free during application. Our High Tensile and Heavy-Duty strapping conforms to government, railroad and ASTM specifications, and is marked in accordance with the requirements of the Association of American Railroads.
Polyester strapping
Samuel's polyester strapping is manufactured to meet the strictest industry standards, and is AAR-approved for use with bricks and lumber. To address the needs of heavy-duty loads, Samuel Strapping is designed to have excellent retained tension, which keeps the strap tight around the load even if the package settles and shrinks in size.
Polyester strapping uses heat or friction seals to weld the strap, eliminating the need for metal seals. Additional savings can be gained via polyester's low strap cost per foot and reduced product damage from seals or staining.
Samuel's industrial strength polyester strapping offers proven cost-saving and high-performance benefits.
Polypropylene strapping
The most economical of all strapping material, polypropylene is a light weight strapping that can be used for a variety of bundling applications. It is available in a wide variety of sizes and gauges, offering the greatest elongation of all strapping and also has proven initial recovery characteristics.
Samuel polypropylene can be heat sealed with a joint efficiency of 70%-80%. Polypropylene strapping is very flexible and has the ability to mould to contours of odd-shaped or irregular shaped packages.
Samuel's polypropylene strapping is available in a wide variety of sizes and gauges, offering the greatest elongation of any strapping type, along with solid initial recovery characteristics.
Thermoforming equipment
Whether at entry-level, or large production cycle, Samuel Strapping Systems can help you efficiently package your products for the food sector or medical industry. Made from stainless steel, our thermoforming equipment is designed with easy-cleaning in mind, and allows for easy changeover of moulds.
Packaging machines and equipment (case erectors / sealers, clippers, shrink)
With machines capable of handling a wide variety of package sizes, Samuel Strapping Systems carries a complete line of accurate and fast case erectors and case sealers. Capable of auto-adjustment for case width variations, cases are firmly held throughout the sealing cycle, allowing for more automation of the process, and increasing productivity.
Samuel Strapping Systems also offers an extensive range of clipping machines capable of handling a variety of fillers and casings. Multipurpose and easy to maintain, our selection of easy-to-operate clippers have you covered, whether used for counter-top sales or full blown factory production.
Samuel Strapping Systems also proudly offers competitively priced, high-quality tray sealing equipment that is able to handle all sizes of production cycles. Made from stainless steel, our tray sealers are designed with cleanliness in mind, and meet the highest of hygienic standards with features to avoid residual accumulation or liquid stagnation.
About Samuel Strapping Systems
With our highly skilled employees, modern manufacturing plants, and our responsive customer service and sales network, we are committed to providing customers with innovative, high-quality, cost-effective packaging systems and solutions.
Samuel Strapping Systems manufactures and supplies a broad range of steel and plastic strapping, hand tools, edge protection, stretch film equipment and consumable, as well as standard and custom-engineered unitising equipment.
Our comprehensive in-house research and engineering capabilities, with state-of-the-art computer-aided design (CAD) systems technology, offer customers complete packaging and unitising solutions from a single source.
Samuel's engineering and sales personnel take customers' unitising requirements, from the initial concept, into advanced CAD design engineering, through to fabrication and installation. Our products and systems can be found in virtually every industry and are supported by a comprehensive sales, customer service and distribution network.
Samuel Strapping Systems Images
Samuel Strapping Systems
7032-68 Avenue
Edmonton
T6B 3C5
Alberta
Canada
+1 780 469 4040
Samuel Strapping Systems
1365 Derwent Way
Annacis Island
New Westminster
V3M 5V9
British Columbia
Canada
+1 604 521 3700
Samuel Strapping Systems
737 Oval Court
Burlington
L7L 6A9
Ontario
Canada
+1 800 607 8727
Samuel Strapping Systems
21 Corrine Court
Vaughan
L4K 4W2
Ontario
Canada
+1 905 739 1370
Samuel Strapping Systems
3289 JB Deschamps
Lachine
H8T 3E4
Quebec
Canada
+1 514 631 5551
Samuel Strapping Systems
110 Dent Drive
Cartersville
GA 30121
Georgia
United States of America
+1 770 386 8837
Samuel Strapping Systems
1401 Davey Road Suite 300
Woodridge
IL 60517
Illinois
United States of America
+1 630 783 8900
Samuel Strapping Systems
1455 James Parkway
Heath
OH 43066
Ohio
United States of America
+1 1800 222 1855
Samuel Strapping Systems
2000 K Boyer Drive
FT. Mill
SC 29708
South Carolina
United States of America
+1 803 802 3203
Samuel Strapping Systems
623 Fisher Rd
Longview
TX 75604
Texas
United States of America
+1 903 759 2761