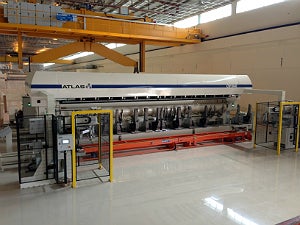 Atlas Converting Equipment completed the installation of the very first 'next generation' Atlas CW1040 Series primary slitter rewinder at Tri-Pack Films, based in Karachi, Pakistan at the end of December 2012. This 8.7m-wide primary film slitter has been installed in conjunction with a new high-speed BOPP film production line, also scheduled for start-up at the same time.
In addition, a new 3.25m wide Atlas CW3600 Series secondary slitter rewinder was also installed. A new, purpose-built production facility has been completed at the company's Port Qasim site to accommodate the new equipment.
This will be the fourth BOPP film production line in operation at Tri-Pack Films, which will have a production capacity of roughly 40,000 tonnes per year. The company added its first CPP (cast polypropylene) film production line in 2008 and will install a second CPP line by mid-2013.
Tri-Pack Films is a public limited company and is a joint venture between Mitsubishi Corporation of Japan and Packages, of Pakistan. The company was incorporated in 1993 and commenced commercial production in 1995. It is a long established producer of BOPP film in Pakistan for both domestic and export markets, and in 2011 generated revenue in excess of Rs.12.2bn ($127m). The addition of the new BOPP film line will more than double the company's annual production capacity of plastic films to 70,000 tonnes per annum.
"We have a very long-standing partnership with Atlas and Titan slitter rewinders," explained Mr. Shahid Hussain, managing director of Tri-Pack Films.
"We installed our first Atlas primary film slitter almost 20 years ago and added two smaller Titan duplex slitter rewinders for our narrower width materials later on. Together with the 3m wide Atlas CW800 slitter for metallised film installed with our CPP line in 2008, we have been very satisfied with the performance of all the Atlas & Titan equipment."
"More importantly, the improvements in the design and technology of the new generation CW1040 and CW3600 Series slitters are impressive and reflect the leadership that Atlas has in the film slitting industry," he confirmed.
Tri-Pack produces BOPP film in a range from ten – 60 micron in plain, composite, pearlised or metallised grades and CPP film in 15 – 150 micron thicknesses, which are well suited for coating, laminations, form-fill-seal packaging and side-weld bag applications, with high barrier properties. The company's film production is destined mainly for use in packaging of consumer goods, including food, especially biscuits and confectionery, tea, tobacco and cigarette packaging films, pharmaceuticals, adhesive tapes and high barrier thermo-foaming films for food packaging.
"We are delighted to be collaborating with Tri-Pack Films again," added Peter Turner, sales manager for Atlas. "We look forward to the start-up of the new film line and being part of the company's success during 2013 and beyond."
Investment in plastic film production lines in China has been dramatic in recent years and 2014 was no exception.
Atlas Converting Equipment Ltd is pleased to announce that during 2014 it is celebrating 50 years of excellence in slitting and rewinding technology for its...