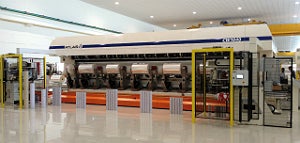 Atlas Converting Equipment Ltd. (UK) will present the latest Atlas CW Series and Titan SR9 Series slitter rewinders for film and flexible materials at Chinaplas 2013, to be held in Guangzhou, China, from 20th – 23rd May at booth 8.1-F11 in Hall 8.1.
Atlas launched the new CW3600 and CW1040 Series technology platform last year at the Chinaplas 2012 exhibition in Shanghai and has also recently introduced the CW5000 Series available in widths from 3,600 to 5,400mm. The complete CW Series platform now covers machine widths from 2,500mm to 10,400mm with speeds of up to 1500 m/min.
The company has now sold more than 40 of the new platform slitter rewinders in widths from 2,500mm to 9,000mm for BOPP, BOPET and CPP films. This latest Atlas technology features wireless rewind arms, automatic pick-and-place knife positioning and direct drive web path rollers, ensuring optimum web tension for films as thin as six microns and up to 125 microns. The new platform also delivers higher efficiency, increased productivity and reliability, higher quality rewind reels, reduced noise levels and more effective, operator-friendly control systems.
Atlas continues to be a global leader in the design and production of high performance slitter rewinders and this latest technology sets a new benchmark in the global film slitting business with the largest machines operating at 10,400mm wide.
Atlas also manufactures the Titan range of secondary slitter rewinders for flexible packaging materials, plastic film, labelstock, laminates and paper, with more than 2,500 installations in more than 70 countries. The latest Titan SR9 Series modular slitter rewinders provide unsurpassed levels of slitting productivity, design modularity and rewind reel quality.
New features include reduced power consumption, faster set-up time and improved sustainability showing respect for the environment.
Atlas and Titan provide comprehensive customer support through a new service platform and global network of operations based in Europe, the US, India, SE Asia and China. In China, these operations are co-ordinated through the wholly-owned Atlas subsidiary A.C.E. (Shanghai) Trading Co. Ltd. in Shanghai, which was incorporated in 2011.
---
Image: 8.7m-wide Atlas CW1040 Series primary slitter rewinder for film.
TC Transcontinental is Canada's largest printer, with operations in print, flexible packaging, publishing and digital...