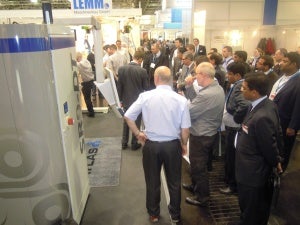 Atlas Converting Equipment Ltd. (UK) is pleased to report a significant level of enquiries and sales of several Titan slitter rewinders during the recent drupa 2012 exhibition in Düsseldorf, Germany, from 3 until 16 May 2012, including one Titan ER610 compact slitter to a new customer in Germany. Daily demonstrations of the new Titan SR9 series dual turret (DT) slitter rewinder were well attended and impressed audiences, with the machine running at up to 900m a minute and demonstrating reel set changes of less than 30 seconds.
In the development of the Titan SR9 series, Atlas focused its product development strategy on achieving significant reductions in machine downtime for printers and converters, including lower operator intervention and also reduction of costly waste materials, which adds up to outstanding gains in productivity.
The concept of the Titan SR9 series technology platform features three separate machine modules of unwind, slitter and rewind sections. The idea being that a converter need only change the rewind section of the slitter from a duplex shaft (DS) to a single turret (ST) or dual turret (DT) configuration, to meet changing production requirements, without the need to change the existing unwind and slitting modules.
The new Atlas CW series technology platform for primary and secondary slitter rewinders for film and flexible materials was also presented at drupa with interest expressed from customers from many parts of the world. The new CW technology platform introduces the next generation of more compact film slitting solutions from Atlas in web widths from 2.5m to 10.4m (100in to 410 in) and delivers higher efficiency, increased productivity and reliability, higher quality rewind reels, reduced noise levels and more effective, operator-friendly control systems.
This latest Atlas technology also features wireless rewind arm positioning, automatic knife positioning, direct drive web path rollers and running speeds of up to 1,500m a minute (4,920ft a minute), with more precise web tension control. Electrical cabinets are now fully integrated into the machines to reduce the space required for installation with under floor service trenches also no longer required for the primary slitter rewinders.
A new service platform for both the Atlas and Titan range of slitter rewinders is now in place, and was presented at drupa, providing expanded global customer service and support operations, with engineers not only based in the UK, but also in India, China and North America, confirming its position as a global supplier providing complete customer satisfaction.
Atlas can also provide fully automated and integrated roll handling systems to meet specific production requirements.
At drupa 2012, 1,850 exhibitors welcomed over 314,000 experts from more than 130 countries. This was however, 75,500 less visitors than in 2008, which according to Messe-Düsseldorf is largely due to extensive consolidation within the printing sector globally.
"With more than 190,000 foreign visitors, the international focus of drupa continues at a very high level. It was noticeable that a high number of trade visitors were from India which, now reaching some 15,000, ranks as the second largest visitor nation after Germany (123,000 visitors). Following behind these two in the country ranking are Belgium, France, the Netherlands, the UK, the US, Switzerland and Italy. It is particularly gratifying to see the rising proportion of visitors from South and Central America (8.8% in 2012 compared to 7% in 2008) – and more specifically from Brazil," a Messe-Düsseldorf spokesperson confirmed.
The dominating themes at drupa 2012 were automation, packaging printing, digital printing, hybrid technologies, web-to-print applications and environmentally sound printing.
Investment in plastic film production lines in China has been dramatic in recent years and 2014 was no exception.
Atlas Converting Equipment Ltd is pleased to announce that during 2014 it is celebrating 50 years of excellence in slitting and rewinding technology for its...