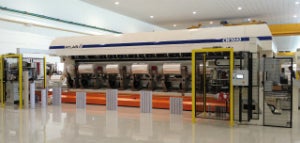 Atlas Converting Equipment Ltd. (UK) is pleased to report a significant level of positive enquiries and sales of several Atlas & Titan slitter rewinders during the recent K'2013 exhibition in Düsseldorf, Germany, from 16th – 23rd October.
Daily presentations of the new Atlas CW1040 Series primary slitter rewinder for film were the main focus for the event and generated numerous discussions with customers with current investment projects for plastic film production.
The company launched its new Atlas CW3600 & CW1040 Series slitting and rewinding technology platform during 2012 and has recently introduced the CW5000 Series available in widths from 3,600 to 5,400mm. The complete CW Series of more compact film slitting solutions now covers machine widths from 2,500mm to 10,400mm, at speeds of up to 1,500m/min.
Major benefits of the new technology include higher efficiency, increased productivity and reliability, higher quality rewind reels, reduced noise levels and more effective, operator-friendly control systems.
The new Atlas CW1040 Series has been designed to cope with the increasing speed of film production lines and does not just rely on a sustainable, increased running speed to achieve this – the CW Series also has faster acceleration and deceleration cycles.
Compared to a conventional primary film slitter running at 1,500m/min. producing rewind lengths of 8,000m, the Atlas CW Series will have a faster rewind cycle, but at only 1,200m/min.
When running much longer rewind lengths at a speed of 1,500m/min., together with faster acceleration and deceleration cycles, the new CW Series far out-performs conventional primary film slitters.
Atlas has now sold more than 50 of the new CW Series slitter rewinders in widths from 2,500mm to 10,400mm for BOPP, BOPET and CPP films. This latest Atlas technology features wireless rewind arm positioning, automatic knife positioning and direct drive web path rollers ensuring optimum web tension for films as thin as six micron and up to 125 micron.
Electrical cabinets are now fully integrated in to the machines to reduce the space required for installation with 'under floor' service channels no longer required, providing a 'flat floor' installation.
The new generation Titan SR9 Series secondary slitter rewinders were also presented at K'2013, which provide unsurpassed levels of slitting productivity, design modularity and rewind reel quality in widths of 1,650 & 2,250mm.
New features include reduced power consumption, faster set-up time and improved sustainability showing respect for the environment. Typically, with high levels of machine automation, the SR9 slitter rewinder stop-time is reduced to only 30 seconds between rewind reel sets, which enables huge gains in slitting and rewinding productivity.
Atlas continues to be a world leader in the design and production of high performance slitter rewinders and these latest technologies set a new global benchmark for slitting and rewinding plastic films and flexible packaging materials.
Atlas & Titan provides comprehensive customer support through a new service platform and a global network of operations based in Europe, the US, India, SE Asia and China.
Investment in plastic film production lines in China has been dramatic in recent years and 2014 was no exception.
Atlas Converting Equipment Ltd is pleased to announce that during 2014 it is celebrating 50 years of excellence in slitting and rewinding technology for its...